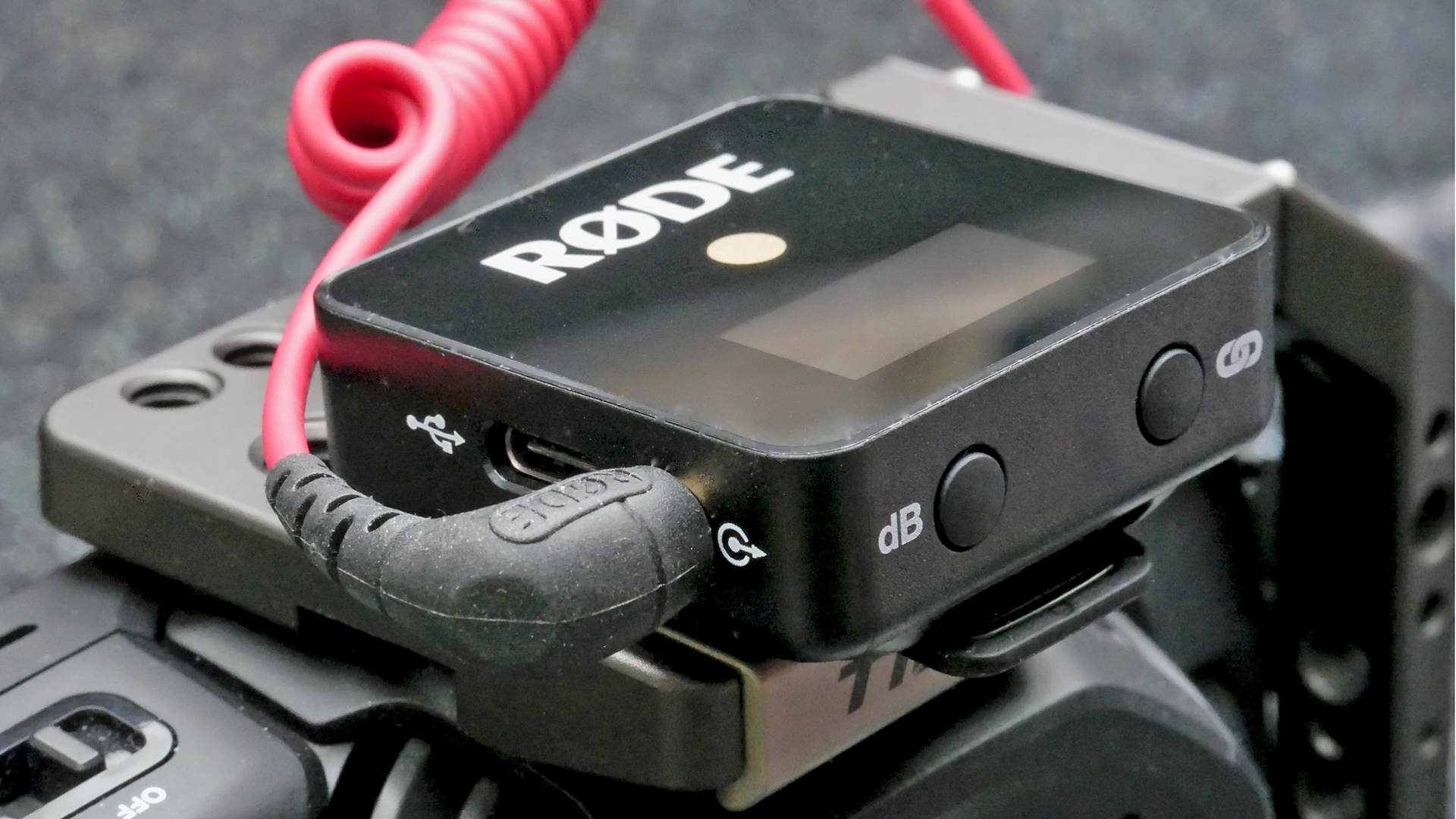 Review: RØDE's Wireless GO stunned us when it was announced with just how small it is. But it was the price that really got our attention. Size and price are one thing, but can it deliver the goods when it comes to sound quality? Roland Denning finds out.
RØDE has just introduced a new wireless microphone into a market where there is already an abundance of choice. But the RØDE Wireless GO is special for three reasons: it is tiny, the transmitter includes a microphone and it is dirt cheap ($200/£180). The clip on transmitter/mic combination would be a boon to those shooting news or documentaries where you need to mic up your subject really fast, but the transmitter also includes a minijack input so you can use a regular lavalier mic as well.
Both transmitter and receiver measure 44mm x 45.3mm x 18.5mm and weigh in at 31g.
It's a digital system on 2.4Ghz (no licence necessary) and both transmitter and receiver have built-in batteries recharged through a USB-C port. Rode claims these will run for 'up to' seven hours on a charge. There are three gain settings (switchable on the receiver) and the receiver also has indicators for audio level and the battery state of both receiver and transmitter. A nice touch is that the battery clip on both units will fit a standard camera accessory shoe (although I can't see you would need it on the transmitter). In addition, two furry windshields are included. These clip on to the transmitter but early users complained that they tended to fall off. Rode have since issued an instructional video on how to fit the windshield and, I am pleased to say, follow the instructions and the windshield stays on (I still suspect they will not survive much rough usage).
If you are using the transmitter with the built-in mic, it's not going to be easy to conceal it (the two blue LEDs on the unit don't make it any easier), but I imagine for the sort of quick and dirty situations it would be used for, that would the least of your problems. But what about using this unit mostly with a regular lavalier mic - is it good enough to be used as a day-to-day broadcast standard system? RØDE do use the phrase 'broadcast standard' in their marketing but, at this price, is that far too much to expect?
I tried the RØDE Wireless GO out using its built-in mic and with two external mics. I also compared with the popular Sennheiser G3 kit (almost 3 times the price and much much larger). I wasn't expecting too much of the built-in mic since a decent lavalier mic costs more than this whole system. In fact, all things considered, it's not too bad and but a little on the tinny side – perhaps because its designed to maximise voice clarity. I also tested it with a Rode smart Lav+ and a Tram TR50. Not surprisingly, the Tram has the fullest sound, but I had to switch the gain to maximum as the Tram has a lower output, increasing the noise floor. Compared to the Sennheiser G3, the Wireless GO has considerably more background hiss. Walking around my house, the Wireless GO would cut out when the signal had to travel through a few walls whereas reception on the G3 was steady. Using the Wireless GO outside I had no problems with drop out with the subject 50 foot away. RØDE claims it has a line of sight range of 'up to 70m'. Here are some very quick tests (apologies for my voice – no time or budget to get an actor):
All in all, this is an impressive unit for the price. In terms of its size and ease of use, it's simply great. It's obviously preferable to use an external lav mic, and for critical use, you might find the background noise level is too high, but for low budgets, for shoots where you need to mic up as fast as possible or as a back-up, the RØDE Wireless GO is an excellent buy.
Tags: Audio