US-based software company iZotope has created software that fixes things that aren't supposed to be fixable - all in an extremely user-friendly way. By Iain Churchill-Coleman.
With a wide and varied spectrum of customers from top-flight audio engineers working in the Film & Post-Production industries, right through to those engineering and processing audio content from home, RX has a huge target audience.
When we were offered the opportunity to put the full version their new RX 5 editing and restoration suite through its paces, we jumped at the chance.
After a painless installation routine and straightforward online activation (offline is available too), we were up and running in no time. iZotope sent very informative emails as soon as we started the registration and download process with excellent pointers to their internal 'Getting Started' guide and also to web-based training resources, making us feel looked after and more importantly, confident, to get good results from software from the get go. A smooth initial user experience with software is critical these days and we were impressed with their forethought and attention to detail.
The updated release is offered in two packages: RX 5 Audio Editor and RX 5 Post Production suite. Included in both packages you'll get the the stand-alone audio editor with a well stocked suite of intelligent restoration and enhancement tools including - plosive removal, automated levelling, EQ and ambience matching, and 'Instant Process' that allows for problematic audio artifacts to be 'painted-away' directly on the spectrogram.
On top of all that, you'll get tools tools to cleanse recordings of noise and hum, that can sensitively reduce mouth noises prevalent in dialogue delivery, magically repair clipped audio and remove reverb (things you were told could 'never be undone'), and 'repair targeted sections on a spectral display, all of which make ADR duties a breeze. You can Time & Pitch correct, generate a raft of test tones, deliver a multitude of industry compliant program levels, analyse spectrums and batch process filters in the order you choose with the 'Module Chain'. You'll find the modules packed with lots of useful starting presets with simple, intuitive controls for the beginner - but also deeper controls for those that require them.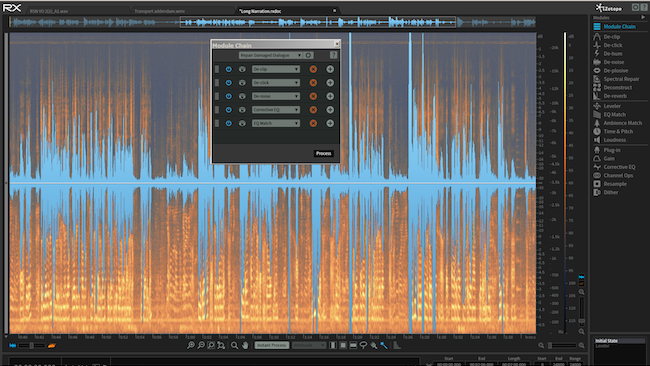 We found the new 'Instant Process' tool a real time-saver producing great results. With this feature you are able to use selection and magic wand tools directly on spectrogram itself to remove unwanted elements in the material - including the harmonic components of the offending audio. iZotope's clever algorithms performing all the complicated processing under the hood, effectively checking the sound print each side of the audio being processed to give the most transparent blend and best resulting correction.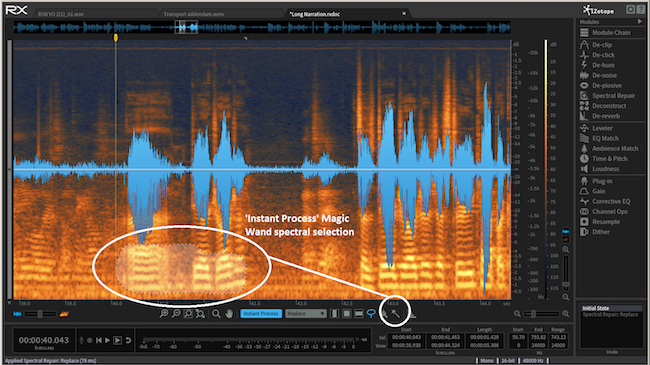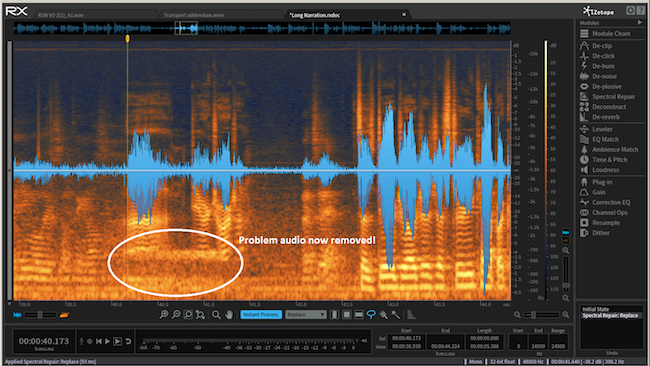 Also very useful was the 'Leveller' tool. With a selection and a few simple target volume level settings, the software levels the rms volume using a node-based correction avoiding the initial standard 'go to' for a dynamics processor. If you've ever tried to manually level peaks and troughs with nodes in even five minutes of production dialogue you'll love the speed and quality of results the Leveller delivers.
Plug-ins included in the Post Production suite bundle are: 'Final Mix' EQ and dynamics processing, loudness control for industry standard program level delivery and the 'Insight' signal monitor plug-ins. Additionally, you'll also get download credits for the Pro Sound Effects sound effects library and a one year pass to the Groove 3 tutorial library.
Most of the modules are also available as plug-ins to connect to a variety of DAW, video NLE and Audio Editing packages. The audio editor can operate as a stand-alone or can also be plugged into host software via 'RX Connect' where you can send over your program, process then return to the host.
Plug-in architecture also works both ways; you can host other supported plugins within the Audio Editor itself further expanding the possibilities of using your favourite 3rd party plug-in modules. Supported plug-in architectures are: Audiosuite DPM & AAX, AU 32 & 64 bit, VST 2 32 & 64 bit, RTAS 32 bit and AAX 64 bit.
If you've ever found yourself with a piece of audio that seems damaged beyond repair due to one issue or another - or indeed a whole range of issues, the RX suite is well worth checking out. But of course, it doesn't just clean and fix, it enhances and makes the average shine. With effiient to get the job done quicker and better, you'll have more time free to focus on the creative side of things, rather than mundane and time-consuming 'corrections in post'.
There's a free trial available for download on iZotopes' website. Download it and hear the results for yourself.