We've been lucky enough to be among the first to get our hands on the new ASUS ProArt PA32UCG 4K HDR monitor. Here's a first look and unboxing.
It is probably every editor's dream to own their own reference grade monitor, although it remains just that, a dream, for most mere mortals throughout their career. Unless you work in high level broadcast or film the most you can usually hope for is something that is good, but that could never really be referred to as a 'critical' level display.
Often costing tens of thousands of Pounds for a 32-inch reference display it's not surprising most people don't own one. You can get one for less expense if you are willing to go down to around 20-inches or less, but is this what you really want when you're dealing with 4K HDR images?
This dilemma could be about to change thanks to a new 4K HDR monitor from ASUS. The PA32UCG is now about to hit the market and it could be just be the perfect solution for professionals who want dependable colour accuracy and 4K HDR at a price that doesn't require a new mortgage. It's still not what you'd call 'cheap', but remember that when we discuss the price of monitors like this, we are talking about it in terms of a professional tool, not a consumer device.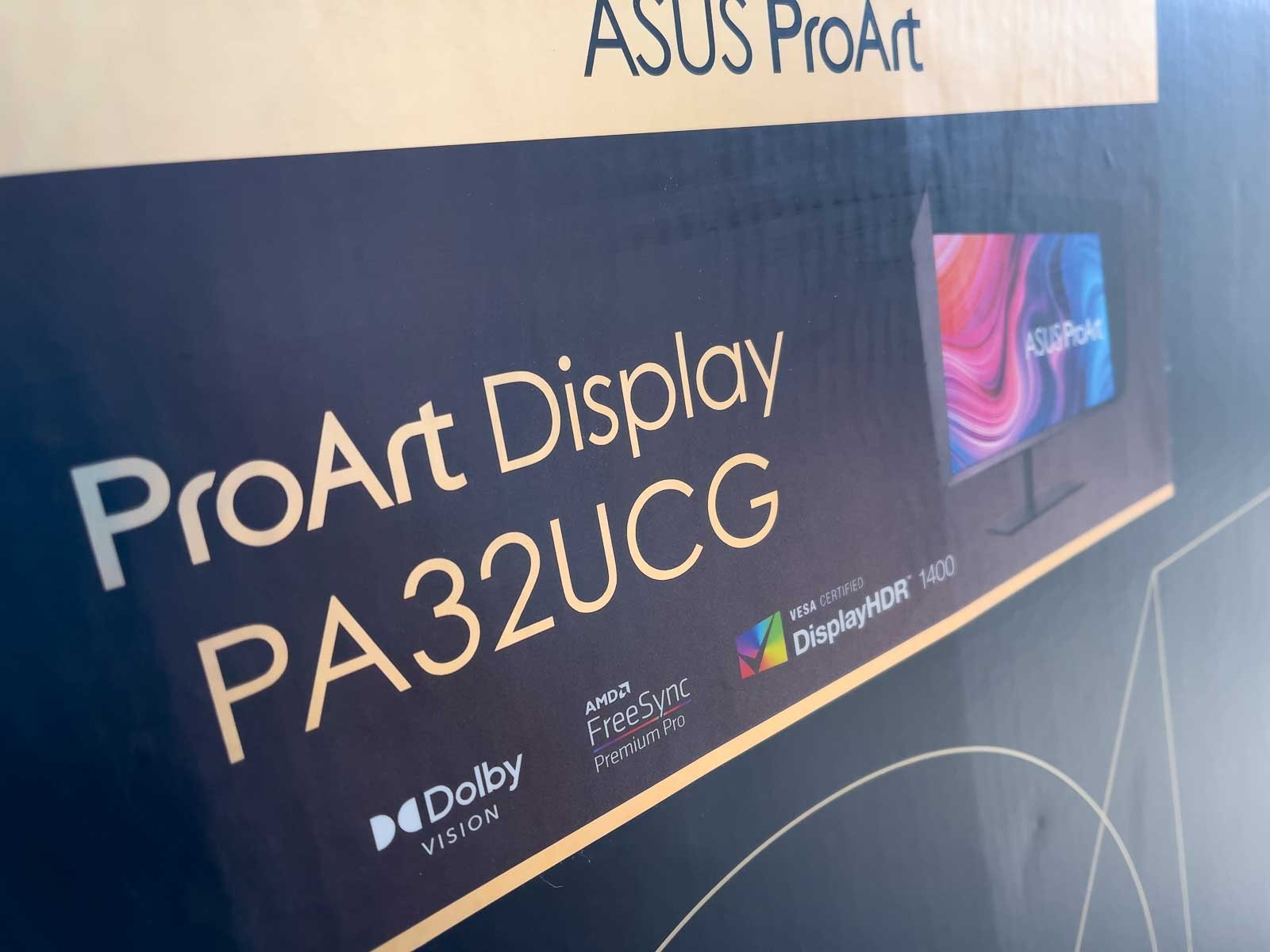 ASUS PA32UCG specification
The ASUS PA32UCG was in fact announced some time ago, September 2019 to be exact, but it has only now just started being geared up for release. The specifications of the display are impressive, being capable of displaying 10-bit full RGB 4K images at up to 120Hz refresh rate, 85% Re.2020 coverage, Dolby Vision certification along with HDR-10 and HLG compatibility, 1152 backlight zones, a 1600 cd/m2 peak brightness with a sustained 1000 cd/m2 being possible.
The PA32UCG is a 32-inch MiniLED based display and now forms the flagship of the ProArt series. It has been designed with video editors and colourists in mind who require an HDR based workflow, although it also works as an excellent SDR display as well. The 120Hz maximum refresh rate means that the display is also well suited to games developers too, something that rival displays that can only reach 60Hz are not suited for. We'll come to the full comparison and meaning of the specifications in our full review to follow shortly, suffice to say that this new display is factory calibrated and achieves a delta E of < 1 across Adobe RGB and sRGB colourspaces and a delta E of < 2 in DCI-P3. It also has a 98% gamut coverage of DCI-P3, 99.5% of Adobe RGB, 100% of sRGB, along with the aforementioned 85% coverage of Rec.2020.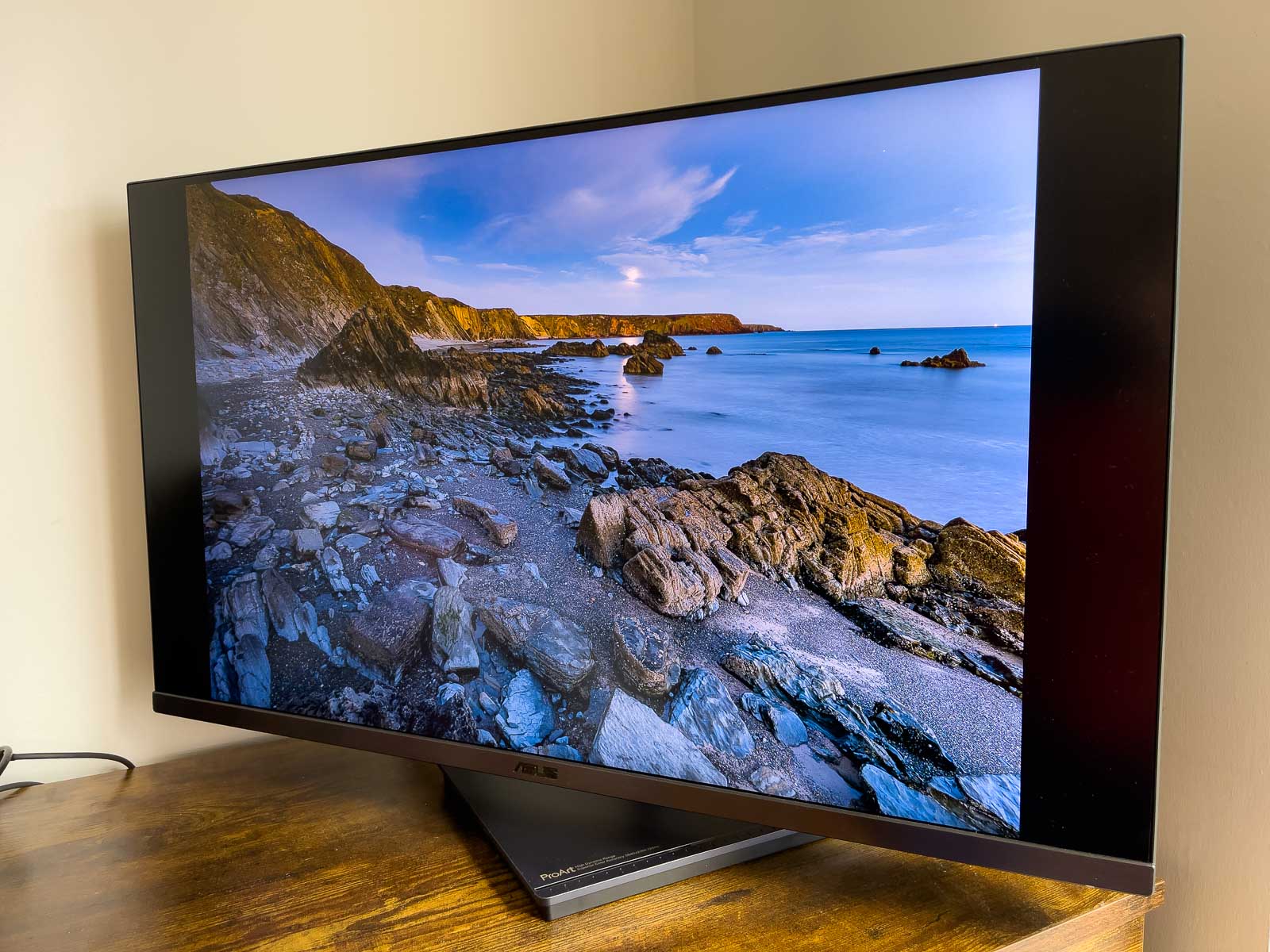 It has a native resolution of 3840x2160, so although DCI footage will need to be scaled, it is perfect for UHD based viewing pixel for pixel. The important thing is that the display can show 1000 cd/m2 of brightness indefinitely, which at its intended price point is unique, particularly given that it has such flexibility with refresh rates. Most rival displays at this price point peak at 1000 cd/m2, with sustained brightness being much lower. Plus with the 120Hz capability you could grade 4K footage at a native frame rate of 120fps in full 10-bit HDR if you wanted to and you owned a computer system capable of playing it back smoothly!
First impressions of the ASUS PA32UCG
At 32 inches the monitor is big, and the box size clearly reflects this. Once you take the box lid off, it becomes apparent that the monitor truly is a beast. This isn't some nice, slimline decorative television set; it is very clearly a serious tool. And at around 9.7kg for the display, it's definitely no lightweight, and the supplied stand weighs in at a whopping 8.6kg on its own. It's so sturdy you possibly couldn't make it any more stable if you used concrete. However it is all very nicely designed, with a classy brushed metal effect surround designed not to draw attention to itself.

The chunky stand for the ASUS PA32UCG.
Apparently the reason why the monitor is so chunky is to accommodate the complex backlighting array, power supply, dual 3W speakers, and the cooling system.
The stand, which the main display clips onto, allows fast and easy height adjustment, horizontal rotation, as well as vertical orientation rotation. The outer surround features a number of square air vents because the system has a quiet internal fan which kicks in periodically.

The many inputs on the PA32UCG including a Thunderbolt 3 through port.
Once mounted onto a desk the PA32UCG looks great, but as I mentioned the design doesn't draw too much attention to itself, so although it is a large display it looks stylish but understated in a room. Turn it on though, and it makes its presence known. That peak brightness of 1600 cd/m2 is bright. That might sound like a thoroughly obvious thing to say, but if you've seen this kind of brightness on a small camera monitor such as the Atomos Shogun 7 it is actually quite a different thing to see it on a large 32-inch display like this.

It's incredibly neat once mounted to the stand.
I will reserve my full impressions for the main review, however in my testing so far the PA32UCG would appear to be very good for evaluating footage and stills images. It does appear to show up every nuance of an image allowing you to properly gauge things such as noise levels and artefacts, as well as its primary focus of colour accuracy. In the examples of HDR footage I have seen so far the colour depth on show as well as contrast can be breathtaking.
Look out for our full review of this monitor coming soon, as well as some impressions of it from a selection of professionals. The PA32UCG is an important release because, not only does it pushes the boundaries of technical capabilities, but because it is managing to achieve them at an increasingly realistic price point from a professional user standpoint, particularly if your day-to-day work requires dependable colour accuracy.
In the meantime find out more about the PA32UCG from the ASUS website. ASUS will also be running a series of webinars about the monitor starting next week, which can also be accessed here.
Tags: Post & VFX Technology Featured