ARRI's new camera is one of its first in a while to feature a brand new S35 sensor giving a claimed 17-stops of usable dynamic range along with newly developed colour science.
There's been rumours and leaks surrounding the new camera for a while, but today the announcement has been made official, and ARRI's new baby is out for all to see.
The camera, called the ALEXA 35, features a brand new ALEV 4 CMOS sensor capable of laying down a 4.6K image with a precise resolution of 4608 x 3164 and a pixel pitch of 6.075um. There are eight sensor modes and 19 recording modes, allowing recording from 4.6K 'Open Gate' at up to 75fps down to 2.7K 16:9 with a S16 crop at up to 120fps in ProRes. 4K 16:9 imagery can be recorded at up to 120fps in both ProRes or ARRI Raw.

Side view of the ARRI ALEXA 35, showing the new left side display. Image: ARRI.
It's quite redundant discussing recording codecs when it comes to ARRI cameras, so what makes the ALEXA 35 special? To begin with there's a claimed 17-stops of usable dynamic range, which on paper puts this 2.5-stops more capable than any previous ALEXA camera. Quite how this works in practice is anyone's guess, since usable dynamic range is often quite subjective. However, this is ARRI we're talking about, and we'd imagine that the machinery can back up the brochure speak.
ARRI states that the new camera gives 1.5 more stops in the highlights over previous cameras, and 1-stop more in the shadows. An enhanced sensitivity mode can be engaged for low low light at EI 2560 and EI 6400, giving low light imagery a natural look with minimal noise levels.

This image shows the difference between the older LogC3 and the new LogC4 curve. Image: ARRI.
The new log profile means that existing ALEXA users will need to adapt to the new exposure profile, with mid-grey sitting at 28% in LogC4 compared to 38% in the older LogC3 due to the additional headroom required in the highlights. This also means that older LUTs will not be compatible with the new system.

Front view of the ALEXA 35. Image: ARRI.
Another interesting aspect is the weight. The new camera weighs in at 2.9kg, which for reference compares to 2.6kg of the ALEXA Mini LF. Indeed, the images of the new camera show that this is no monster like the original. Indeed, ARRI claims it's the smallest fully-featured ARRI production camera it has made so far.
The diminutive size will make the ALEXA 35 much more versatile, with duties ranging from traditional filmmaking to drone use. There's a new left side display, making it easier for camera ops to see settings, and the camera is compatible with 1TB and 2TB Codex Compact Drives. The new viewfinder is also HDR compatible.

The ALEXA 35 uses the compact B-Mount Battery system with 24V capability, making it compatible with a whole host of other equipment, from stabilisers to lighting. Using B-Mount will mean that battery systems across a range of equipment will be simplified and more cross compatible.
REVEAL colour science
The ALEXA 35 features ARRI's new REVEAL colour science and processing. The debayering algorithm has been improved so that cleaner compositing is possible, while there's new LogC4 encoding to cater for the wider dynamic range of the new camera. New LogC4 lookup tables are also provided, and there's a new wide colour gamut native AWG4 colour space. The ARRI Colour Engine ACE4 converts the sensor RGB data into AWG4 colourspace. ARRI claims this lets the camera capture highly saturated colours such as those found on neon signs, or the brake lights of cars, with much higher fidelity and realism.
The new colour science is backwards compatible and ALEXA LF/Mini LF ARRIRAW can use REVEAL Color Science workflow in post production.
The camera has been designed with Mixed Reality Productions in mind, with lens metadata being recording to common standards, as well as being able to output real-time streaming metadata to ARRI's Live Link Metadata Plug-in for Unreal Engine.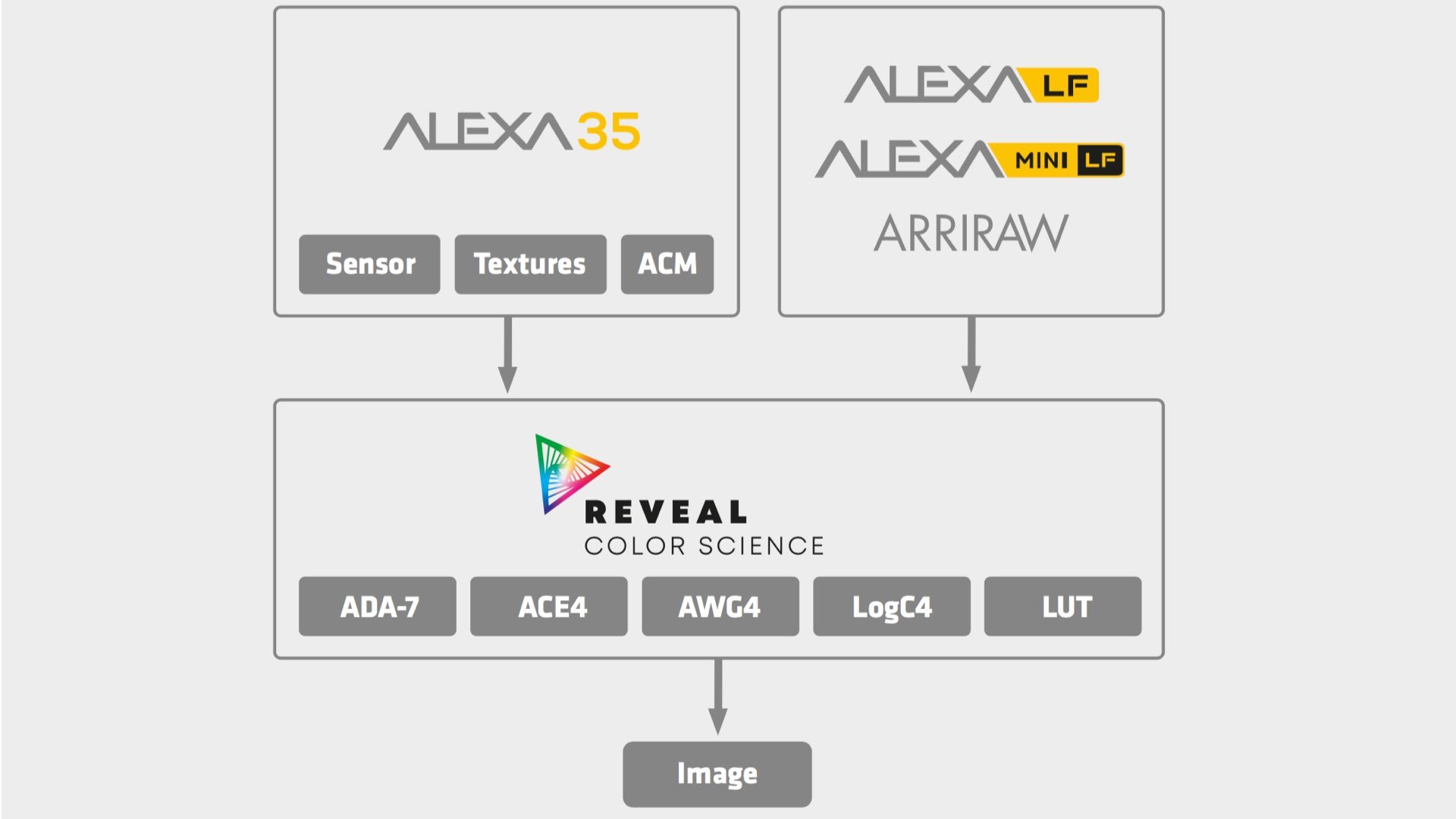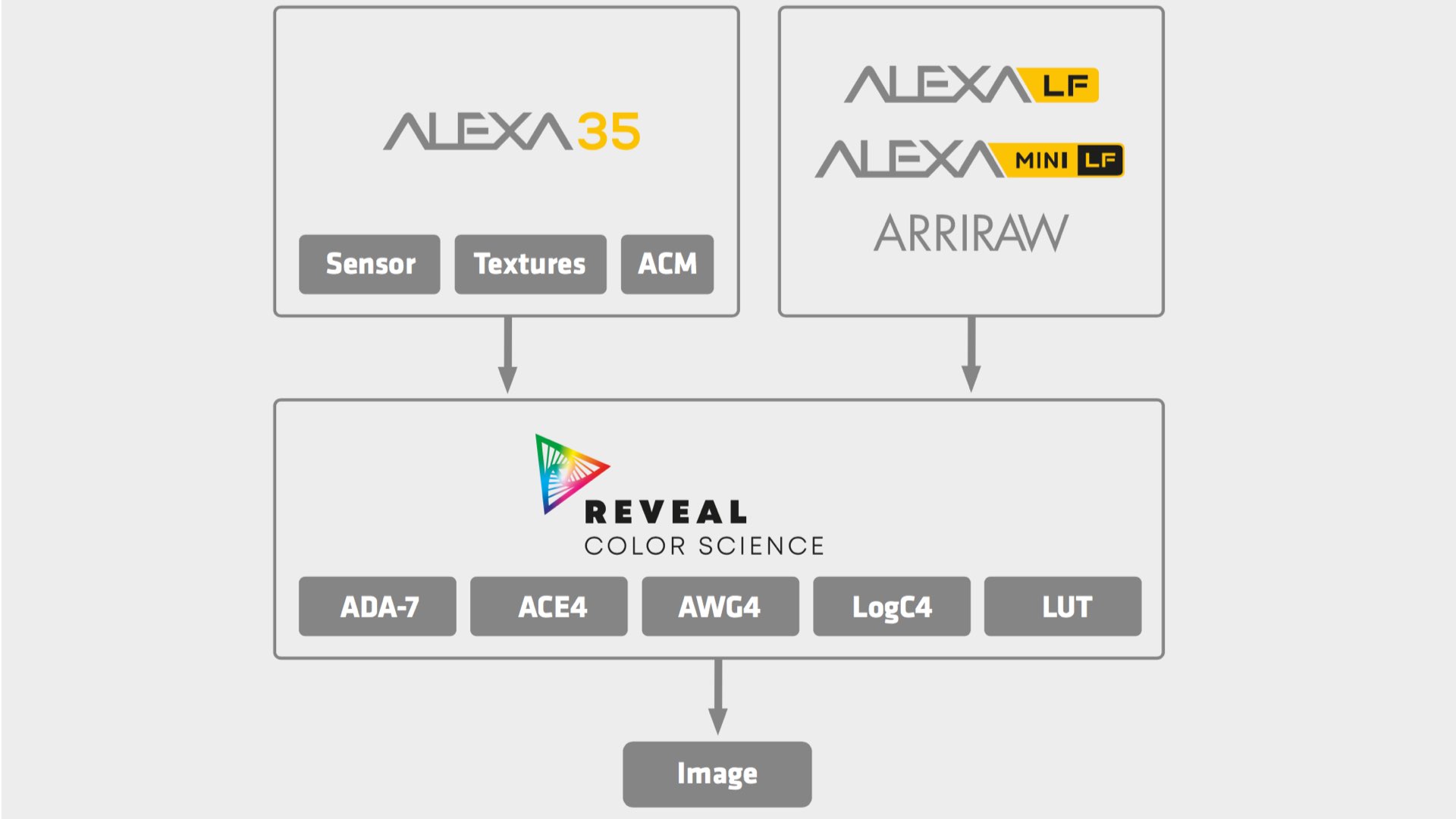 ARRI Textures
This is an interesting one. Textures let's cinematographers control both the amount and type of grain on the image as well as the amount of contrast at different levels of detail. This latter part is curious, since it would appear to be a modern way of implementing the different detail settings on an ENG camera. This would normally be something we'd expect to be handled during grading these days, since it would require a lot of testing and confidence to lay down such an effect in hard baked form. However it is interesting that ARRI is seeing this as a way to effectively choose a 'virtual film stock' for your production.
ARRI has created a system of accessories that allows the camera to be quickly set up for different use scenarios. For example you might want a lightweight setup, or you might want to load up for a much more traditional production configuration.
Price for the new camera is... Well, is there any point? If you have to ask you won't be able to afford it. Okay, it's £. Good luck with your Christmas Wishlist!
For more information visit the ARRI website. Watch the Keynote presentation and guided tour below.
Tags: Production News Cameras