It's that time of year again! Matt Gregory sifts through all the pre-show news and marks your card for 10 essential things to see and do as IBC2023 rolls into the Amsterdam RAI.
Welcome to our guide to the things we recommend you check out at Europe's most popular film and TV technology trade show, IBC, this year. Our editorial inbox is overflowing with press releases so we are expecting a LOT of new tools for you to see and interact with this year. Before I get onto the list though, one major, major tip if you haven't been before: Get a floor plan! The RAI is an elaborate maze of halls and tangled passageways that can stump visitors that have even been attending IBC for 20+ years! Anyway, if you do visit, have fun and enjoy the show. And if you don't, keep coming back here for all the news from Amsterdam.
Here are my Top 10 Tips for the show this year.
1. Adobe (7.B35)

Adobe has gone big in the past 2-3 years. Its acquisitions of both Frame.io and Figma have caused major industry interest and right now its hottest feature seems to be its AI-powered auto generation tool for still images and we are all looking at how that will transition into video. Well actually it already is.


Text to image with Adobe's Firefly generative AI is seamless
Adobe has gone all in on AI, we saw that back when it first introduced Sensei, now we have Firefly that is doing exactly that in the video space. It's here and (in our opinion) pretty cool. Its text-based editing tool is something we use ourselves for our IBC videos, and it saves a bunch of time editing interview videos. Check it out along with the many many sessions it hosts on their stand. And watch for some exciting news from the company in the middle of next week.

2. AJA (7.C19)
A personal thing here. This year, AJA and the industry lost someone very special, Bryce Button who passed away in May aged 57. Bryce worked at AJA for 14 years, was respected by everyone he met, and personally was a huge influence as he showed me (with great patience) how 4K will become the industry norm, why colour accuracy is essential to workflows and where in New York, LA, Vegas, London or Amsterdam you could get the best Rusty Nail!

Bryce was the life and soul of any party/event he attended or hosted. He was the host of many many interviews we did at the AJA booth and this year the show just won't be the same without him. It really won't.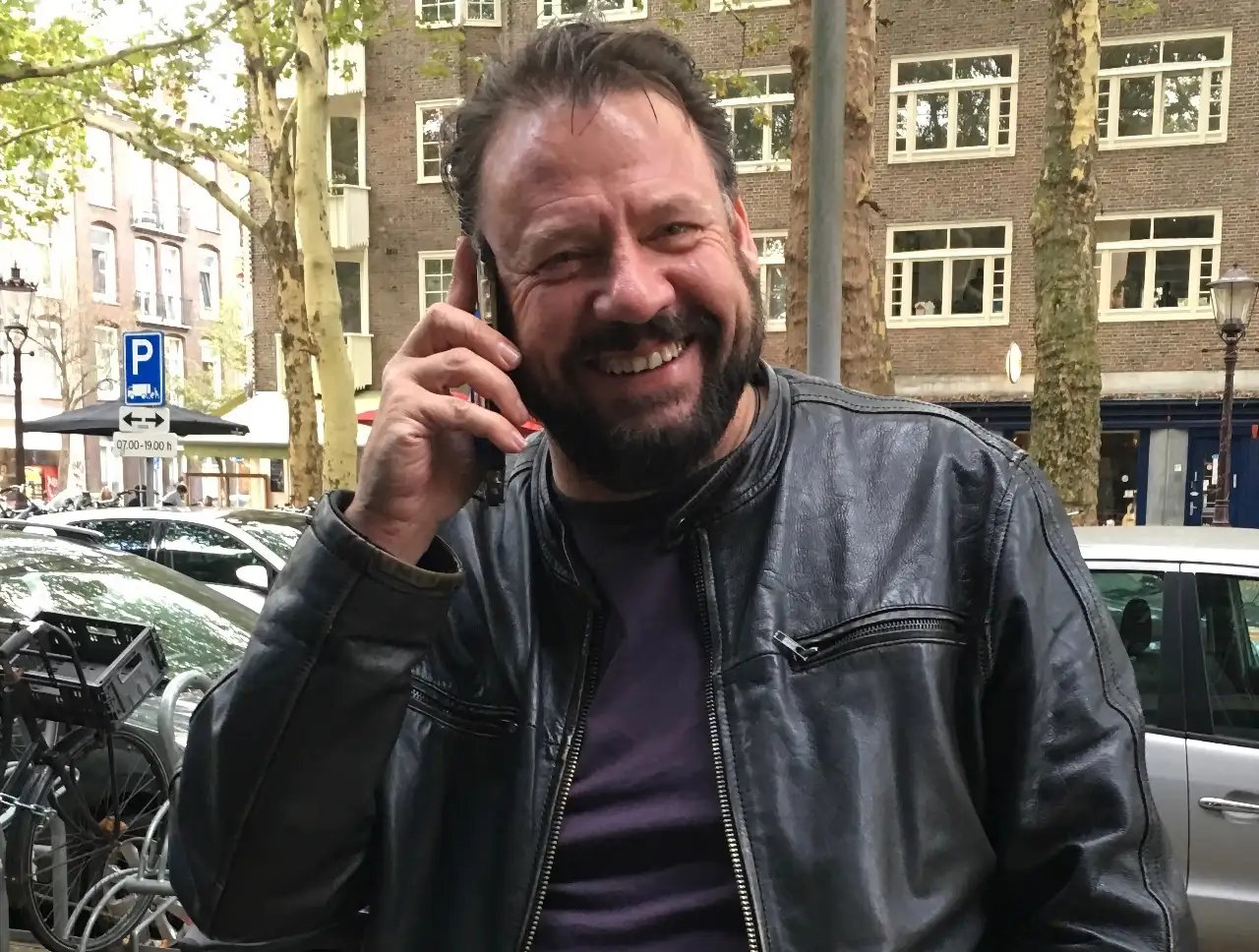 Much missed: Bryce Button

AJA sponsors RedShark, its been huge supporters of us since day 1 actually. We wouldn't exist without the help and support of companies like AJA and individuals like Bryce who embraced partnerships. Most of you know who AJA are and what they do, which is (mainly) red hot and essential video I/O. Its newest tool KONA X is a super low latency I/O for video that you can see working for yourself. Unfortunately Bryce won't be there to demo this year but please, if you are there go by and see their products and talk to their team. They are a family run company with great products and awesome people. Shows like IBC are the best time to make these connections.

3. Atomos (11.D25)
Our Aussie mates are at it again! Just a month before IBC (thank you Atomos PR people - always nice to have new products *before* IBC) ago it launched the new Ninja Ultra - built with cloud workflows in mind. Look, if nothing else visit Atomos because it is always one of the most immersive and interactive stands at IBC. It has *every* camera there as its recorder/ monitors work on *every* camera. The Ultra is made for camera 2 cloud. If you were wondering if it's any good? Yeah it is, so good we are using it ourselves and will do a C2C demo from IBC.

The new Ninjas from Atomos: built for the cloud

4. ASUS (3.D57)
At NAB the product pretty much everyone was talking about was the PQ07 Wondering what that is? Not surprised. It's a 135" micro LED display that can be used as a LED screen for virtual production, retail/ business display or - if you are a total baller… a home TV! ASUS has become a serious industry player. We've seen its displays, laptops and workstations used in major post houses, studios and some of the leading film and TV schools in the world.

Home TV? We were thinking Starfield ourselves...
It isn't stopping either, this year it has moved into on set monitors with SDI connectivity. Its prices are very very good for a spec that often matches or even exceeds products 5x their price. On its stand you will see presentations from partners like Scan, Adobe and NVidia. This is where ASUS are now, at the centre of the industry with products used by the very best. If this has passed you by, no more excuses, go see them and try for yourself.

5. Canon (11.C45)
Spoiler alert. Our production team uses the Canon R5C. Why? Because it's an absolute beast of course! Amazing autofocus, good form factor and beautiful hi-res cinematic images. Canon always has an astonishing array of lenses and cameras on display. Its EOS cinema cameras are what we love to play with but in reality its their extensive array of PTZ cameras which sell by the container full and its virtual production solution most people will be visiting for. And this is another company that will have some big pre-show news dropping next week; watch out for it.

The Canon EOS R5-C with added Ninja companion

6. Matrox Video (7.B15)
One of the key themes of IBC this year will be Cloud workflows. Back in April, live production experts Matrox Video announced its new cloud native media framework, ORIGIN (cool name BTW). Why is this important? It is a software-only framework that can achieve highly scalable, responsive, low-latency, easy-to-control, and frame-accurate broadcast media facilities to support tier 1 live productions both on-premises and in the cloud. This is important stuff and it will be popular with any/ all broadcasters and networks.

7. Pixotope (6.A16)
The other big theme at IBC2023 *will* be Virtual Production. We've been lucky to spend some time recently with the Pixotope team and their new Pocket tool alongside their Pixotope Education Programme. When you see students working with highly advanced technology like VP, using a tool like Pocket that is so easy was one of the coolest things I saw in 2023 so far.

The UI of the new Pixotope Live Controller
Now it has its Live Controller tool, brand new and absolutely aimed at the profile of attendees IBC gets. In other words, major production companies are looking at ways to make virtual production work. Live Controller is a tool designed to flatten the learning curve often used as a barrier for broadcasters not taking on a VP workflow, it is web-based and designed to be a central hub for all your graphics needs *and* integrates with your existing workflows and technology. It works - go see it and ask questions.

8. Sound Devices (8.C95)
With an enviable reputation for crafting high-quality and reliable tools for audio production, Sound Devices is a must-visit for anyone in the industry. Featured in a host of top flight productions such as La La Land, The Revenant and Game of Thrones, these guys know how to elevate sound recording and mixing capabilities to new heights. We also use its equipment so want to shout them out here - their kit is rock solid and works great for us.

9. The Beach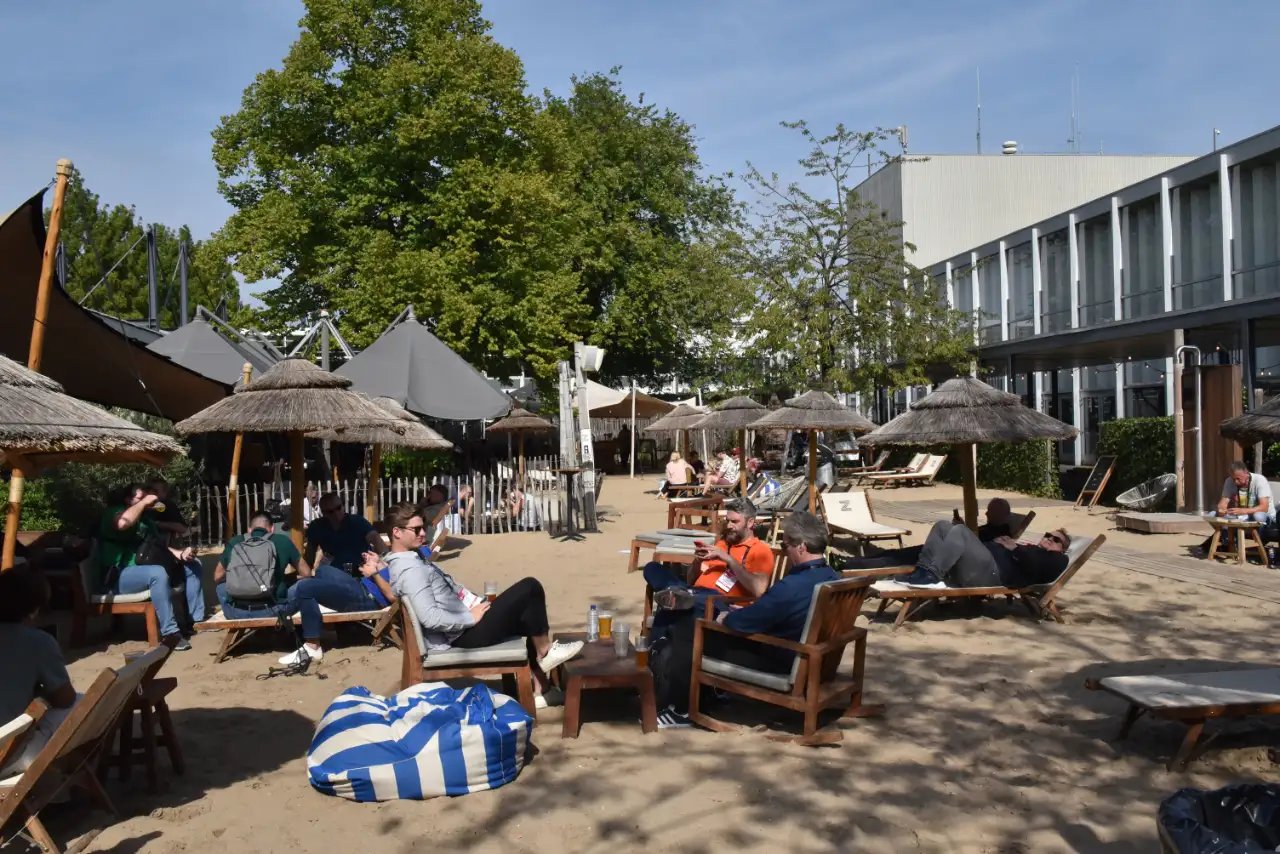 The Beach at IBC. People have been known to get lost there for days. Pic: IBC
No, not the "actual" beach, I mean the RAI's recently updated new artificial beach. Which actually is a massive bar area! By now you're shattered, have had 20+ demos (or given 40+ if you're working there - don't worry exhibitors, we haven't forgotten about you) can't quite remember how many stops of dynamic range the latest Sony cinema camera has, and you need some refreshment. This is the place to go! The central hub for networking, relaxing or getting away from it all. Also the venue where a lot of the show parties are held. All in all I'd say it's the beating heart of IBC. Have a beer, the sun's shining and you've earned it.


10. Amsterdam CS
Okay, I admit I've waited a full year to rant about this… Are you ready readers? Well I won't dwell on it too much but last year the situation at Schiphol was, frankly, an absolute disgrace. Now there were many, out of the norm factors at play here including the early ending of a summer bonus pay to workers already overworked and underpaid which led to a work to rule scenario and mass sick leave which led to post-show scenes at Schiphol airport that were by (miles) the worst I've ever seen at an airport.
Queues averaged 8hrs to get to passport control. I saw fights break out in the queue as people tried to cut the line to make flights/ connections. People were even stealing the pool wheelchairs in an attempt to jump the line. Little or no security led to the line self policing. It was dangerous and not right for one of the world's biggest airports. It went on for days and pretty much every IBC attendee last year that flew in or out will know exactly what I am talking about here.

A Eurostar at Amsterdam CS. Not a fight for a luggage trolley in sight. Pic: Shutterstock
So yes, the last "thing you should see at IBC" in an ideal world is Amsterdam Central Station, which connects via high speed rails services across Europe. That said, things don't look so bad this year (and I should also add the CEO stood down as a result) so for those travelling through Schiphol, myself included BTW, good luck, safe travels, and hopefully see you down The Beach for a beer and not in a queue somewhere else!
Tags: Production Business