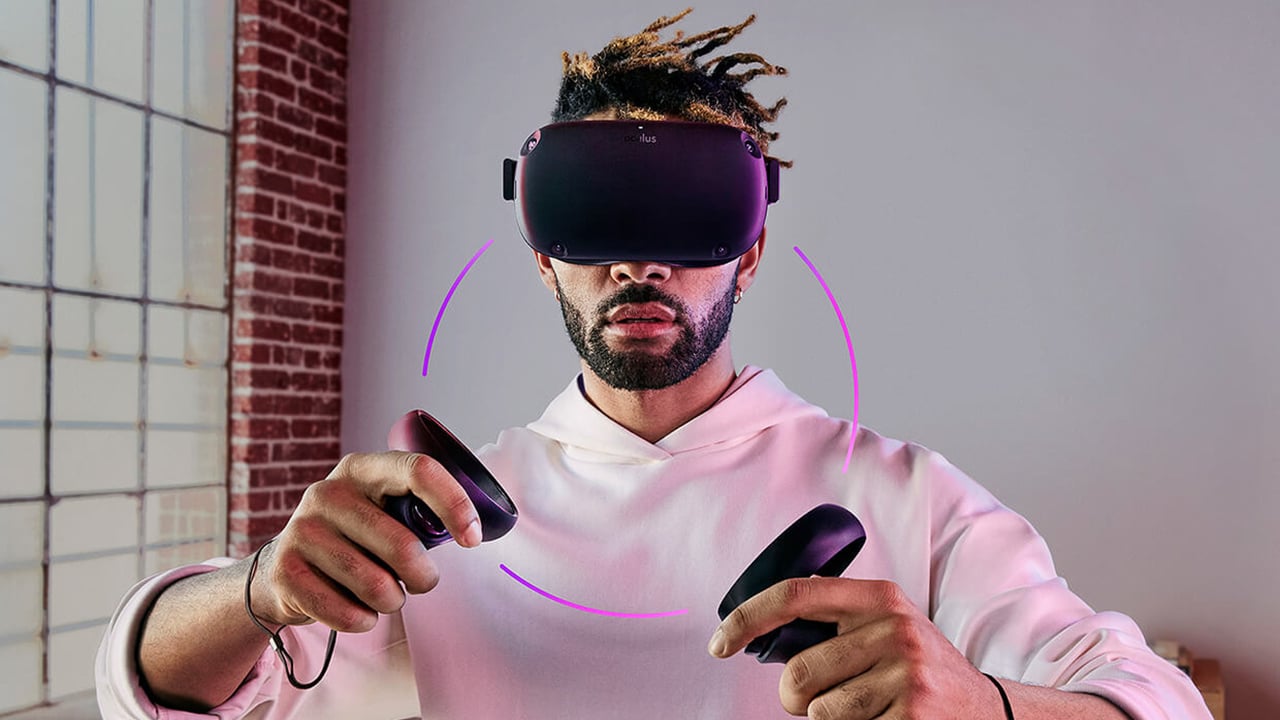 Is Facebook's new Oculus Quest VR headset a more powerful Oculus Go, a less powerful Rift, or something else entirely?
At last year's Oculus Connect event, Mark Zuckerberg took the stage to announce both the company's first standalone VR headset, the Oculus Go, and the company's goal to get 1 billion people into VR.
At this year's Oculus Connect, taking place Sept. 26 through 28, Zuckerberg gave an update on that lofty goal to report that the journey is only one percent complete. An estimated 10 million people are now in VR.
But he also took the opportunity to unveil a brand new VR headset to help push those numbers ever upward: the Oculus Quest.
Previously known as Project Santa Cruz, the Oculus Quest will be shipping this spring for $399. It's twice the price of Facebook's previous standalone headset, the Oculus Go (and, some say, twice as good), but it's also the same price as the Oculus Rift without the requirement of running on a high-powered PC.
So, what exactly is Quest to the marketplace? Is it a more powerful Go? A less powerful Rift? Or something else entirely?
Oculus Quest combines the wireless, standalone simplicity of the Oculus Go with some of the power and tracking potential of the Oculus Rift.
Rift vs. Go vs. Quest
The Oculus Quest is a wireless, standalone VR headset. It has the same display resolution as the Go – 1660 x 1440 per eye – but features a Snapdragon 835 chipset (a few generations better than the Go).
It can support six degrees of freedom, enabling users to move through virtual environments like they can with the Rift, but uses inside-out tracking made possible by four ultra-wide angle sensors versus a pair of base stations. The sensors can also track the pair of controllers, included in the $399 price and very similar to the Rift controllers.
Although the Quest can support beefier experiences than the Go – and despite Zuckerberg calling Quest experiences "Rift-like" – most Rift experiences will need to be ported to the Quest. 'Optimisations' include static rather than dynamic lighting, fewer polygons, fewer textures and merged objects, among others.
Although this screenshot from Developer Relations Engineer Gabor Szauer's OC5 presentation about porting Rift apps to Oculus Quest looks quite similar, Szauer outlined a number of optimisations required to make the game run on Quest.
Quest: The 'Console' of VR
Perhaps one of the best hunches of Oculus Quest's placement in the market came from a Reddit post by u/Sillysmartygiggles: "If the Go is the phone and the Rift is the PC, will the Quest be the console?"
The Go is great for watching videos and casual gaming. That's what it was made for: to give consumers a simple and affordable entry point to VR without cords, computers or confusion.
Rift is still Facebook's high-end headset capable of powering complex experiences and Facebook has made clear it will continue its commitment to the Rift.
Oculus Quest certainly falls prey to limitations familiar to console gaming versus PC gaming. However, it also makes good on many of the benefits offered by console gaming. It's out-of-the-box, it's a better experience than a phone or an Oculus Go and it's a less significant financial investment.
But, as u/Sillysmartygiggles asks: "Will there even be a market for that?"
At Oculus Connect 4, Mark Zuckerberg shared an ambitious goal to get 1 billion people into VR.
Facts, Fiction, and Predictions
Some technologists are already throwing in the towel on VR, saying it's nothing more than a niche market. Well, the PC gaming market was quite niche for a great many years before it overtook console gaming.
Although console sales are declining while PC sales rise, I'd venture to bet that most PC gamers migrate from console and mobile gaming.
At the same time, half of Americans have a gaming console in their home and half of American gamers prefer consoles.
If the Quest reaches as many people as have gaming consoles that would balloon Facebook's progress toward its 1 billion goal by a factor of 16 in the U.S. alone.
If people enjoy the Quest as much as they enjoy console gaming, perhaps there will be a ready market of people who've experienced VR on the Go and the Quest who are ready to make a big investment when Rift 2.0 launches.
If the VR market were to follow the lifecycle of console, mobile and PC gaming, perhaps high-end VR headsets like Rift will reign supreme when VR becomes as ubiquitous as gaming, which claims more than 1.8 billion gamers worldwide. That's almost double Facebook's goal to get 1 billion people into VR.
Will all those 'ifs' actually happen? Probably not exactly and definitely not immediately. But it does make the launch of the Quest a little less confusing than it seems.