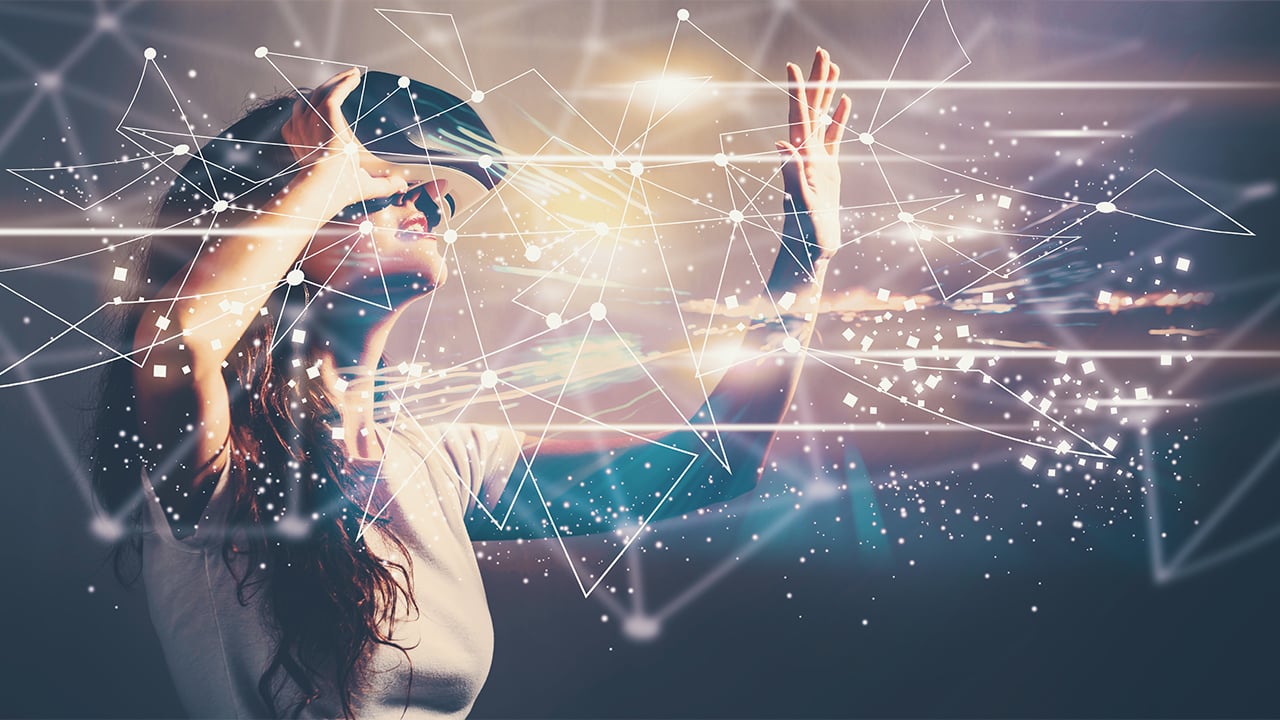 Mozilla just announced its Firefox Reality browser for standalone VR and AR headsets. But, that particular brand of WebVR is just one of many approaches. Here's what browsing might look like in VR, and since everything we do these days is in a web browser, this really matters...
Ready Player One. Whether you love the new movie or hate it, the book is what gave me a glimpse of what VR could be. I imagined navigating digital places, people and things in a way similar to walking through my neighborhood.
However, VR as it is today is much more fragmented.
Talk to anyone working in the space and they're bound to complain about how difficult it is to find new VR experiences, how they're tired of downloading app after app after app, and how maddening it is that so much content launches exclusively on Rift, only on Steam VR, or specifically for Windows MR.
That's what makes WebVR such an appealing concept.
WebVR makes it possible to experience VR within your browser, making it significantly easier to hop into VR experiences regardless of the headset you have and without having to download a new app for each experience. (It also makes it easier to publish a VR experience without having to publish to each and every platform. Yay!)
Firefox Reality
On April 3, Mozilla announced that it was working on a WebVR browser called Firefox Reality specifically for standalone VR and AR headsets--many of which will be launching in 2018, from the Oculus Go and Google and Lenovo's Mirage Solo to the HTC Vive Focus' international launch.
The open-source application offers full web access via native controller integration, showing standard web pages as 'virtual windows'. Firefox Reality may also have other interactive features, including gesture and voice control that we may see in preview videos Mozilla will be putting out in the weeks to come (alongside which headsets will support the app).
Even though most existing VR headsets have their own browsers, they're often limited to a specific headset. Like, Google Chrome VR with Daydream or Samsung's own browser for the Gear VR. Similar to the way Firefox offered a hardware-agnostic web browser for desktop, Firefox Reality could be that hardware-agnostic browser for standalone VR headsets.
Samsung Internet: Most of today's mobile- and PC-based headsets today have their own web browsers, like Samsung Internet for Gear VR
Firefox had already been one of the first browsers to begin experimenting with WebVR, implementing WebVR with Firefox 5.5 last summer. They also are working on WebXR browsing features that would seamlessly support both web VR and AR. And, Mozilla's A-frame project aims to make building WebVR sites easier. So, in addition to being a platform agnostic approach to VR content delivery, they're also working on solving a number of pain points.
All that said, though, Firefox Reality is really just one version of what the future of WebVr might look like.
In the preview video, Firefox Reality displays traditional webpages in a virtual window. The benefit of this being that when you navigate to immersive content, you can simply click play because you're already in your headset.
However, some companies are approaching WebVR completely differently.
Supermedium
For example, the startup Supermedium--the founders of which were part of the team that built Mozilla's A-Frame framework. Rather than making the full flat web accessible in VR, they're indexing the best immersive content already available.
Or, LensVR, which is aiming to make the entire existing web VR-responsive through a few extra lines of code on each website.
Even the browsers from Oculus and Samsung offer a more immersive browsing experience than Firefox Reality. Unlike VR-compatible browsers like Firefox Reality, these are VR-first browsers.
They don't have to serve a flat browsing base of users. They can break as much--or as little--of the web we know and love and the rules that govern it. Firefox Reality breaks from the flat web a little bit, but it certainly doesn't look like the WebVR world I envisioned when I was reading Ready Player One. That's a long way off. But even baby steps toward WebVR give virtual reality a boost.
First, if you're browsing with your headset on, half the battle of getting people to watch your immersive work (in an immersive environment) is already won.
Second, just like blogging sites and build-your-own-website tools gave a wider breadth of people the ability to build websites, WebVR gives a wider breadth of immersive content creators access to an audience, without having to fight their way into half a dozen app stores.
Hopefully, we'll see more people with varied backgrounds and interests creating weird, obscure, random content, breaking the 'rules' of VR, trying new things, and building what eventually become known as WebVR.
Whether that looks like Firefox Reality or Ready Player One, I'm ready for it.
WebVR, let's get weird.
Header image courtesy of Shutterstock.