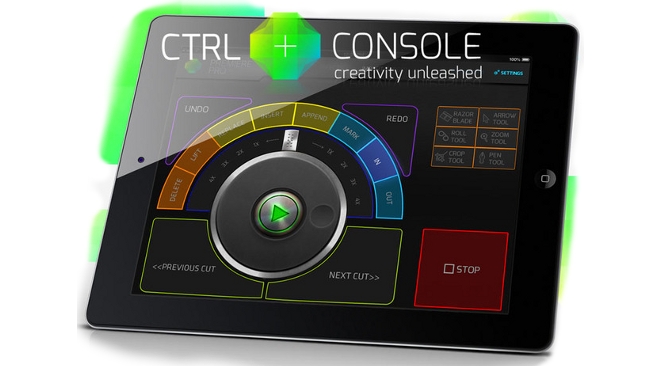 Former Kickstarter darling Ctrl+ Console is now available through the Apple App Store, offering editors everywhere the opportunity to turn their iPads into editing control surfaces.
In case you weren't one of the early adopters who jumped onboard this product's Kickstarter campaign, you're in luck. After a successful round of funding, the Ctrl+ Console is now available through Apple's App Store. Modelled after hardware-based editing controllers, like the Lightworks Console, this app functionally turns an iPad into a touch and gesture input surface for FCPX and Premiere editors.
Gesture revolutionizes editing
While the ability to use virtual controls via touch transforms the editing experience, there is one glaring drawback. Because there is no physical feedback, you must rely on sight to make sure you're interfacing with the right button or shuttle control. The creators of Ctrl+ Console anticipated this limitation, implementing a simple gesture system for common editing tasks. The Ctrl+ Console's gesture system allows editors to shuttle, mark ins and outs, insert clips and play your edit without every having to take your eyes off your primary video display.
Innovation is cheap
Through Apple's App Store, the Ctrl+ Console is available for either FCPX or Adobe Premiere Pro as a $30 in-app purchase for the full compliment of editing controls, although the you can purchase stripped down versions limited to transport controls for just $5. But anyone who is a FCPX or Premiere editor and owns an iPad would probably see $30 as a bargain basement price for a revamped, next generation editing interface.
Check out this short video on Ctrl+ Console's gesture system and find product links after the jump.
Tags: Technology