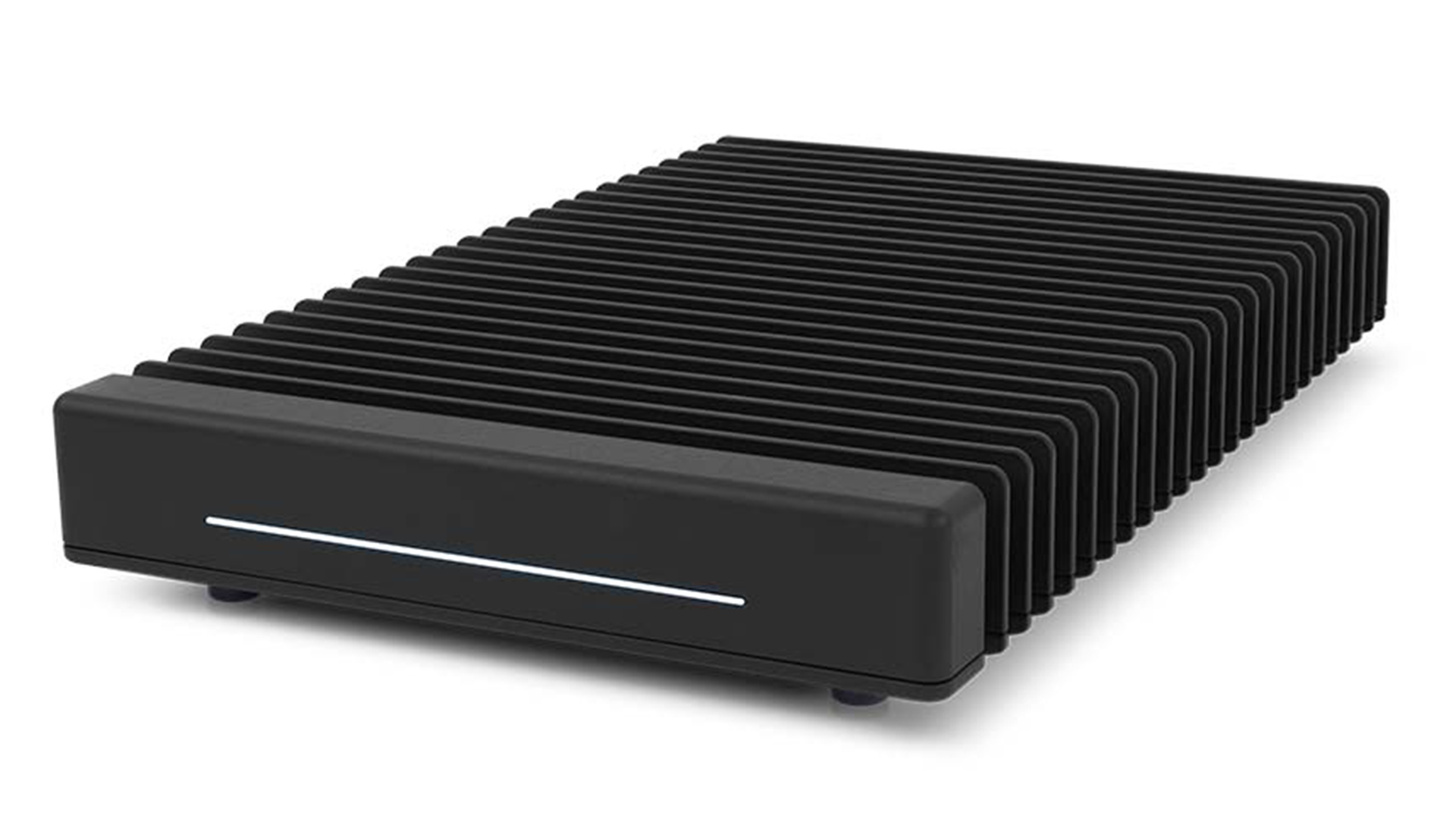 Review: The OWC Thunderblade has some bold speed claims attached to it. Find out just how fast it is in the real world in our review.
You've got fast, faster and fastest. The OWC ThunderBlade external Thunderbolt 3 SSD drive belongs to the last category. It has a data transfer speed of up to 2800MB/sec, you can have it in capacities of up to 8TB that you can expand further by daisy chaining up to six devices. The ThunderBlade has a sleek design with a nice, industrial look and comes in a custom-fit ballistic hardshell case.
As with most fast storage, the ThunderBlade is marketed as ideal for videographers and photographers. The question, though, is whether you really need 2800MB/sec throughput or if something like 1200MB/sec will suffice. In both cases, you'll see that the bottleneck isn't the device or Thunderbolt 3 port but the computer. For example, the low-end iMac has two Thunderbolt 3 ports but only one bus. Buy an iMac Pro and you'll get two buses. Buy a Mac Pro and you'll have four of them. Only in the latter two cases will you enjoy the full 40Gbps bandwidth per port and the maximum transfer speed the ThunderBlade is capable of because you can dedicate one bus to it. And yet, the 2350MB/sec on the low-end iMac is high enough to work with 6K or 8K video — or HDR images shot with a Hasselblad.
With a price of $1379 for my test unit, I don't need to be clairvoyant to assume you'll be one of the not so many who processes large files on a high-end workstation. Such an assumption could be wrong, though, because the throughput figures — as impressive as they are — don't tell the whole story. They sure don't if you consider that, if you set up two ThunderBlades in a RAID configuration with the included SoftRAID software, they can reach a transfer speed of up to 3800MB/sec.
OWC sent me a 4TB unit and its transatlantic voyage instantly showed the convenience of the ballistic case; the shipping box was small and flimsy, but that doesn't matter as the unit sits in its own foam insert with the cables in a separate slot. Given its low weight, you can take the ThunderBlade with you on a shoot and hook it up to your laptop, in which case the ballistic case protects against natural elements and a bumpy ride.
The unit itself is made of aluminium with the top entirely designed as a heatsink and the front bezel as a huge LED that changes colour depending on the drive's state. Inside, you'll find four OWC Aura P12 1TB NVMe SSDs set up in RAID 0 configuration. You can change the configuration to any other SoftRAID supports, but if you want to enjoy the highest performance, you'll leave it at its default setting. The back of the unit is home to two Thunderbolt 3 ports and a power port.
Copying files from and to the ThunderBlade is much, much faster than with any other external SSD I've tested so far. Reading a 26GB file from the ThunderBlade to an ExFat-formatted NVMe SSD took 29 seconds. Writing to it from that same device took 19 seconds. In another test, reading 260GB of folders and files — video, raw images and audio — and transferring them to an APFS NVMe SSD took less than 6 minutes.
The next test involved setting up a Final Cut Pro X Library on the unit with three video and one audio clip inside, ColorSynth grading with masks applied to it and a few Gaussian blurred areas. I rendered the whole 4K Timeline to ProRes 4444 XQ through Compressor on my basic iMac Retina 5K, 27-inch, 2017. The rendering and transcoding time with the project running off the ThunderBlade took 29 minutes. When the project was located on the internal Fusion disk, it took 41 minutes.
The ThunderBlade isn't cheap, that's true, but videographers and filmmakers who process a lot of big files on a daily basis will appreciate its crazy performance. And so will photographers who edit very large files (especially the Hasselblad and Phase One type people).
For more info about the Thunderblade visit the OWC website.