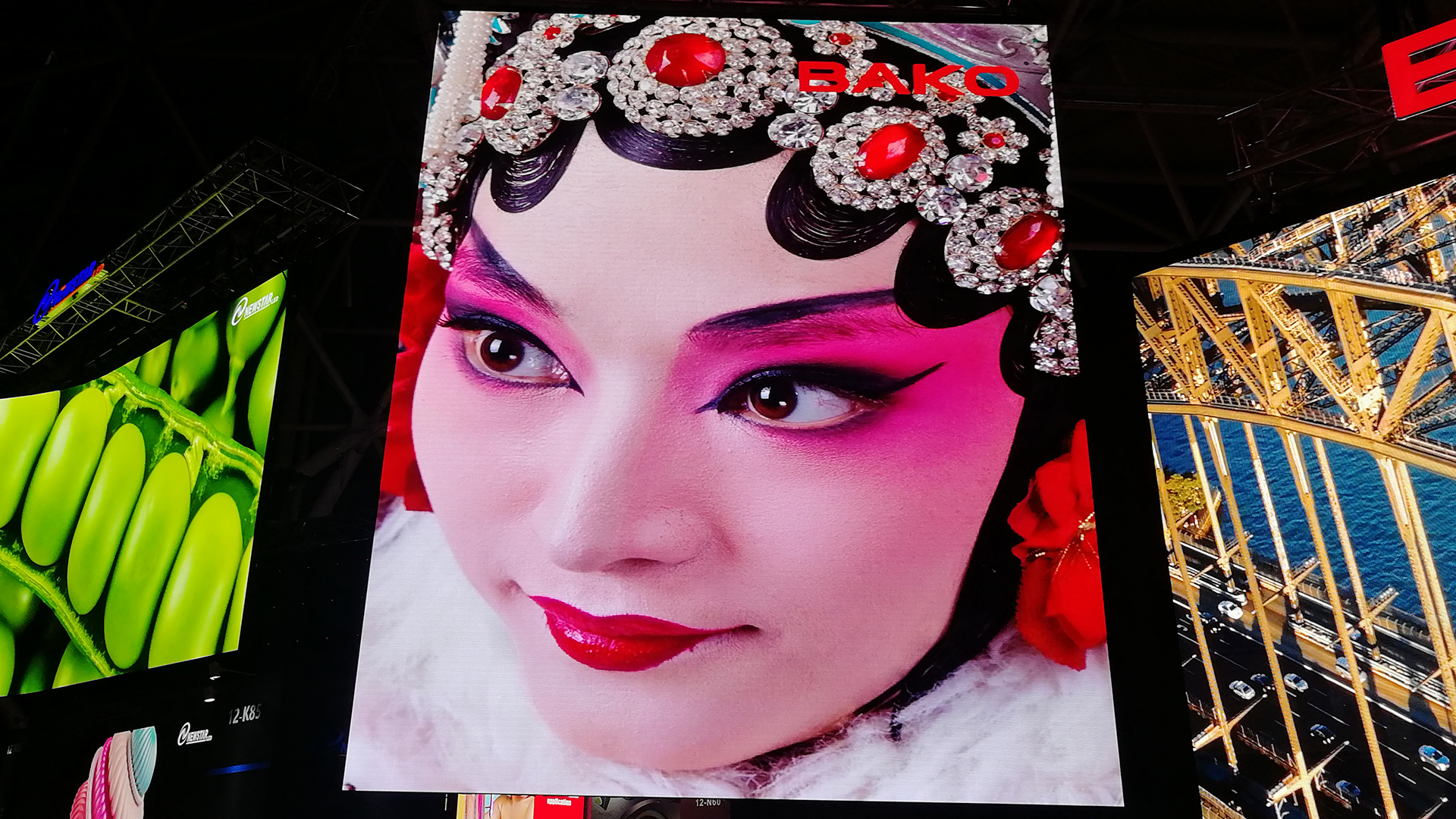 At the corporate communications trade event Integrated Systems Europe (ISE) last week one of the more obvious trends is the rise and rise of LED screens. Some of the exhibition halls feel like you've wandered into Times Square, so overwhelming are the displays awash with hyper-vibrant imagery.
Only five years ago, LED technology was best known for large format outdoor installations but in recent years, the miniaturisation of LED components has made it possible to obtain increasingly fine pitch at affordable prices.
This makes it possible to offer LED walls with 8K resolutions and therefore to realise high-quality indoor installations even at short distance.
"With flexible and freeform LED, but also with projection mapping, the creative possibilities are virtually limitless," says Michel Buchner from creative technology provider, Nexxt Technology. "The only problem is that the majority of designers and architects are not aware of this yet. Once they think beyond the frame and more about animated wallpaper, patterns, and textures blended as elements in their designs we expect a large rise in the use of aesthetic media with projection mapping and flexible LED."
The first examples of flexible printed circuit boards (PCBs) shown in a ribbon configuration were presented at ISE some years ago. Arguably, the real shift was the custom fabrication of PCB shapes which permit the design of any cut shape. From circles to complete logos and even domes - all made to spec.
LED 'sheets' exhibited at ISE from Spanish company Flying Screens can be combined to create custom-size screens for installed in unconventional locations such as on curved surfaces. The company claims the technology allows design and features which are currently impossible to reach with traditional LED panels.
One of the key technologies is MicroLED which offers far higher total brightness than OLED as well as far greater power efficiency.
Amazingly, it is the same technology behind both Samsung's massive direct-view cinema screens, such as one in a Malaysian multiplex measuring 45.93-feet wide and 16.4-feet high, as well as microscopic display prototypes by California's Mojo Vision, based in Saratoga, California, which has made a display with 14000 pixels just 0.48mm wide.
MicroLEDs are based on gallium nitride (GaN) LED technology which is being backed as the future of AR/VR display but they are difficult to manufacture at scale. A standard 55-inch panel, for example, requires millions of MicroLEDs. Any imperfection could create uneven colours and lighting.
Mass fabrication solved
A potential solution to mass fabrication may have been cracked by Compound Photonics, a US-based firm which makes compact high-resolution microdisplays partly at a factory in Plymouth together with Plessey Semiconductors, say they've produced the first fully addressable microLED display modules.
The proof of concept aims to produce the world's highest performance microLED display modules that deliver "improved brightness at the smallest pixel sizes, higher frame rates, with extended bit depth at the lowest power consumption" to be fitted into AR/MR smart glasses and Head mounted VR applications. Initial samples of a 0.26 inch diagonal, Full HD 1080p resolution microLED display module are expected to be available this summer.
The minute we talk about screens not being standard shaped or oriented then content creation become a challenge, even though the procedure is largely the same as before. You can spend a million quid on the most amazing LED screen but it's worthless if you don't invest in the content.
Questions like 'Is it a commercial or primarily artistic design?' and 'What should your spectator experience?' are paramount. Do you want active attention or does it complement the space in an artistic way like a wallpaper or light sculpture?
"Every space or building has its own approach with visual media, but with numerous solutions and financial ramifications," Buchner says. "It's is absolutely important to drop the convention of the regular screen as most people look at it today."