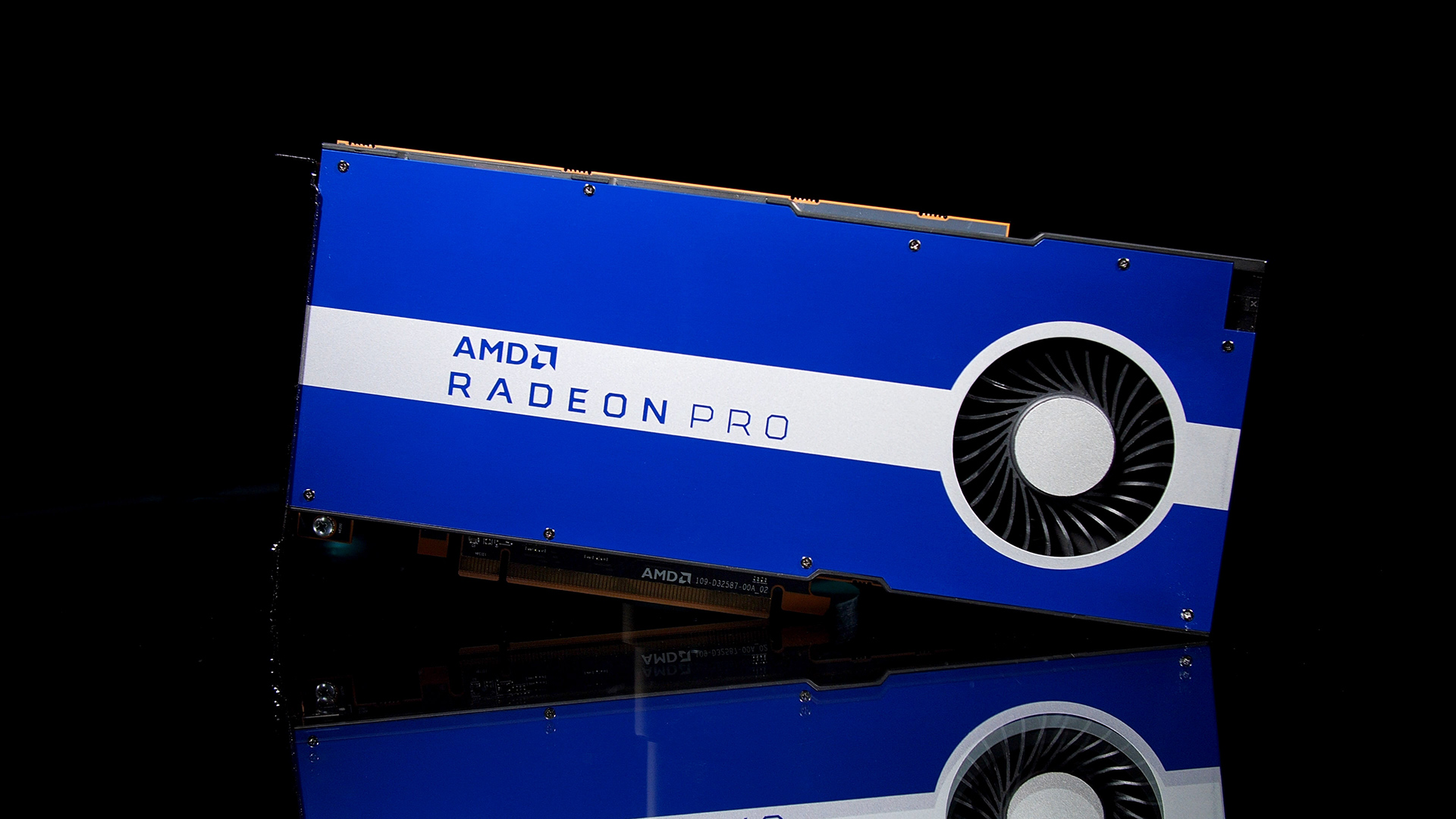 The latest addition to AMD's stable of graphics cards is a professional model with a very modest price tag.
AMD has launched the Radeon Pro W5500 graphics card and provided you previously read our November 2019 news about Radeon Pro W5700 you probably have a fair grasp what this is all about. In the event you missed that story, let's do a quick recap about Radeon Pro W5700 and then we'll move on to Radeon Pro W5500.
AMD took the Navi 10 graphics chip used in Radeon RX 5700 which is fabricated on a 7nm process and allies 2,304 Stream Processors in 36 Compute Units with 8GB of GDDR6 memory operating on a 256-bit controller. On the I/O you will find five Mini DisplayPort connectors and a single USB-C port. Internally the Navi 10 uses an architecture called RDNA (Radeon DNA) that replaces the previous architecture GCN that dates back from January 2012. RDNA makes Navi more efficient than previous AMD graphics chips and when you roll in a set of suitable drivers you arrive at the first member of a new family of Professional graphics cards that share their name with the comparable Gaming graphics card.
The fact that AMD chose GDDR6 memory, rather than the more expensive HBM2, meant they were able to set the UK price at £800 where it goes up against the £900 Quadro RTX 4000.
Budget model
The latest addition to AMD's Pro family is a budget graphics card based on Navi 14. As the name suggests, Radeon Pro W5500 is a Professional version of Radeon RX 5500 XT and continues to use a 7nm process. The interface is PCI Express Gen 4 x8 (or Gen 3 x16 on older systems) and the graphics chip uses RDNA architecture.
A full Navi 14 chip has 1,536 Stream Processors however AMD tells us Radeon Pro W5500 has 'Less compute units' which suggests 1,408 to match the gaming graphics cards. At present we do not know clock speeds however AMD is quoting performance 'up to 5.35 TFLOPS (FP32)' which equates to a clock speed of 1.9GHz. That is unlikely to be a sustained or typical operating speed so we think that must be the Boost speed, in which case the typical speed is likely to be 1.7GHz.
AMD has equipped the Radeon Pro W5500 with 8GB GDDR6 graphics memory (up to 14Gbps) with a 128-bit controller. It is worth noting that Nvidia Quadro P2200 uses GGDR5X
I/O
On the I/O bracket of the Radeon Pro W5500 there are 4x Full sized DisplayPort 1.4 outputs, however you do not get USB-C with this model. AMD tells us the Radeon Pro W5500 supports 4x 4K or 5K outputs or 1x 8K and it is that final point that separates Pro W5500 from its main competition Quadro P2200 which does not support 8K.
AMD tells us the Pro W5500 has a maximum power consumption of 125W but did not supply details of the power connectors. The Pro W5500 must surely have a 6-pin connector and might possibly have an 8-pin.
Dell is expected to be an OEM partner supplying workstations with this graphics card in H1 2020. Also, during H1 2020 we are promised there will be notebooks with Radeon Pro W5500M graphics that will have 4GB memory and an 85W power figure. That sounds interesting but also slightly problematic as you can buy a 16-inch MacBook Pro right now with a better version of this graphics chip.
Nonetheless, on the desktop it seems likely the USD$399 Pro W5500 graphics card will be competitive against the £400 Quadro P2200.
Tags: Technology