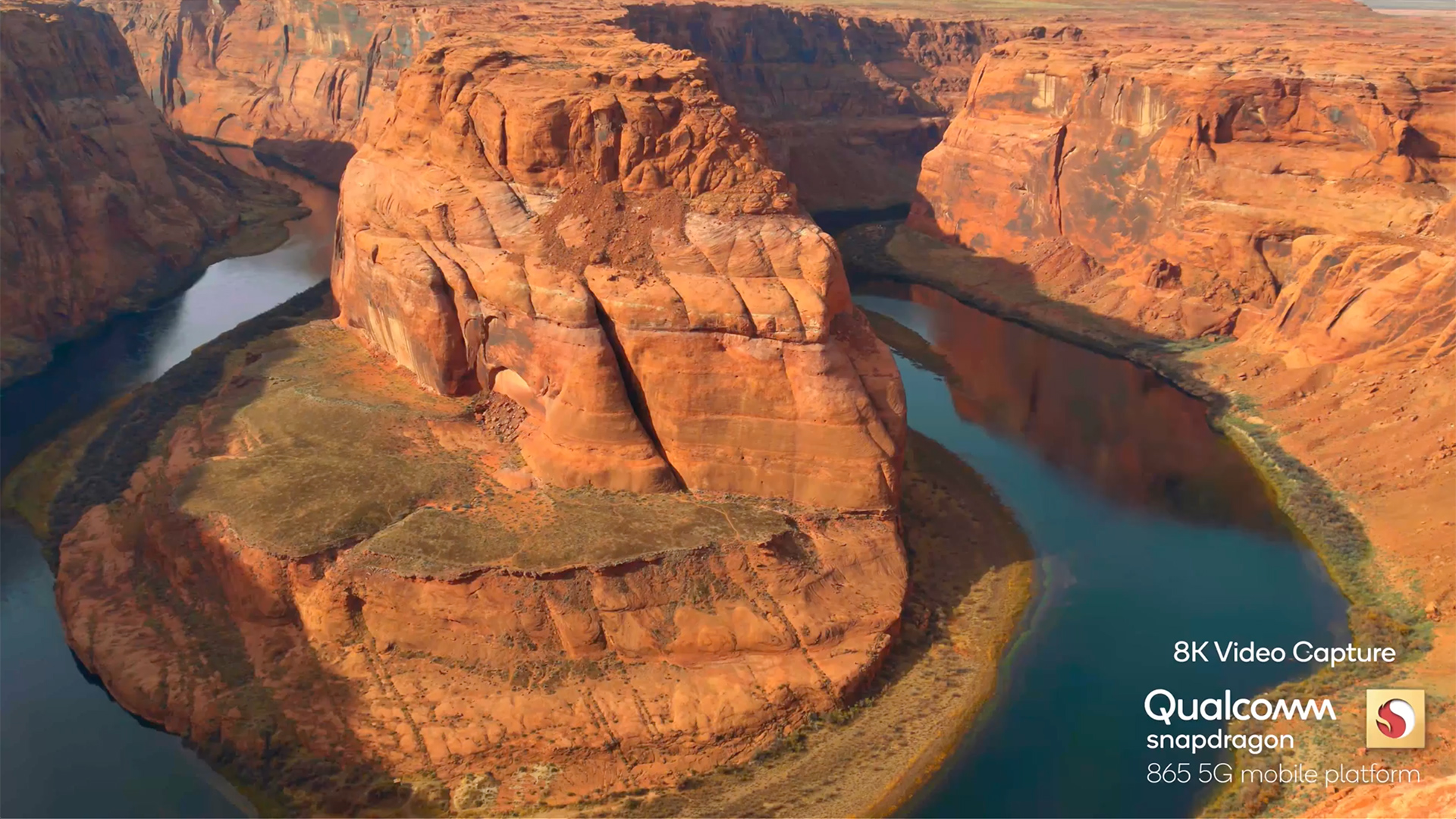 The debate about the wisdom and bare necessity of recording 8K rumbles on but the ability to do so is an unstoppable force arriving soon in your next high-end smartphone. Qualcomm wants you to know that its technology is leading the way by previewing an 8K video processed using its latest Snapdragon chip. We assume it looks amazing but lacking an 8K screen we'll have to take its word for it.
8K will be one of the bells and whistles on flagship 5G enabled devices released this year. Android ones like the Galaxy S20 fitted with the Snapdragon 865 are anticipated to be announced next week at Samsung's Unpacked event in San Francisco.
The 2-minute 8K video posted by Qualcomm on YouTube was shot in November at the Grand Canyon and other Arizona landscapes like Horseshoe Bend, and the Petroglyphs near Antelope Canyon.
We're told it was shot on a "prototype Snapdragon 865 smartphone with a Sony IMX586" CMOS sensor.
The Snapdragon 865's Spectra 480 Image Signal Processor can process 2 gigapixels per second, which gives it enough processing power to natively capture 200-megapixel photos (featuring 33-megapixels per frame) and shoot 4K HDR video while shooting 64-megapixel photos at the same time.
This level of processing power also allows unlimited 960fps slow-motion recording – a significant upgrade on current slo-mo functions which have around a ten second run time.
The 10-bit HDR capability means support for both HDR10, HDR10+ and Dolby Vision with Rec.2020 colour or one billion shades of colour (I doubt you could count them let alone see them).
A key question which will only be answered when handsets release is just how storage is being catered for. 8K video will generate a lot of data, so memory will have to be upped accordingly. Instant uploads to the cloud are probably the solution and that's where 5G comes in.
Gigapixel speed photography is just one element of the Snapdragon 865 chipset which is 'loaded with 5G,' according to Qualcomm. The chip maker promises desktop-level gaming and "staggering" multi-gigabit 5G connectivity.
Once linked to a 5G network, expect download speeds up to 7.5Gbps and a 35% increase in the power efficiency for intense tasks, like gaming. Upload speeds might reach 3Gbps and Qualcomm is combining 5G and 4G spectrum for faster throughput. Wi-Fi 6, the new Wi-Fi standard which will also speed download and upload times, is supported too.
Also on board is Qualcomm's AI Engine packing twice the performance of its predecessor. The Hexagon Tensor Accelerator pushes 15 trillion operations per second to fuel 'intuitive mobile experiences in photography, gaming and voice interactions such as real-time AI translation.'
A new 'Sensing Hub' in the chip ensures highly accurate voice detection and 'always-on' contextual awareness for smarter virtual assistants - all while using extremely low power.
The Snapdragon 865 is expected to be the brains of phones including Google Pixel 5, LG G9, OnePlus8 and Sony Xperia 2.
Tags: Technology