Review: The ZBook Studio x360 looks like a typical, 15-inch mobile workstation from HP. Or so it appears until you start twisting. What are the special features and how is its performance? Let's take a look.
Convertible, colourful, and powerful
The HP ZBook Studio x360 G5 is touted by HP as their "most powerful convertible workstation". This is already an interesting claim since most vendors don't have more than one convertible workstation. HP also has the ZBook X2. Where the ZBook Studio x360 flips into tablet mode, the ZBook X2 converts into a tablet with its detachable keyboard. With two convertibles in their mobile workstation line-up, we decided to compare the ZBook Studio x360 performance with the ZBook X2's performance.
The ZBook Studio x360 provides productive workflows for creative professionals
Where to start with such a flexible mobile workstation? To begin with, this ZBook has impressive capabilities as a "standard" mobile workstation. For a top of the line configuration, it features a 4K DreamColor display, NVIDIA Quadro P2000 graphics, Intel Xeon and Core i9 processors, 4 TB NVMe M.2 SSD storage, and 64 GB of memory.
Those are good specs for any 15-inch mobile workstation.
The flip-ability adds new twists to a creative person's workflow. Standard workflows are possible when using it in a conventional format. Change to a presentation mode with the x360 in tent-mode. Use it in tent-mode and dock it in the office to have a multi-monitor system. Use it in tablet mode for graphics, animation, etc, when a pen is more productive.
How does it feel? DreamColorful.
The display for the test unit is brilliant and belongs to HP's DreamColor Z display family. DreamColor technology delivers 1 billion colours. DreamColor technology also lets you control the LUT for your work, even allowing for custom LUTs. This provides colour precision for design work that is not always possible with a normal 4K display.
The DreamColor Z displays are matched by a line of HP DreamColor printers. The obvious benefit is end-to-end colour accuracy in the creative workflow.
In my tests, I combined the ZBook Studio x2 with a DreamColor Z31 display. This combination makes for a very productive in-office dual-display setup — especially for designers with demanding colour-dependent work.
Ports, cooling and the power are located on the side to facilitate tent and tablet modes
The touchpad is adequately large and smooth to operate. Keyboard preferences are very personal. The keyboard has a low profile and is responsive even though, for my personal preference, perhaps sometimes too sensitive for my heavy touch while resting my fingers on the keyboard.
Having the power button on the side of the system makes sense for working in tablet mode. While I was using the ZBook as a normal mobile workstation, it took some time to adapt to finding and pressing the power button on the side of the system.
The size and weight are good. The. ZBook Studio x360 is not the thinnest nor, at 2.26 kg, the lightest mobile workstation, but it is close. And it makes up for not being the thinnest and lightest with high-end capacity and performance for this class of system.
The Performance Numbers
Performance tests include benchmarking graphics performance with Viewperf and application testing with Adobe Premiere Pro and After Effects. I compare the results with HP's other convertible mobile workstation, the ZBook X2.
With a detachable keyboard, the ZBook X2 provides a real tablet experience yet remains a mobile workstation. As such, the X2 has a lower spec than the x360. The X2 is positioned against a Surface Pro style solution. The ZBook Studio x360 is clearly positioned against other 15-inch mobile workstations — that may or may not be convertibles — with the flexibility of a convertible workstation.
The GPU and the CPU differences lead to the performance delta between the systems. The ZBook Studio x360 in my tests sports a Quadro P1000 and six-core CPU. The ZBook x2 runs on a Quadro M620 and a four-core CPU.
Viewperf 13 is focused on 3D graphics performance using data from software applications in CAD, 3D modelling and science applications. It generates a weighted FPS result, so higher numbers are better. Viewperf clearly shows the performance difference between the two Quadro GPUs.
The results show that the ZBook Studio x360 with its Quadro P1000 can handle mid-range CAD and 3D design tasks. Choosing a Quadro P2000 GPU will help with more complex designs.
Combine the ZBook with the self-calibrating DreamColor Z31 for colour-dependent workflows
Cinebench 15 tests GPU performance and CPU performance in separate tests. As with Viewperf, higher scores are better. Here, the faster-clocked 6-core Core i7 8850H clearly shows its superior performance over the 4-core Core i7 8850U. As expected, the Quadro P1000 outperforms the Quadro M620.
In our application tests using Adobe Premiere Pro and After Effects, the results are measured as a ratio of rendering time divided by video time. A score of 100% means the rendering is done in real-time. A lower score means the rendering is done faster than real-time and a higher score means the rendering takes longer than real-time.
The faster results from the ZBook Studio x360 are not a surprise. What these results show is that the x360 is certainly capable of delivering decent performance as a mobile video-editing and special effects workstation.
Especially in the Premiere Pro tests, the Quadro P1000 rendering capacity pushed 100% throughout. This indicates that choosing the Quadro P2000 GPU would deliver a productivity boost if your work is heavily weighted towards GPU performance. This would be true whether your work is video editing or other application areas like visualisation, rendering or 3D design.
In After Effects, there are more and more situations where the GPU accelerates rendering. The green screen test, for example, uses GPU acceleration. This is another area where you could expect better productivity by selecting a Quadro P2000 GPU for your system.
A Final Perspective
Yes, the ZBook Studio x360 is a convertible, mobile workstation. But even if it were not, it would be a slick, well-designed 15-inch mobile workstation.
HP has created a workstation that can be particularly attractive to creative professionals through the addition of the flip-ability and the DreamColor display. The conversion into tablet mode and tent mode delivers more productive use-case situations.
This includes a pen capability for animators and graphic artists. It includes presentation modes when visiting clients or in review meetings. And it includes in-office docking scenarios with a productive multi-screen environment.
The DreamColor technology not only brings accurate colour to the mobile workstation. It also provides accurate end-to-end colour capability from creation to consumption. For design, video, film and print, this means a faster, more accurate workflow. It speeds the design and review process whenever colour is a critical factor. And it helps to eliminate unwanted surprises at the end of your projects.
Briefly put, the ZBook Studio x360 holds its own as a speedy 15-inch mobile workstation and it adds significant value for creative professionals who need either pen-support, accurate colour, or both.
Benchmark results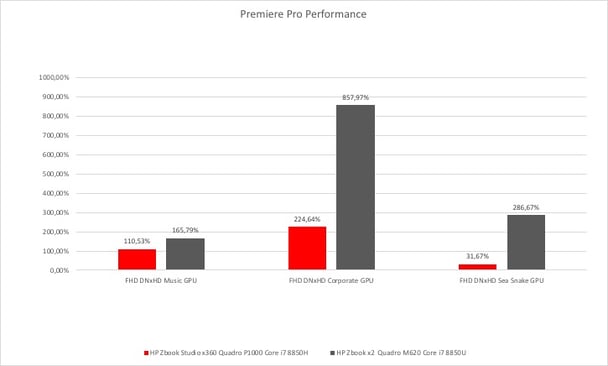 Tags: Technology