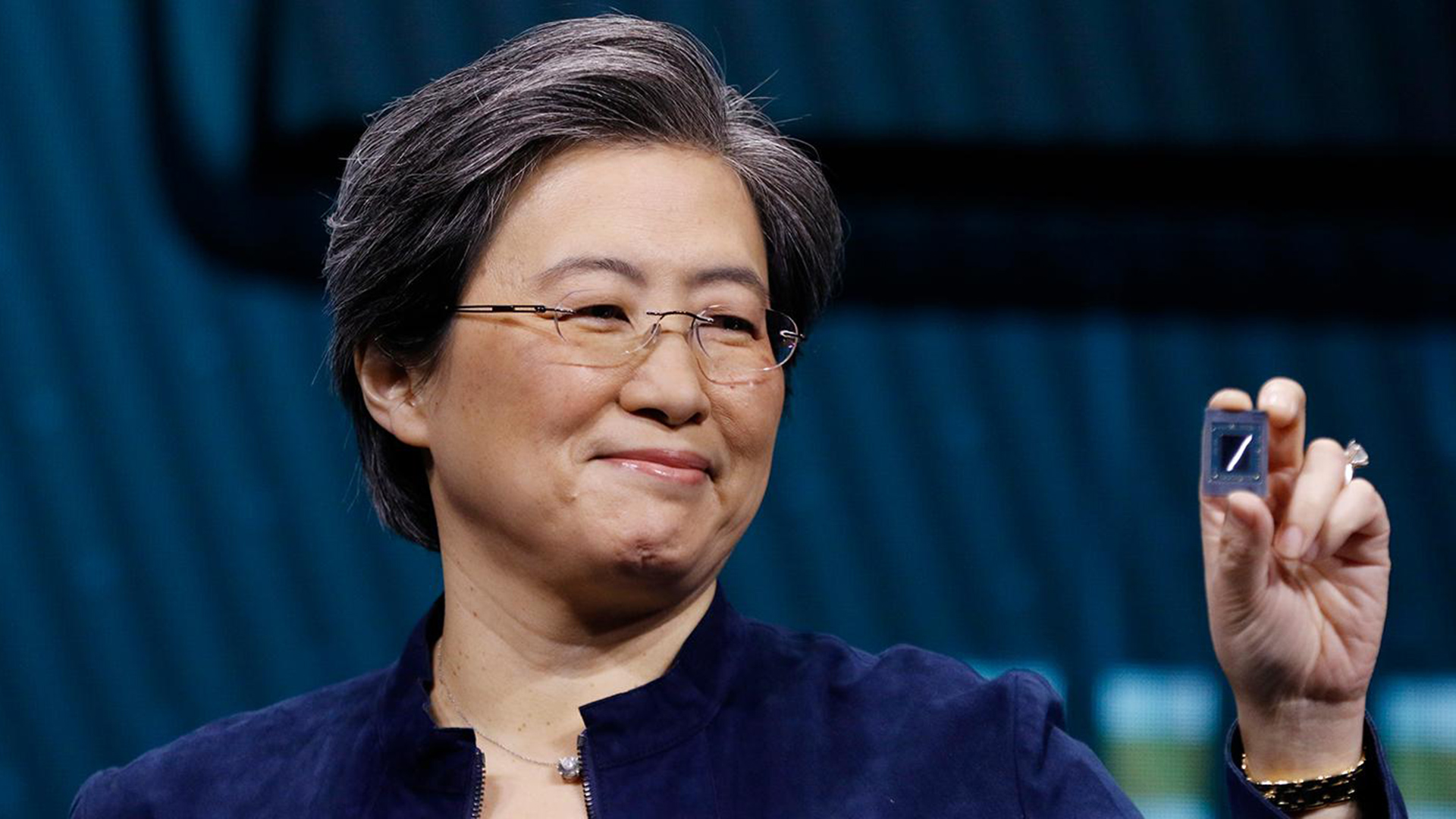 AMD is developing new products in every niche, including mobile, gaming, and content creation.
Mobile Processors
First up is what Lisa Hsu calls the best laptop processor, the Mobile Ryzen 4000. The first 7nm x86 mobile. The ultra-low volt version packs 8 Zen2 cores AND 8 Radeon cores using the Vega architecture, and packs it all into a 15-watt envelope, in spite of a 4.2 GHz peak clock speed. Regarding battery life, this has 2x the power efficiency of its predecessor. Dr. Hsu showed one of the first laptops using this ULV processor, an impressively thin Lenovo Yoga Slim 7 that's 15mm thick. Packing eight cores into such a compact form factor is quite an accomplishment.
With over 100 laptops in the works using Ryzen 4000, it's evident that as predicted the Surface design win was just AMD's first foot in the door for the mobile market.
Graphics
Laura Smith, head of the Radeon Technologies Group provided an overview of the current lineup of graphics hardware.
There will be over 1000 FreeSync compliant displays available in 2020, running the gamut in price from entry level to the high end, differentiated by the FreeSync, FreeSync Premium, and FreeSync Premium Pro tiers, with each bringing more features to the mix, such as HDR in the Premium Pro tier. AMD is also continuing to emphasize improving its Software Adrenaline drivers, both in performance and features.
RDNA, the architecture behind the Navi, has been a huge success for AMD, but it's just the beginning. It's been a huge seller for AMD, even without tackling the high end of the market yet. AMD also unveiled the Radeon RX 5600 XT GPU here, billed as the ultimate in 1080P gaming. The 5600 is going to available worldwide on January 20th for $279, and it's going to be available in mobile variants in the first half of 2020 as well.
Gaming systems chief architect Frank Azore followed with some of the new latptop hardware that AMD is bringing to market. Pointing out there are over 90 million gamers and creators out there using laptops.
He introduced the Ryzen 7 4800H processor, that Frank Azore says delivers desktop caliber processor. It's a high performance version of the ULV part that Lisa Hsu introduced, featuring higher clock speeds along with the 8/16 core count of it the lower power version, but with an envelope of 45 watts. He says it's even better in content creation workloads than in games. He also showed an Asus Zephyrus G14 laptop coming in February.
Asus' Zephyrus line is Asus' line of gaming ultrabooks, and G14 is the first high end model using an AMD processor, paired with an nVidia RTX GUP up to a 6GB 2060 and 32GB of system memory. Asus bills it as the world's fastest 14" gaming notebook.
SmartShift
Next up is SmartShift, a new technology that allows AMD's APUs to dynamically shift power between the CPU and GPU in the same chip carrier, so that it can overclock each one individually in response to the workload, and this will be available in Q2 this year. Frank showed a Dell G5 SE laptop based on the new platform, including SmartShift, and starting at mind-boggling $799, a new pinnacle in performance for the price.
When Lisa Hsu returned to the stage, she went back to the desktop.
Even though in the HEDT segment, AMD's 32-core Threadripper 3000 doesn't really have any competition, AMD unveiled the highly anticipated 64 128 thread core 3990x priced at, appropriately, $3990. Featuring a whopping 288MB of cache in total, around 128 PCIe 4 lanes, a base clock of 2.9 GHz and a single-core boost clock of 4.3 GHz, its 280W Thermal Design Power is impressive. For those not willing or able to spring for the full $3990 Monte, there's an intermediate option with "merely" 48 cores priced at between $2499 and $2999.
Lisa Hsu's demo showed a VRay render on a $20,000 dual Xeon Platinum with 56 cores competing with the $3990 Threadripper 3990. AMD's 64 core monster lead the dual Xeon by an impressive 30%. She mentioned that it might be slightly cheaper as well as being considerably faster.
RED's Jarred Land and Darren Durand chimed in on their experiences testing out the new Threadripper, being able to transcode 8K Redcode in full resolution more quickly than in real time.
It's due to become available on February 7th.
While a lot of enthusiasts will be disappointed that Dr. Hsu didn't talk about the Zen3 and RDNA2 that are expected this summer, there are plenty of new AMD products arriving soon to keep us all busy in the interim.
Even if this was all that AMD had in store for 2020, it would be a big year for AMD.