The Anker PowerCore series has always been a great mobile power bank, but now the company has released the PowerCore Essential 20000 PD, designed for high speed charging to all manner of devices.
I've been a fan of the Anker PowerCore for a while now, specifically the 20100 version, which I use on a regular basis. When I bought it, I found that the multiple phone charges I could get from it made it really useful when I was away from power, especially if I was using GPS on my phone, or I needed to charge more than one device simultaneously. What I didn't realise when I bought it was how useful it would be for powering a video camera like the Panasonic S1 and S1H. It can keep such a camera powered for hours at a time recording video, making it an extremely cost effective solution for a rig versus a full V-lock or Sony F series system.
Some of the advantages of the Anker PowerCore power banks include high voltage protection, current regulation, and temperature control.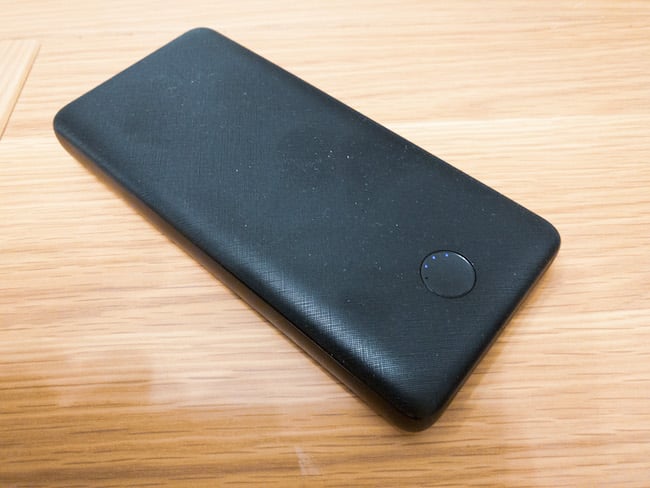 It might not be sexy, but it's very useful!
The latest PowerCore, the PowerCore Essential 20000 PD allows high speed charging, up to 18W on devices that support it. This is delivered by way of both the PowerIQ 2.0 port (USB-A) and PD via the USB-C port. Note that this is the total wattage available, so if you are charging two devices simultaneously my understanding is that you won't get the fast charge ability.
With 20,000mAh at its disposal, the PowerCore Essential PD claims to be able to charge an iPhone XS 5.4 times, and a Samsung S10 4,8 times.
The device isn't particularly light at 345.5g, but it is very neat to look at with a sort of brush textured finish on the top. It measures 6.2 x 2.9 x 0.8 inches making it on par in terms of footprint with a lot of smartphones, although clearly it is a lot thicker, as you'd expect. A single round power button resides at one end, and this has four tiny LEDs embedded in it to indicate the capacity that is left. These are stylishly done, but they aren't as clear and easy to see as the bright row of lights on my PowerCore 20100. From certain angles you can't see them. But despite this, it is at least an indication of the power left on it, which is essential if you are using it to power a camera with.
Input/output is simple. Just two ports. One USB-A and one USB-C for use with different types of device.
Connectivity is also incredibly simple, with just one USB-A port and one USB-C. The USB-C port doubles as a charger connection. If you charge the power bank from a USB-C power adaptor such as one from a MacBook Pro it can be charged back up in around 6.5hrs, while with a USB-A style charger it could take up to 10hrs. These might seem long times, but the amount of use you can get out of one charge makes it worthwhile.
The PowerCore Essential 20000 PD might not be the sexiest gadget around, but it is very neatly done, can be used for a wide variety of devices, including cameras, and gives that all important fast charge ability to the latest phones. At $53.99 it is a bargain if you look at the price of much lower powered batteries for cameras. The fact I can power the S1 effectively makes it worth the purchase alone. With more visual devices coming out that can be charged via USB-C, power banks like this are going to become a lot more useful.
The power button on the Anker PowerCore Essential 20000 PD. The power indication lights can be tricky to see from some angles.
Clearly the market is fairly crowded with power bank options. But Anker are a very dependable brand, and the performance I have had long term out of my existing PowerCore has been faultless. I can't say the same for some other powerbanks I have tried in the past. So for this reason I can highly recommend giving the PowerCore Essential 20000 PD consideration if you are in need of such a power solution, particularly if you have purchased a camera like the S1 or S1H and need external power, or if you need a highly portable charging system for a camera like the BMPCC 4K or 6K.