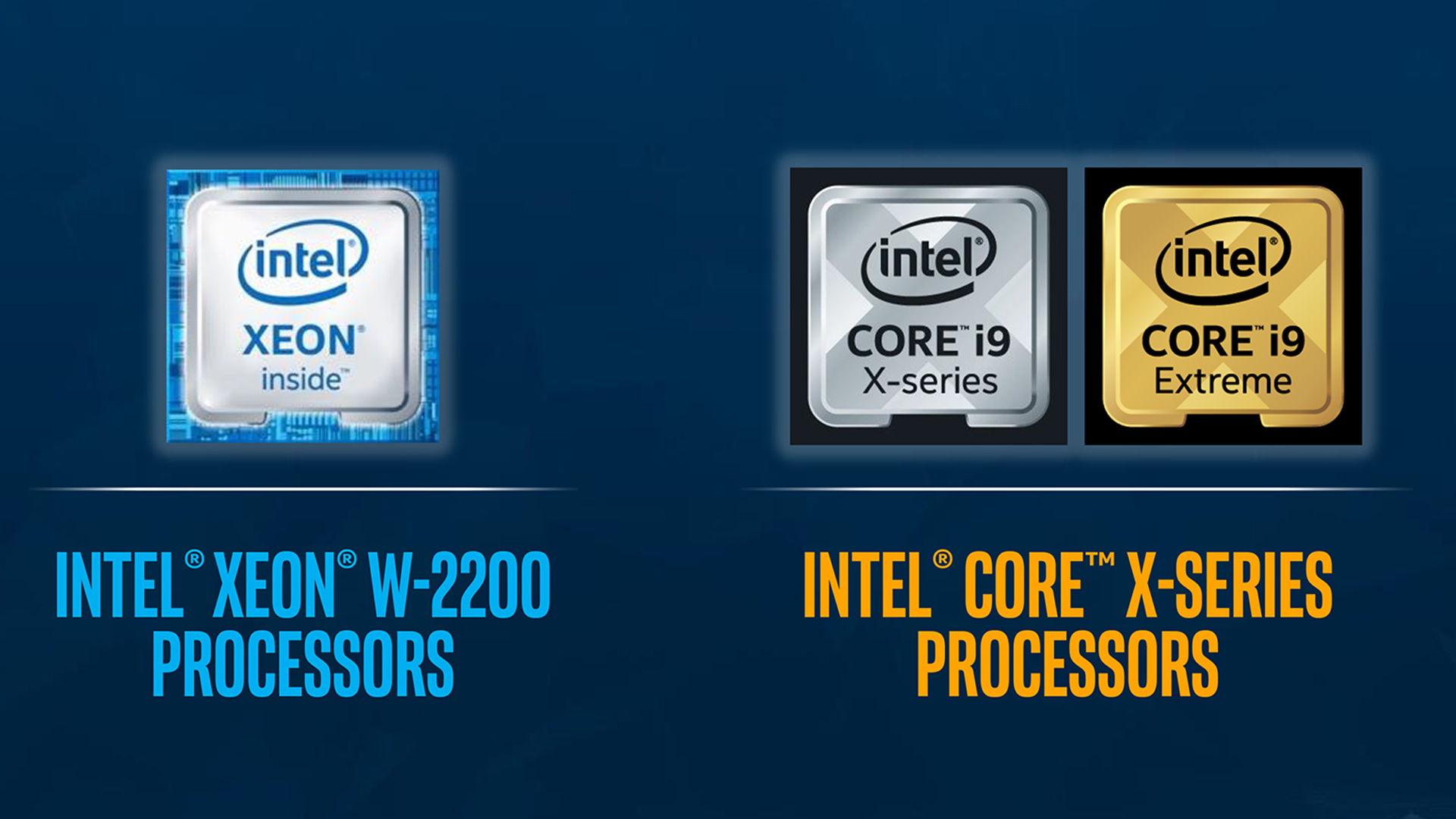 Intel has delivered its Fall Desktop and Workstation briefing where the chip giant announced two closely related families of high performance processors.
These are Xeon W-2200 and Core X-Series which are effectively identical, except that Xeon supports ECC memory, Virtual RAID on CPU (Intel VROC) and vPRO platform support.
Let's start with Core X-Series which is a clear response to AMD Ryzen 3000 which currently tops out at 12 cores/24 threads with Ryzen 9 3900X at £550. We were promised the 16 cores/32 threads Ryzen 9 3950X in September however that launch has been delayed until November with a US price of $750. We expect enormous demand and a UK price of £750 or £800.
In that context Intel looked rather optimistic listing its 18 core/36 thread Core i9-9980XE at £1900 and it has taken action. The 10th Gen Cascade Lake-X family is almost identical to the 9th Gen Skylake-X however prices have been slashed in half. Or, more accurately, the 'new' 10 Gen High End Desktop CPUs will launch at prices that are half of 9th Gen. Quite what stockists will do with 9th Gen remains to be seen.
The 10th Gen product stack has been pruned and includes models with 18, 14, 12 and 10 cores, with the 8 core model being removed. This is logical as Coffee Lake Core i9-9900K has 8 cores and runs considerably faster than Skylake-X could ever manage. It is notable there is no 16 core model, presumably to avoid direct comparison with Ryzen 9 3950X, when it arrives.
The thing is, HEDT parts in the Core X series are not expect to compete directly with the likes of Ryzen 3000 on the AM4 socket. That is the role of Intel Coffee Lake on LGA1151 with the Z390 chipset. At first Core X sat in a lofty realm of its own until AMD launched Threadripper to take the fight to the high end. The current Threadripper 2990WX has 32 cores/64 threads and sells for £1700, which makes it very appealing when compared to Core i9-9980XE. AMD has announced it will launch its Zen 2 Threadripper with 24 cores in November that is unlikely to be compatible with the current TR4/X399 platform. We expect AMD will launch a new Threadripper platform called TRX40 however the fact remains that 24 very good, new, Zen 2 cores are unlikely to mark a massive improvement over the current 32 core 2990WX. Pricing is unknown at present but let us pluck a figure from the air and call it £1250. Intel would struggle with the 10th Gen Core i9-10980XE at £1900 but, possibly, might be in hunt at £999.
That's all well and good but the big news here is the knock on to Xeon. Intel High Core Count silicon that goes up to 18 cores is used in both Core X and workstation Xeons. Intel can charge a premium of around 10 percent for ECC memory support so we expect Xeons to cost more than Core X, within limits..
Introducing 'new' Core X processors has impacted the price of the Xeon W2200 family significantly. For example Xeon W-2195 was priced at $2553 yet the new Xeon W-2295 comes in at $1333.Move down the stack from 18 cores to 10 cores and you will find that Xeon W-2155 currently costs $1440 while the new Xeon W-2255 will cost $944.
There is very little that is new about these 10th Gen processors from Intel, apart from four extra lanes of PCI Express however we don't want to be churlish as the prices are a welcome return to sanity. It is clear we have AMD to thank for bringing some competition to the CPU market. This is surely the time for us all to say a small prayer and hope that AMD can bring similar pressure to bear on Nvidia in the graphics market as that would be truly welcome.
Tags: Technology