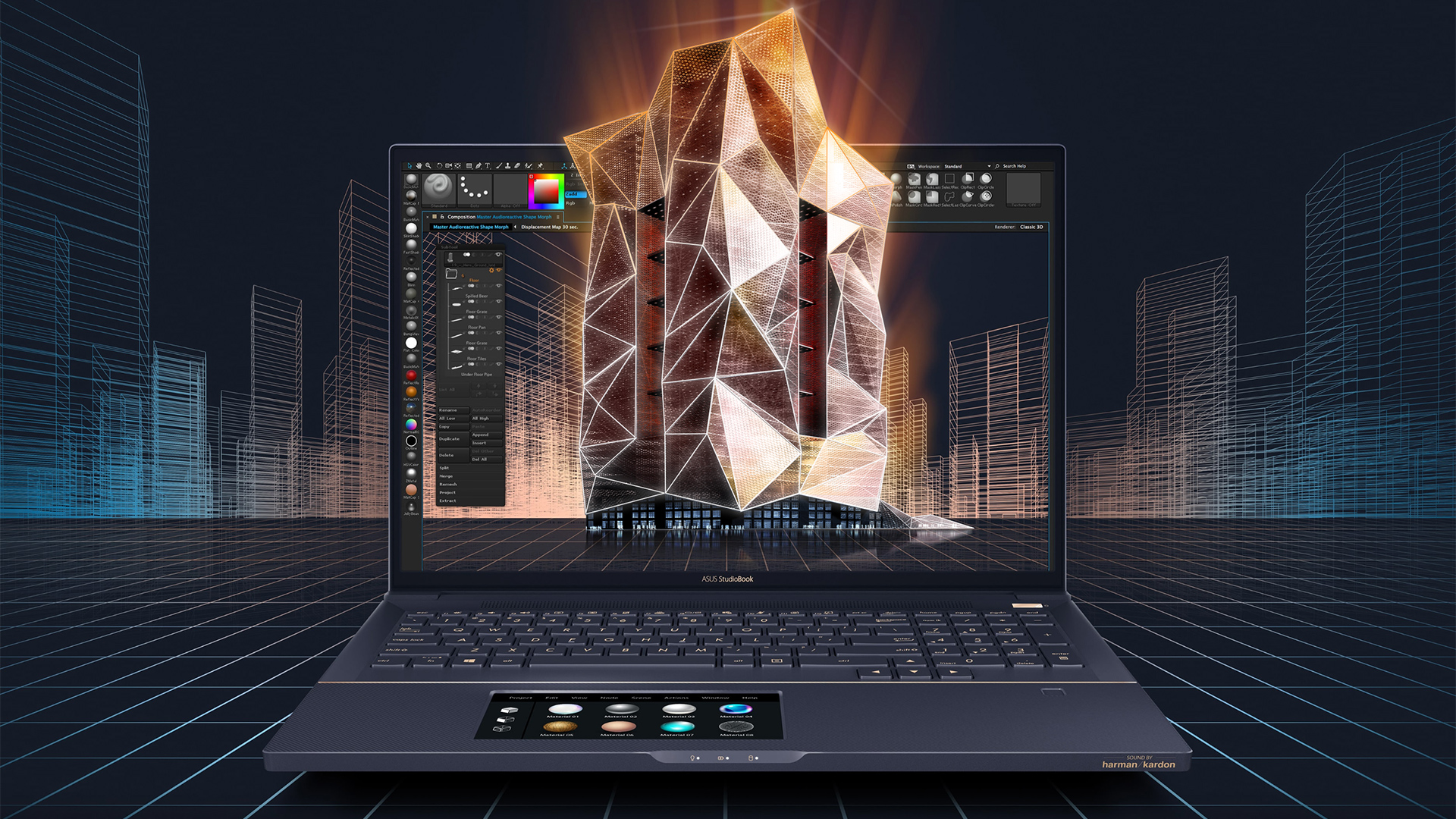 Asus has announced an impressively powerful new lineup of mobile workstations.
Asus has been making quite a name for itself with its Republic of Gamers line of laptops for gamers and its ZenBook line of laptops for creatives. The recently released ZenBook Pro Duo for example incorporates an octacore i9 processor and a mid-range RTX 2060 GPU with 6GB of ram, 32 GB of system ram, and a 4K OLED monitor with an additional 4K monitor built into the lower half of the clamshell above the keyboard.
Asus also developed a stylish workstation designed for content creators and data scientists under the ProArt monnicker.
Now it announced a whole new lineup of ProArt mobile workstations, all of which conform to nVidia's RTX Studio specs, including the studio drivers that are optimized for content creation and visual computing more than for gaming.
The StudioBook Pro X showing off its flat configuration
All of the new ProArt laptops have Pantone validated displays with a Delta-E of less than 1.5 and a DCI-P3 color gamut, a minimum of a Core i7 hexacore processor, and an RTX GPU. Asus clever ScreenPad Plus integrates a display into the trackpad, so that it can function as a track pad, a secondary display, or a numerica keypad. Switching modes requires no more than a button press.
The lineup includes 15 as well as 17 inch models, all of them featuring minimal bezels to keep even the 17 models relatively compact. For cooling, Asus is taking advantage of the cooling solutions that it's been perfecting in its ROG line, in particular the Zephyrus and Mother Ship.
On the Zephyrus, opening the clamshell also opens up a vent in the chassis. It also tilts the lower half of the clamshell slightly forward, which also improves the keyboard's comfort slightly. By making its vents larger, Asus enables the Zephyrus to run its processors and GPUs harder.
While the lower end models resemble Zephyrus gaming systems with nVidia's Studio drivers, the upper echelon is sure to get quite a bit of attention.
The ProArt StudioBook Pro 17
ProArt StudioBook Pro 17
As the name implies, this is a 17 inch laptop in a chassis only slightly larger than a 15 inch laptop. It has a hexacore i7 or Xeon processor, up to 64GB of ECC memory, and up to 4 TB of storage in a Raid 0 configuration. For graphics it has a Quadro RTX 3000 Max-Q GPU with six GB. Asus rates its noise under load at less than 35dB, or "library quiet" as Asus describes it.
This model also has a pretty solid suite of I/O ports, including 3 USB 3.1 Gen 2 Type A ports, one Thunderbolt 3 and one HDMI port, plus an SD 4.0/UHS-II card reader and a combo audio jack.
The ProArt StudioBook X
ProArt StudioBook X
This model has even slimmer bezels with Asus' NanoEdge design, and ups the ante to a Quado RTX 5000 GPU which includes 16GB of memory. It can accept up to 128GB of system memory and up to 6 TB of internal SSD NVMe SSD storage. Its port array is impressive also, including 2 Thunderbolt 3 ports, 3 USB 3.1 Gen 2 ports, plus HDMI 2.0, an SD 4.0/UHS-II reader, ethernet, Kensington lock, and a combo audio jack along with a dedicated power port.
The ProArt StudioBook one
ProArt StudioBook One
Combining the expanding vent from the Zephyrus with the veritical design of the ROG Mother Ship, the Studio One is nothing short of a monster. Built around an octacore i9 and 32 GB of ram, it includes a beastly Quadro RTX 6000 GPU with a whopping 24GB, unheard of in a laptup until now. The trade offs are that the memory capacity appears to be limited to 32GB and the storage is limited to a single 1 TB NVMe SSD. The I/O port array is similarly anemic, being limited to three Thunderbolt 3 ports and a dedicated power port.
For that amount of sheer power in such a portable device however, that's a pretty minor compromise.
Asus has not yet revealed pricing and release dates for this new line of laptops, and until units make their way into end users' hands it's anybody's guess how well Asus' cooling solutions will work to prevent thermal throttling.
Either way, we'll be keeping our eyes on these.
Visit the Asus website to find out more.