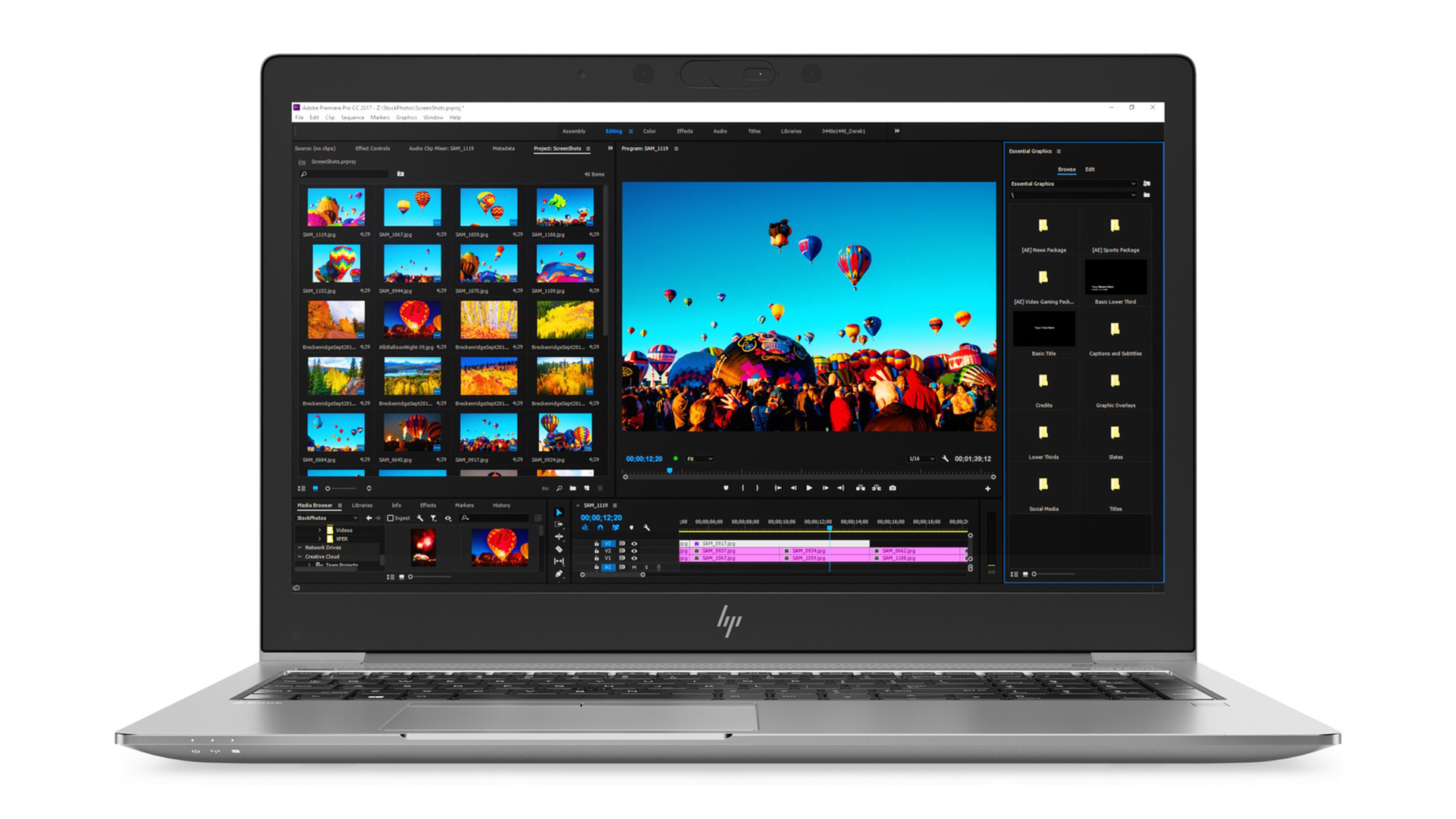 We take a look at HP's ZBook 15 mobile workstation and find out how it measures up as a mobile editing platform.
HP loaned me a ZBook 15 to test, configured with a hexacore i7 8850H rated at 2.6 GHz, 32 GB of system memory, a 4K screen and a Quadro P2000 with 4GB of memory.
The first impression is quite pleasant, as usual. HP laptops have been well-liked for a long time for a reason, particularly the premium models like the Spectre and Spectre X360. The ZBook laptops are designed as mobile workstations and they all use Quadro GPUs rather than GeForce GPUs, and include the option of Xeon processors with ECC RAM.
Though HP doesn't use Microsoft's Precision drivers, its touchpads are very good.
The ZBook 15 is one of HP's larger laptops. It's a bit fatter than the Studio and X360 models, for example, more like an Alienware m15 gaming laptop. The keyboard is pretty typical for HP, which is a good thing. HP's keyboards are generally well-liked. The keys have a nice feel and a good amount of travel, making typing on them a pleasant experience.
As usual, HP's laptop audio consists of a custom speaker system developed in partnership with the audiophile-oriented Bang and Olufsen and it's pretty much exactly what you'd expect. The sound is clear but not even B&O's vaunted audio engineering can make up for the small volume available for the speakers, so the bass extension won't be winning any awards. It's audio for a laptop, but when you really need to hear what you're working with for video editing, sound design and so on, you'll want to use headphones or other external audio.
User upgradeable
One of the big selling points of the Zbook 15 (and 17) is that they're end-user upgradeable. The bottom panel is very easy to remove since it has a sliding latch rather than screws holding it in place. Removing that panel provides ready access to two of the memory slots (the other two are under the keyboard), the hard drive bay and two M.2 slots. The maximum memory configuration is 128GB using four 32GB SODIMMs and the maximum SSD storage is 2 TB or a 1TB RAID.
For I/O, the ZBook 15 has three USB-A ports, an Ethernet port, an HDMI port and two Thunderbolt 3 ports. There is also an SD-card reader and a smart card reader. For power, the ZBook 15 has a dedicated port.
The display in the demo machine looks great. HP offers DreamColor on all of its workstation laptops which the company specs as having a full Adobe RGB color gamut support. While this isn't enough for professional color-managed workflows, the monitor does make for a pleasant experience when using the machine and it is very good for print workflows.
To put the ZBook 15 to the test, I used it to color grade the videos I had shot for the newly opened Evil Dead II themed escape room by Hourglass Escapes. We filmed the video components for the escape room with my Red Epic-W in 8K Redcode and the final videos are HD. Because the videos are only being shown on specific monitors, rather than use a calibrated display at home, I took my Blackmagic Decklink device with me to Hourglass Escapes and used that to output the video directly to the monitors each video was intended for.
I was able to work for approximately two hours before I had to plug the computer into mains power.
The ZBook 15 handled the 8K video de-Bayered to 2K without a hitch. I used my own Alienware m15 with a similar configuration except for the GPU (Nvidia 1070 Max-Q with 8GB) to render some of the videos to compare performance.
On average, the M15 with its 1070 Max-Q achieved 15-17 FPS depending on the complexity of the grade, while the ZBook 15 with its P2000 averaged 28-32 fps with the same project. The ZBook 15 did produce a few of the frustrating "GPU Memory full" errors even though the de-Bayer resolution was set to ¼ resolution, however. The smaller memory configuration for the GPU is definitely a limiting factor in the current generation Zbooks.
Performance in Scratch 9.1 is similar, with the deBayer set to ¼ rendering to 2K at 18fps.
There wasn't any sign of throttling. With both applications, the rendering speed stayed nearly constant for the 20 minutes it took to render the footage.
The Cinebench CPU rating of 2517 in multi-core and 426 single, gave it a multi-core factor of 5.91 which shows good scaling with cores.
The ZBook 15, like its bigger brother, the ZBook 17, is designed more as portable workstation than as laptop and in this, it succeeds well. Easy aftermarket upgrades are becoming a rarity in laptops these days, especially with the emphasis on thin and light designs.
The ZBook 15 is a solid workstation, able to handle 4K footage well and it's easy to upgrade. While the current models don't include a great deal of GPU memory, the next generation, due for release soon, will include Quadro RTX 3000 in the 15-inch model and RTX 5000 in the 17-inch model later this year. For users not needing ray-tracing extensions or larger GPU memory, the current generation is a good way to get an economical and robust workstation, while the next generation will be of more interest for people needing to work with resolutions higher than 4K.