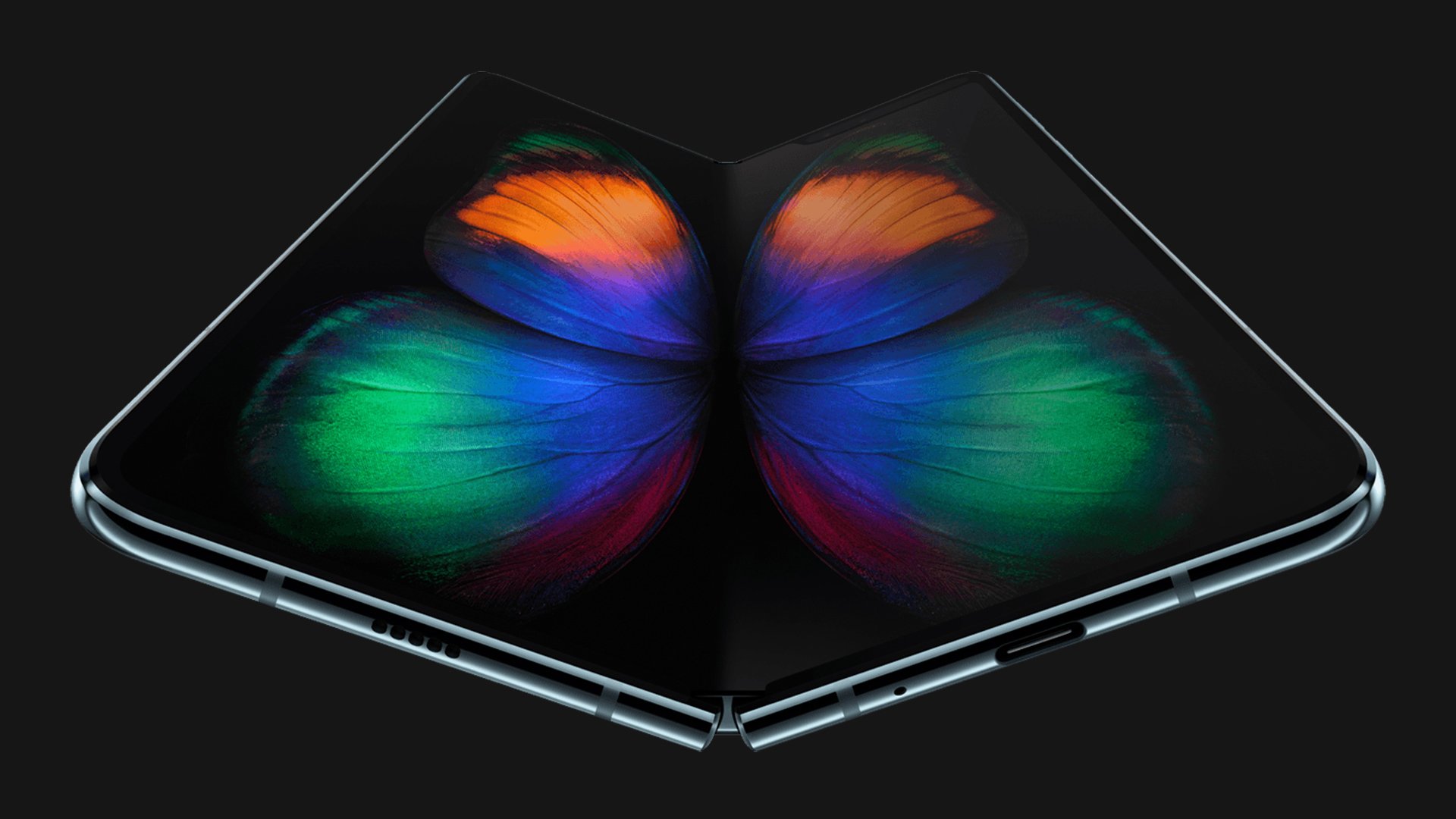 Characterised as a solution looking for a problem (but that's what they said about the iPad), smartphones that literally double as a tablet are set to be the new mobile computing craze with Samsung bagging the obvious brand name and first mover status.
The Galaxy Fold functions as a typical smartphone in 4.3 inch format but can be unfolded to a second 7.3-inch touchscreen. It's available to buy from May in Europe and is sneakily announced just ahead of mobile operator jamboree Mobile World Congress in Barcelona beginning Sunday where other manufacturers including Huawei are set to unveil their own flexi-fones.
It's not the first - US-based Chinese firm Royole launched the FlexPai folding phone last year – but the world's biggest mobile phone seller has the chops to market it.
"We're giving you a powerful smartphone and a revolutionary tablet," explained Samsung executive Justin Denison.
Like rival Apple though, the south Korean firm is suffering from phone sales. It issued a profit warning last month and needs something new to attract consumers.
Pertinently Samsung's boss DJ Koh said the firm aimed to prove critics wrong. "The Galaxy Fold … answers sceptics, who say that the Smartphone is a mature category in a saturated market. We are here to prove them wrong"
But costing nearly $2000 (£1520) this is definitely in the category marked luxury. Will Huawei and Apple, readying its own foldable iPhone, dare to undercut this price mark?
What's a foldable phone for anyway? Well, it's a neater way to stream Netflix or the Six Nations on the on the move or view downloaded films on a plane, for example. The larger screen could boost viewing of video over mobile.
The Fold is only 4G on release although a 5G version is in the works. It may be worth waiting for this before committing to buy since 5G will deliver super-fast streaming of UHD video.
Other key specs include an impressive 12GB of RAM and 512GB of on-board memory. Because the phone folds up like a tablet from essentially two smartphone bodies, it has a dual battery, one in each side of the device that link together.
The phone's tech has been stress tested such that it should last without breaking for several hundred thousand folds.
App Continuity
Samsung has worked with Google to develop 'App Continuity' which enables an app to continue as you fold between the two displays WhatsApp and Microsoft Office have been similarly adapted.
It also has six cameras, with three on the rear (16MP ultra-wide camera, and two 12MPs), a 10MP selfie snapper on the front and two (10MP, 8MP) above the 7.3-inch display. Whichever way you fold or hold the phone you'll be able to take a picture.
The Fold wasn't the only release from Samsung. It also has a clutch of four new versions of Galaxy: S10E, S10, S10+ and the S10 5G.
All of these will feature an Android version of Adobe Premiere Rush, the mobile oriented editing software. Available on MacOS, iOS and Windows, the Android version is due later this year.
This software is aimed at making it easier to shoot then edit, colour correct and add motion graphics then publish video to social media.
There's a separate Instagram Mode too that will allow users to quickly post any photo onto the social media site.
5G model
The 5G phone isn't launching until later in the year and no pricing was given although it's expected to be more than the current S10 flagship at about $1100. US customers of mobile network Verizon will get their hands on it first then Sprint, AT&T, and T-Mobile.
Powered by the Qualcomm Snapdragon 855 processor and X50 5G modem the S10 5G would be capable of downloading a full TV show in minutes.
Not impressed? That's a full season of a TV show.
As a result, its display is larger than the other three S10s at 6.7 inches with a 505ppi pixel density and 19:9 aspect ratio.
It will carry five imaging sensors including a 12-MP wide-angle camera,12-MP 0.5x and 2x optical zoom and 16MP 123-degree ultra-wide lens camera with fixed focus and an f/2.2 aperture. They are on the back. The front camera has a 10MP Dual Pixel AF with an f/1.9 aperture and 80-degree lens.
There's a 3D Depth Camera which will be used for burgeoning VR and augmented reality applications.
Samsung clearly think video is going to be a major reason that will attract people to buy both its 5G 'conventional' handset and the origami version. When 5G takes off expect mobile streaming and video content creation using entirely mobile devices to explode into orbit.