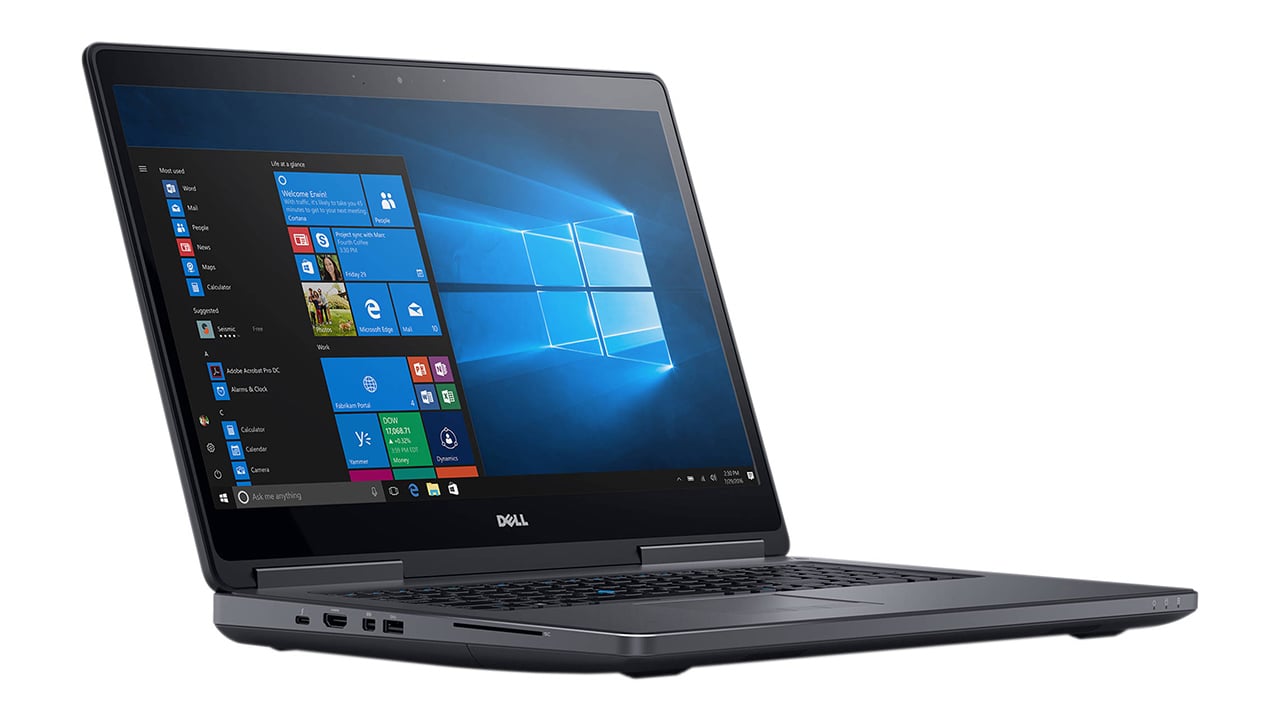 RedShark Review: On paper the Dell Precision 7720 is a monster of a laptop and ideal for video editing. But how good is it really? You're about to find out.
When it comes to computers there are generally three camps of opinion. Those who like Apple's offerings, those who prefer a Windows based system, and those who won't touch anything unless it is Linux. Amusingly it is possible to run any of these OS's on pretty much any choice of hardware, with the exception of macOS, which unless hacked won't run on anything that isn't manufactured by Apple.
But the OS is really only a small part of the equation when it comes to determining how good the physical laptop and hardware is. Clearly Apple's OS is optimised to run on its chosen hardware, and that sometimes results in far better benchmarks than the paper specification should theoretically allow. But when it comes to raw grunt, there is no denying a serious set of specifications when they show themselves. And the Dell Precision 7720 is a laptop that certainly has some very powerful hardware on board depending on how you spec it out.
Our review sample was supplied with a 17.3" 3840 x 2160 (4K) LED backlit display, a quad core Intel Xeon E3-1535 CPU clocked at 3.10GHz, an NVIDIA Quadro P5000 GPU with 16GB of video RAM, 64GB of RAM, and a 512GB M.2 PCIe SSD system drive. The machine was supplied with Windows 10 Pro installed. It is, while not the absolute highest specification you could spec it out to if you wanted, still a force to be reckoned with, and certainly one of the most powerful laptops, on paper, that you can buy.
The Dell Precision 7720 is a beast of a laptop!
Design
Given the care that goes into the packaging of other makes, the Dell arrived in a proseic plain brown cardboard box along with a charging PSU. Quite surprising for a £4500 laptop, but I guess it emphasises a no-nonsense approach to things, much like the way that this machine should theoretically demolish its way through processor intensive tasks. It does seem like a small thing, but I do like nice packaging, especially for a premium machine such as this.
The first thing that struck me about the 7720 was how heavy it is. This is a machine designed for serious processing tasks, not lightweight portability. Put simply it is built like a tank and should put up with a fair bit of abuse. I think the floor would break before the 7720 did if you were to drop it! In fact the chassis has passed the MIL-STD 810G toughness standard.
The top cover of the laptop is a matte finish carbon styled affair, while the lower body is ringed with a brushed metal surround. The chunky nature of the design is not as refined as many of the ultra-slimline models that now proliferate the market. When you are purchasing a machine such as this you are buying power, not looks. If a machine is to be rugged it needs to be built like it. For instance the display hinges are big robust affairs. This is certainly no dainty wallflower of a machine.
The left hand side ports on the Dell Precision 7720 showing the DisplayPort (second from right) and Thunderbolt 3 (far left)
On the left side of the computer there is a USB-C style Thunderbolt 3 port, capable of 4 lanes of data. This is followed by a full size HDMI port, a DisplayPort (1.4)capable of supporting an 8K HDR monitor using a single cable, and a USB 3 port with Powershare. Alongside these is a Smart Card slot. On the right hand side there are three more USB 3 Powershare ports, a headphone jack, an SD card reader, and a security lock. On the rear there is a charging/power port and an RJ45 port.
The right hand side of the Precision 7720 showing the SD card slot, headphone socket, and additional USB3 ports.
On the underside is a releasable cover to enable user battery replacement and the addition of a second 2.5" SSD or HDD. On the very front on the metal rim are three lights to show power status, drive access, and a battery indicator. All very functional, and what you'd expect.
OS navigation can be performed either with the traditional trackpad (or mouse if you have one connected), or via the little pressure 'joystick' which is placed in the middle of the keyboard. This is very similar to the ones originally found on IBM Thinkpad machines. While I could never get used to this myself, when my father's Parkinsons Disease was advancing he found he could navigate better with such a device than with a mouse or trackpad. So for some disabilities this could well be an advantageous feature.
I do feel however that the trackpad could be bigger, and more centrally placed to make it better for 'all handedness'. At present it is positioned to the left, which is great for left handers (they can rejoice for once!) but is a bit awkward for right handers.
A rear view of the Precision 7720 showing those big, tough screen hinges and ventilation ports.
Power up
Boot up time was snappy. From the instant I pressed the power switch Windows 10 Pro booted up in around 19 seconds. Shut down was a similar speed.
The keyboard is a back illuminated affair, with the lights coming on when a key is pressed and going out after a few seconds of no activity. It has a nice, positive feel to it. Keys have a solid movement, and generally it feels good to type on. It is a full width keyboard complete with numerical pad, which will please the accountants amongst you. There's even a button dedicated solely to loading up the calculator app.
The trackpad is multi-touch capable, and comes set up out of the box with tap to click and two finger scrolling enabled. Three fingers are catered for, although the limitations of Windows does not allow this to be set up for dragging. Instead three finger gestures are used for app switching and to bring up notifications. But this is a limitation of the OS, not the laptop itself.
The LED backlit screen is very bright. Eye piercingly bright in fact at its brightest setting, which is good when you are using the machine outdoors. I had to check whether it was HDR capable, but this is not the case. Regardless, it would appear to have very good DR, and video playback looks very good. Dell claims that the 4K display on our review sample is capable of 100% Adobe RGB. The screen finish is matte, which is good for suppressing reflections.
Sound, too, was very good, providing lots of depth and detail. In fact the sound from the 7720 was probably some of the best I have heard straight from any laptop device.
The keyboard on the Precision 7720 has a positive feel, although the trackpad could do with being larger and more centrally located on the body.
Speed and Benchmarking
The Precision 7720 is not a gaming machine. It is aimed at creative professionals, as well as being VR ready. The NVIDIA Quadro P5000 is optimised for use in CAD and other visualisation applications such as VR.
I ran the three main benchmarking apps from 3DMark to test the 7720's prowess. First up was PCMark 10. This test runs the computer through an extensive number of tasks which represent every day work usage. From app boot up times, video conferencing, web browsing, photo editing, video editing, and rendering and visualisation, as well as gaming.
This gave me a score of 4836, which placed it above 64% of other systems tested, and only just below a 4K gaming PC with a Core i7-4790K CPU and 2x SLI NVIDIA GeForce GTX 980, and just above that of a gaming laptop with a Core i7-6820HK CPU and GeForce GTX 980 GPU.
Next up was 3DMark Advanced Edition, which is a well regarded gaming benchmark test. I ran the test using the recommended Time Spy benchmark. This scored 4860, which placed it as better than 47% of all other test results. By comparison a 4K gaming PC with a core i7-4790K CPU and 2xSLI GeForce GTX980 scored 6733, while a gaming laptop with a Core i7-6820HK CPU and GeForce GTX 980 GPU scored 3879.
Bear in mind also that a minimum spec HTC Vive/Oculus Rift gaming PC scored 3362. So the Dell is certainly showing itself to be a very capable performer.
The last test was VRMark, which tests for VR readiness and capability. On the Orange Room test the Dell completely wiped the floor with it, scoring a blazing 6879. The much more intensive Blue Room test, however, scored 1517 with an average frame rate of 33.07 fps (the target is 109 fps). This might seem disappointing at first, until you realise that it still scored better than 27% of all other tested machines, above that of a VR ready PC, and only just below that of a high end PC tower. For a laptop that's quite an incredible result really.
The nice, textured carbon effect finish on the top of the Dell Precision 7720
Conclusions
It is clear that the Dell Precision 7720 is a powerhouse performer in terms of laptops. It might well be overkill for general video editing, and therefore some configurations of the XPS15 range might be better suited to such tasks. However if you are dealing with intense visualisations, VR environment creation and other highly computationally intensive tasks on the move the 7720 could be your ticket. It's not cheap mind, at well over £4000 in the configuration we were supplied with, and its weight means that it's not something you'd really be taking along to do your word processing in a coffee shop. However it does provide a heck of a lot of processing grunt, is highly configurable and expandable, and you get neat features such as the ability to power an 8K display off a single cable.