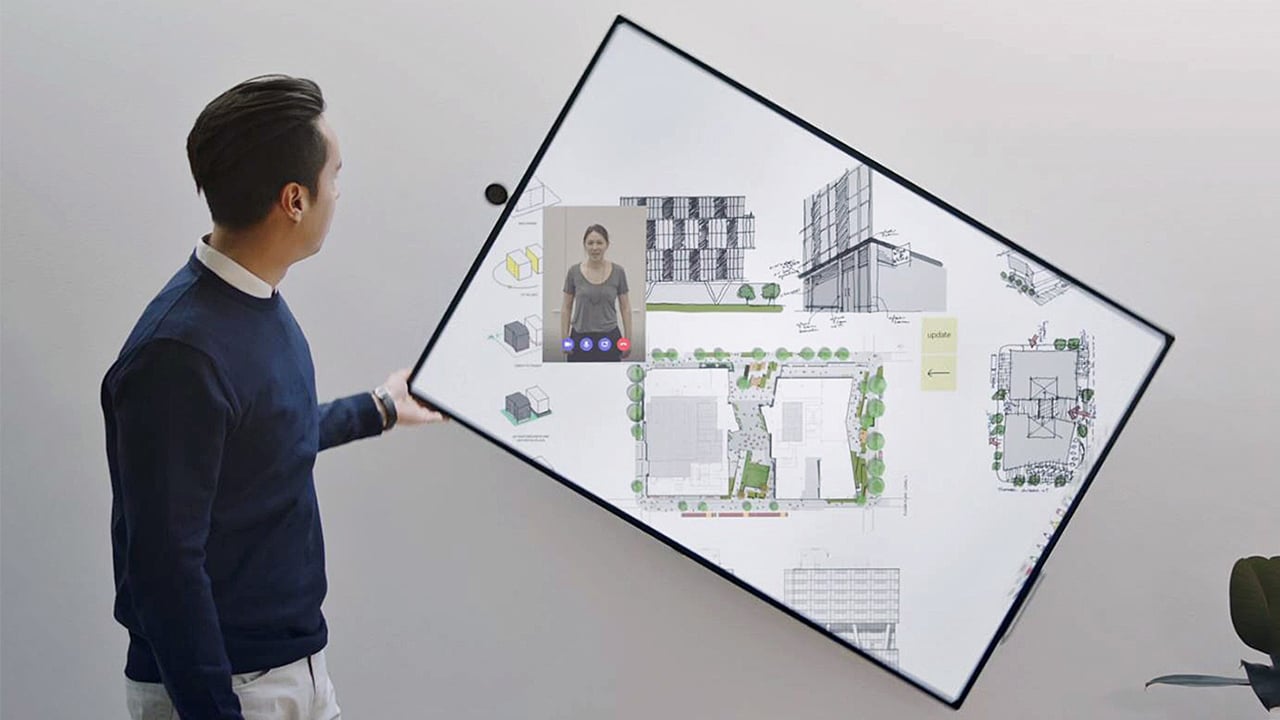 Microsoft's huge touch screen isn't dead yet. It's back for a sequel and promises much more in the way of collaborative workflows.
Few people are going to argue that working as a team in a 'collaborative office culture', is a good thing to aim for although this jury is out as to whether corporate employers will ever truly make their staff feel more than the cog in the machine they actually are.
"Unlocking the power of the team has never been more important," according to Microsoft's blurb, which reckons this can be achieved by buying its Surface Hub digital whiteboard.
Fact is that at €6500 (or €18,500 for a 84-inch version) not many people did. Microsoft says it sold only 5000 of them, albeit to over half of Fortune 100 companies, serving to highlight the product's rarefied price.
Surface Hub 2
However, Redmond thinks it is onto something and is going ahead with a sequel. Surface Hub 2 has some interesting characteristics which could set it apart – provided the price is right. It's not available until 2019 and there's no information on cost at this stage, so it's difficult to tell.
It will, though, come in just the single 50.5-inch size and will have a mount capable of rotating the 4K display from landscape to portrait mode. 4K cameras will rotate along with the screen and there are integrated speakers and far field mic arrays too, intended to allow those in the meeting room to feel that anyone dialling in remotely is right there with them as well.
The impact of this will be improved with a fairly unique 3:2 aspect ratio so that in portrait mode the video caller will appear pretty much life-size – an impact made the more impressive if the caller (or callers) are also equipped with a Surface Hub 2.
It will run the gamut of Microsoft corporate software including Teams, Microsoft Whiteboard, Office 365 and Windows 10.
Microsoft are pitching this as a bold attempt at transforming the way we work. Corporate president for surface computing, Panos Panay, describes it on the Microsoft blog, as more of a huddle board - something "to get people out of their seats, to connect and ideate, regardless of location."
Ideate. Mmm. The Meriam Webster dictionary uses the transitive verb meaning 'to conceive' in this example sentence: "The psychotic would repeatedly ideate the act of committing murder."
I digress.
Engaging differently
"People will engage differently as the form factor enables them," Panay continues. "It's sort of like your phone. You pick up that device for the first time and your behaviour has changed. You pick up a Surface device for the first time, and you've changed. We already have customers that are using it, we have IT pros telling us what they need, we have facilitators telling us where the future of the office is going. We can see how people are starting to change."
Another feature – again only useful for companies with the cash in their AV budget - is that up to four of the displays can be ganged together – either in a larger portrait or landscape view, or separately.
According to Microsoft this will have a profound impact on what groups can accomplish together, allowing users to display multiple pieces of content side-by-side or work simultaneously across Microsoft Whiteboard, PowerBI, PowerPoint, and a full view video call.
Of course, you can write on it too using a stylus for drawing, sketching and annotating. Being able to tilt the screen should make writing easier.
It quotes academic studies suggesting that companies that promote collaborative working are five times as likely to be high-performing.
Whether Surface Hub 2 does indeed move beyond "just passing along information" to a world where we are are collaborating real-time" is moot.