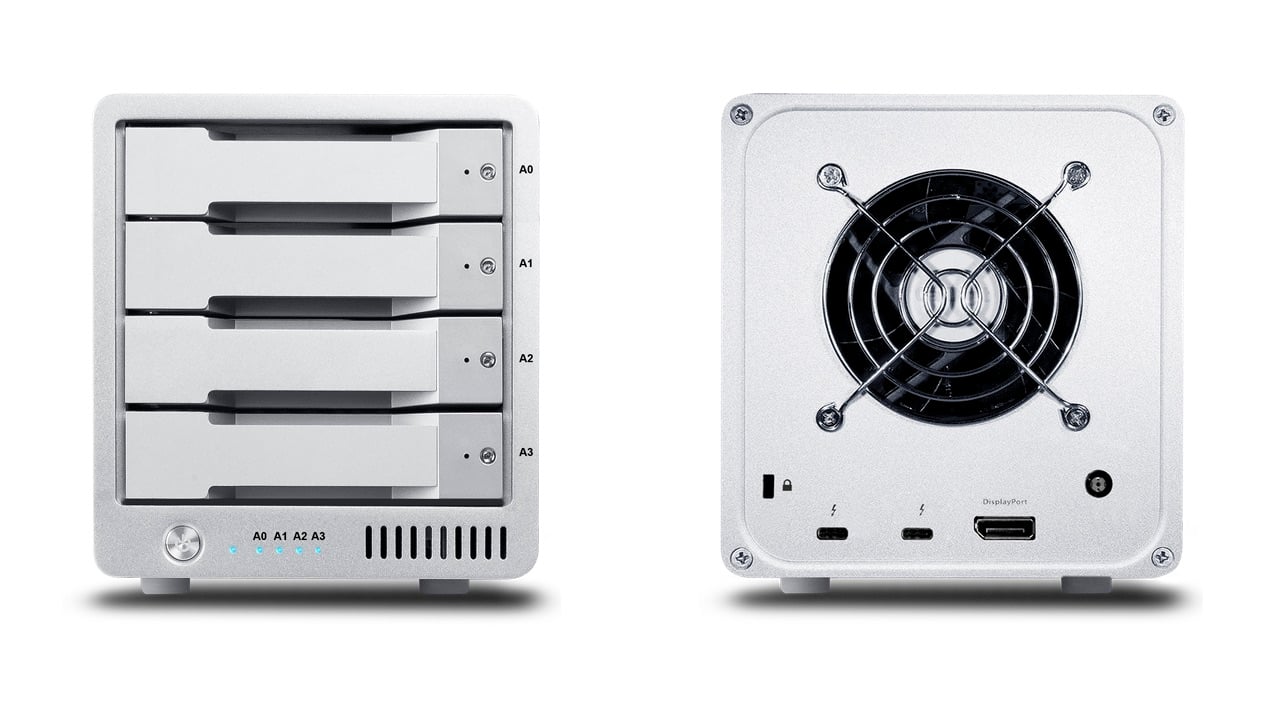 Review: The number of Thunderbolt 3 capable storage devices continues to increase. Erik Vlietinck takes a look at CalDigit's latest offering, the T4 Thunderbolt 3.
The T4 Thunderbolt 3 is CalDigit's newest Thunderbolt 3 capable storage solution. The looks of the T4 haven't changed. The internals have. Apart from the Thunderbolt 3 interface, the new T4 comes with a DisplayPort that allows you to connect to any monitor with a resolution of up to 4K@60Hz. It also has the ability to charge an attached laptop through the Thunderbolt 3 port with up to 85W of power.
The new T4 is an SSD or HDD based hybrid RAID solution, factory configured for macOS. If you opt for hard disks inside, you can have up to 32GB of storage space. My test unit was an 8TB model that was factory set to RAID 5. I decided to change the RAID mode to RAID 0.
Configuration
To configure RAID modes, CalDigit has you use a menu extension, much the same way as OWC Digital has its SoftRAID application to set up and manage their RAID devices. The CalDigit menu extension had to be changed for the new features of the T4 and it appears that my version – the one you can currently (the April 2018 version) download – isn't entirely bug free. On the face of it, the software allowed me to format my internal drive. I do not know what was the cause of this but it goes without saying that you sould proceed very carefully when you are formatting disks, and you should absolutely backup any critical data before you do.
As far as the new T4 is concerned, the ventilator's sound levels are the same as the old one, so it never gets too loud to become annoying.
Performance
As for the new T4's performance, not too much has changed in this area. That's partly due to the fact that you can't get more out of a SATA hard disk than the upper speed of the disk and the interface itself. Some 600MB/sec in RAID 0 is very good, with 700MB/sec when the unit was connected to a Thunderbolt 3 Mac.
If you install SSDs instead of the hard disk drives my test unit came with, performance may improve somewhat, but it will never achieve the speed you will get from an M.2 connected SSD RAID.
As for the DisplayPort on the back of the device, that one drove a 5K monitor without problems. The MacBook that was hooked up to it, also charged fine with the unit in standby – which is a power switch option that wasn't available on the previous T4 and one of the reasons why the CalDigit software had to be rewritten.
The new T4 costs €1079 for the 8TB version, including a generous 1m Thunderbolt 3 cable.