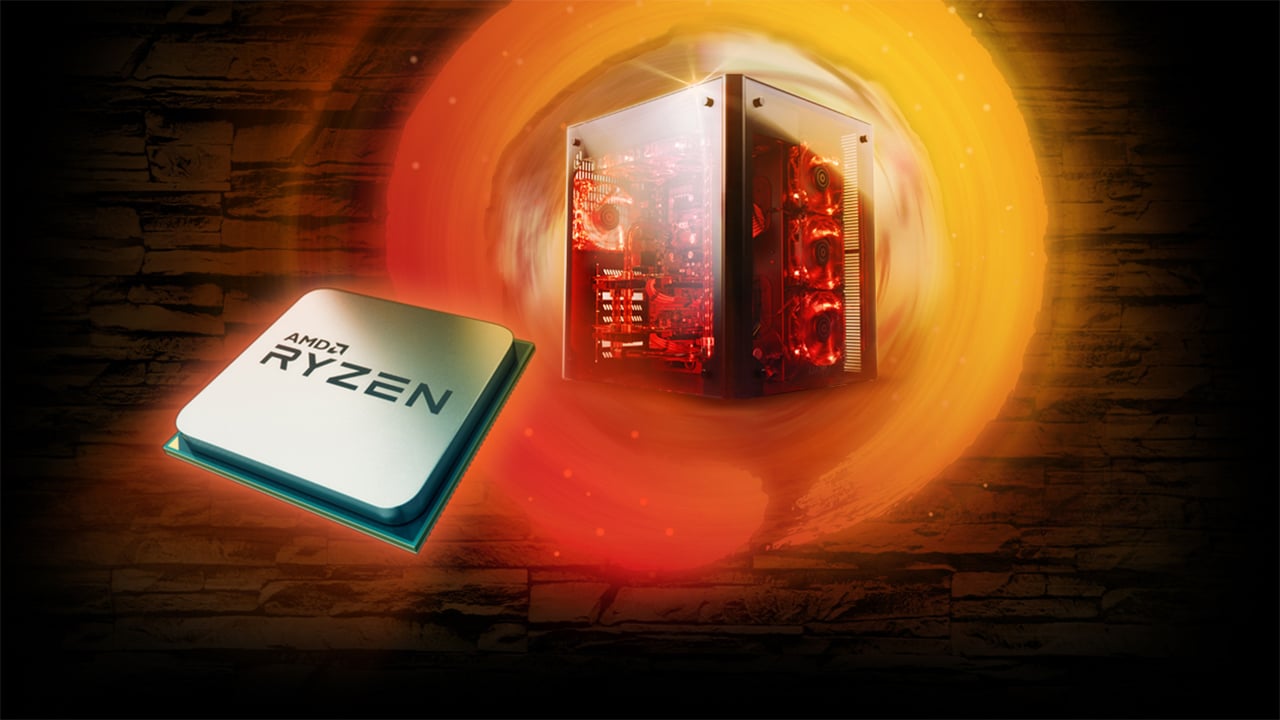 One year after the Ryzen series was first released, AMD has now launched a second gen version with improved power efficiency and clock speeds.
AMD has launched four new 2nd Generation CPUs in its Ryzen family that arrive almost exactly one year after the launch of the original Ryzen 7 1700 and 1800.
The big change with the 2nd Gen CPUs is that they have undergone a process shrink from 14nm to 12nm that is intended to raise clock speeds and increase power efficiency.
Specifications
These new CPUs have the digit 2 as a prefix to denote the 2nd Gen but in other respects the model number are familiar. Here is a list of feeds and speeds:
£299.99 Ryzen 7 2700X, 8C/16T, 3.7GHz base, 4.3GHz boost, 20MB cache, 105W TDP
£259.99 Ryzen 7 2700, 8C/16T, 3.2GHz base, 4.1GHz boost, 20MB cache, 65W TDP
£209.99 Ryzen 5 2600X, 6C/12T, 3.6GHz base, 4.2GHz boost, 19MB cache, 95W TDP
£169.99 Ryzen 5 2600, 6C/12T, 3.4GHz base, 3.9GHz boost, 19MB cache, 65W TDP
2nd Gen Ryzen uses the same Socket AM4 as the original Ryzens, and AMD states they will support this platform until 2020. This means that while you will ideally combine a 2nd Gen CPU with a new X470 chipset motherboard, you can instead drop the new CPU in an existing X370 motherboard. Or, if you prefer, you can hang on to your current 1st Gen Ryzen and upgrade to an X470 motherboard, although there seems little reason to go down that track. Before you install a 2nd Gen Ryzen CPU in an X370 motherboard you need to make sure the BIOS is up to date and supports the new CPU.
If you are left in the lurch the AMD Boot Kit, consisting of a free AMD APU, will sort you out.
Precision Boost 2
There are changes inside 2nd Gen Ryzen that focus on clock speeds and power management. As the names suggest, Precision Boost 2 is a better algorithm than the original Precision Boost that should allow more cores to boost closer to the maximum clock speed. The other change is XFR 2 (Extended Frequency Range) that takes account of the CPU cooling and allows the CPU to boost beyond its maximum rated clock speed on more cores than the original XFR could manage. Our testing demonstrates that Precision Boost 2 is the source of the extra performance while the new 12nm process is fairly unexciting. Having said that, every little helps and we will take any extra performance that is on offer.
One unexpected consequence of this dynamic overclocking is that we have found power draw has increased slightly from 1st Gen. to 2nd Gen. as the CPU is working harder for more of the time. In addition, if you like to mildly overclock your AMD CPU to 3.9GHz or 4.0GHz we recommend that you forget about it as AMD has already done the job for you. If you instead choose to push the all-core CPU speed beyond 4.2GHz you will require a significant amount of core voltage (say 1.5V) and high end cooling. It is easy to make the argument that 2nd Gen. Ryzen is killing overclocking for the amateur.
The new retail CPUs are each packaged with a cooler; in the case of the Ryzen 7 2700X it is the new Wraith Prism RGB that is made by Cooler Master and includes RGB illumination. Ryzen 7 2700 and Ryzen 5 2600X are supplied with a Wraith Spire cooler with a copper core while the junior Ryzen 5 2600 has a basic aluminium Wraith Stealth cooler.
As you would expect the announcement of new 2nd Gen CPUs has affected the prices of the original Ryzens and we have to say that Ryzen 5 1600X looks like really good value at £158.99. We are not so sure about Ryzen 7 1700 at £239.99 but that is purely because an extra £10 scores you a Ryzen 7 1700X for £248.99.