G-Technology unveils its latest line of ultra fast and rugged SSD line, including what we think is the fastest mobile SSD yet made!
This could well be the year of the SSD. While prices for drives may not be coming down as quickly as hoped, the latest drives make up for this in a number of ways that traditional platter based HDDs cannot match.
G-Technology are showing off a number of new products at NAB this year. One of the most important aspects of the new product lines is that they are mostly based around SSDs.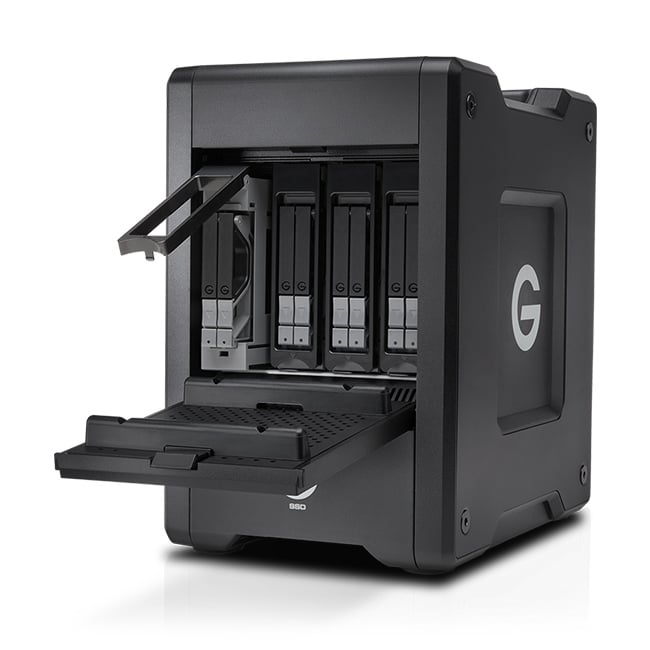 The G-technology G-Speed Shuttle SSD
G-Speed Shuttle SSD
The big daddy of the new products is the G-Speed Shuttle SSD. We reviewed the Shuttle XL earlier this year, which is mostly based around platter HDDs. Although you can of course fit SSD drives if you wanted to. The new Shuttle SSD takes advantage of being based entirely around solid state drives, making for a much lighter and more portable system.
The Shuttle SSD comes in capacities of 8TB ($5099) and 16TB ($7599) using 8 removable SSD drives, and contains two Thunderbolt 3 ports and is capable of sustained speeds of up to 2800MB/s, which makes it pretty blazing fast by anyone's standards!
As per other Shuttle models, the Shuttle SSD comes set to RAID 5 out of the box, but can be set using the G-Technology app to use RAID 0, 1, 10, and 50 as well. Five extra Shuttle SSD systems can also be daisy chained together.
The G-Drive Pro SSD
G-Drive Pro SSD
Next up is the G-Drive Pro desktop SSD. Again this drive contains two Thunderbolt 3 ports for daisy chaining, and it comes in capacities of 960GB ($1399.95), and later in the year 1.92TB ($2099.05).
Just like the G-Shuttle SSD the G-Drive Pro has a claimed sustained transfer speed of 2800MB/s. But the biggest claim about this drive is its longevity. G-Technology are calling it an Enterprise class SSD because it is designed to reliably cope with an entire drive capacity write per day for 5 years, or 14,000TB.
SSD longevity is a concern, so it is good to see progress being made on this front.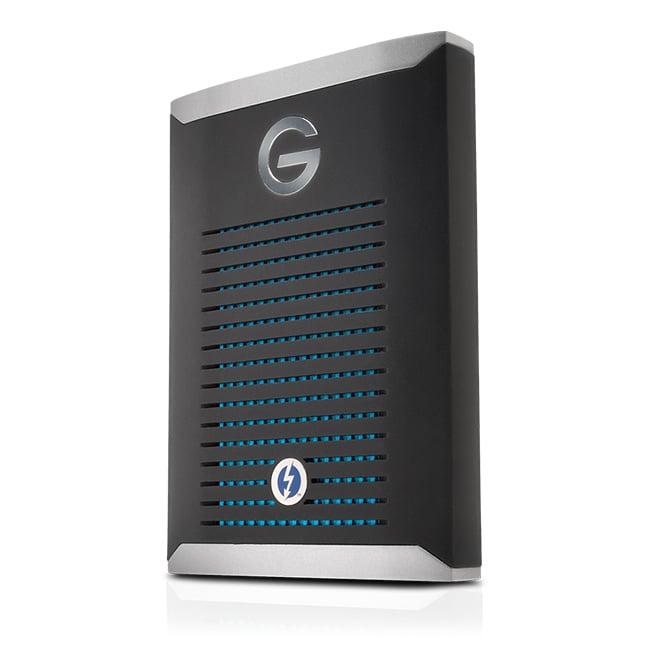 The G-Drive Mobile Pro, claimed to be the fastest mobile SSD yet
G-Drive Mobile Pro
The G-Drive Mobile Pro, as its name implies, is the fully portable family member of the new drives. This will be available in capacities of 500GB ($649.95) or 1TB ($1049.95).
This drive is being claimed, until proven otherwise, to be the fastest mobile SSD yet produced, with sustained transfer speeds of 2800MB/s over Thunderbolt 3. This could well be the ideal partner to the newly announced Pocket Cinema Camera 4K. Although of course that will depend on whether the BMPCC4K uses USB3 or is Thunderbolt enabled.
The Mobile Pro is shock resistant up to 3m and is crush proof with a rating up to 1000lbs. It also uses an aluminium core for heat protection.
Watch our interview with G-Technology with more about the products below.