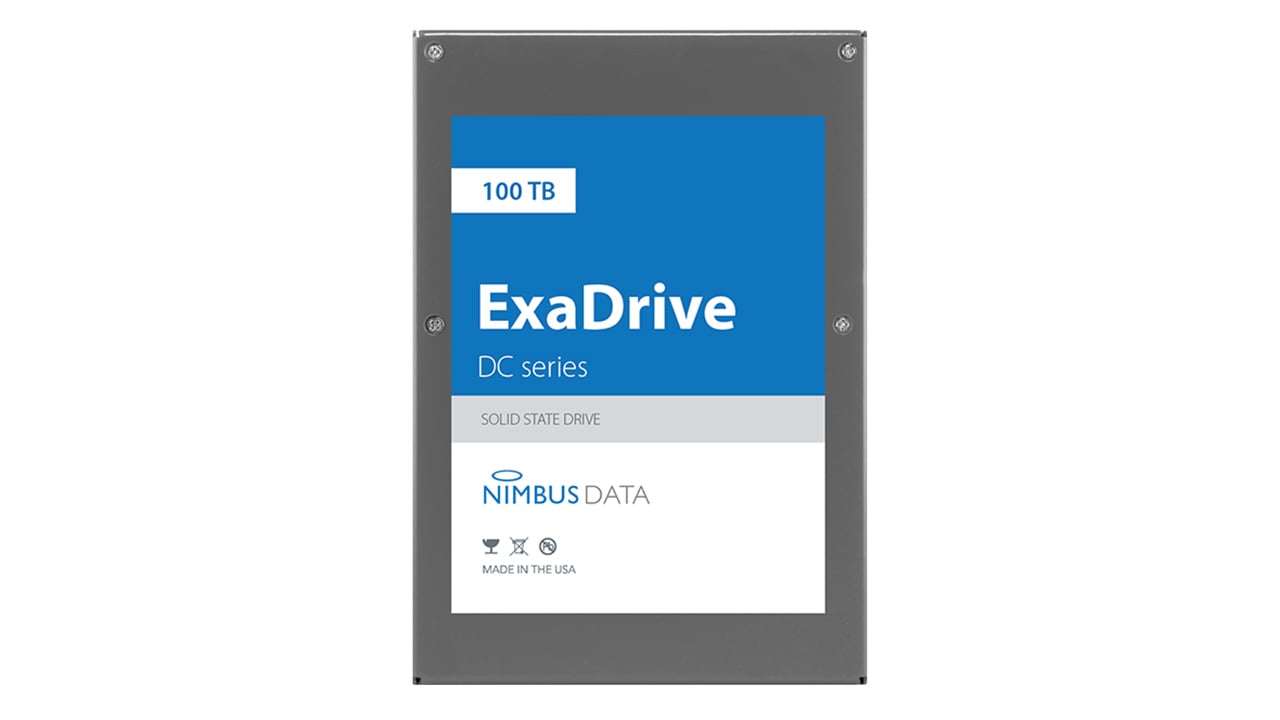 Whilst SSD prices may not be coming down, the capacity of the drives is most certainly moving ever upwards. Nimbus Data has announced a goliath new 100TB drive.
You may recall I recently wrote about Samsung's record-breaking PM1643 SSD where I waxed lyrical about the enormous 30.72TB capacity.
That's a huge capacity by any standards but it turns out a company called Nimbus Data is already producing a 50TB SSD and has just announced a 100TB model called the ExaDrive DC100.
We're not exactly comparing apples with apples as Samsung uses a 15mm thick 2.5-inch drive while Nimbus Data has packed a 3.5-inch drive housing with solid state storage, so it is working with a great deal more physical space. Nonetheless a 100TB capacity is pretty amazing, regardless of the form factor.
Nimbus Data states the endurance of the drive over five years is unlimited with 100,000 IOPs read or write and up to 500MBps data transfer. In other words this SSD has enormous capacity and also retains all the usual benefits of an SSD over a hard drive.
Somewhat curiously for a company that caters to the Enterprise market, Nimbus Data has chosen to equip the DC100 with a SATA interface. We understand that Nimbus Data will also offer the DC100 at a later date with a SAS interface, to bring the 100TB model into line with its existing 50TB model.
Inside the DC100 we understand the drive uses 3D MLC NAND and has four SSD controllers as well as a central control chip. This suggests to us that the storage is arranged on four separate circuit boards, each with its own controller, and then you have the master chip in overall control as the data flows between the boards. Nimbus Data has said nothing about details such as the amount of cache or the maker of the NAND flash.
We have to assume this drive will be carry such a massive price tag (£40,000? £50,000?) that no mere civilian would ever consider its purchase. The likely customers for this drive are are companies such as Microsoft, eBay or PayPal and while it is impressive a drive such as DC100 exists, we have to say that in PC and workstation terms it is the whitest of white elephants.
Tags: Technology