The RED HYDROGEN phone has a glasses-free 3D screen that works from all angles. It has an equally revolutionary audio system. And it's a modular platform for expansion into - who knows? Almost certainly a cinema-quality camera. And you'll be able to buy it unlocked before the summer
Today in the early hours, Jim Jannard gave the most detailed update yet about the development, design, functionality and likely delivery of the iconoclastic smartphone.
Eschewing the minimalist - some might say anodyne - slabness of the iPhone, the HYDROGEN is growing up in what feels like an alternative universe, where phones are portals into an almost holographic world of 3D content, and where you can add high-functioning modules as easily as Lego bricks.
Here's what we learned.
Display
The screen has a native resolution of 2560 x 1440. That's not only more than the iPhone X (which is 2436 x 1125), but it forms the basis of the so-called 4V "holographic" mode.
Our understanding is that this is a 3D system that is completely different from the usual "Lenticular" display. Conventional 3D screens have their viewable resolution divided by the number of viewing angles. None of this applies with the HYDROGEN. Apparently you can view from any angle, horizontally, and at high resolution (more about resolution in 3D later).
Jannard says that in 4V mode, "the screen dims a bit and out pops a "better than 3D" image... no glasses needed. There is no way to describe this. You just have to see it. So far, everyone that has seen it gasps, swears or just grins. I wish we had recorded all the reactions. Priceless.
Uniquely for a 3D phone, in 2D mode, screen resolution is undiminished and you get the full 2560 x 1440 display, with "fantastic color and brightness".
Sound
We are as curious about this as the display. The HYDROGEN will have multichannel sound, from the phone's own speakers and headphones. "The audio demo has achieved as high of marks as the display tech. Same reactions. Again, no way to describe. You just need to hear it."
We can't wait to hear this, and to find out how it works, because we currently have no idea. It's rare for new technology to arrive that is as exciting as it is currently opaque!
2018 is going to be an interesting year for audio enthusiasts.
Multi-component modular system
Jannard says "This is all done through our pogo pin system on the back of the phone. It provides power and data in both directions and modules are stackable. Think battery module, cinema grade camera module, and a variety of others".
We think the best way to think of this is as a modular, expandable platform, a bit like the original IBM PC, but for your pocket. If this takes off, it could just possibly be as significant as the original PC. That's perhaps in the outer reaches of probability but even that distant prospect is an exciting one.
You can read more about what we think about the HYDROGEN as a modular computing and imaging platform here.
(Note that this was written last July and is highly speculative).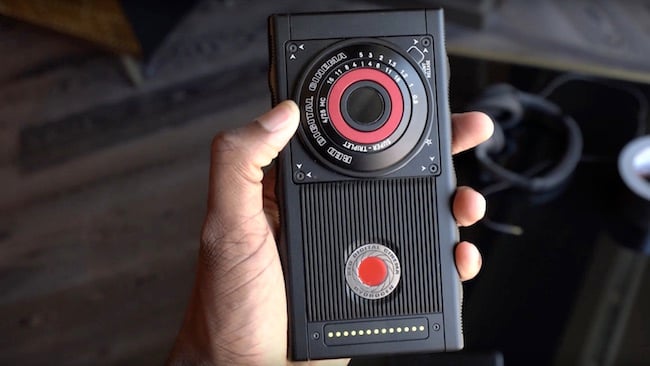 Industrial Design
Jannard puts it simply: "This works. The scallops make it easier to hold, fish out of your pocket... and looks as cool as hell"
There's no doubt that the HYDROGEN has been designed as a functional tool rather than a piece of high tech jewelery: less of a fashion statement and more along the rugged lines of a hammer drill, and none the worse for it.
Delivery date and carrier support
This is the big reality test. You can't deliver a non-existent phone and you can't expect carriers to show interest towards a product that doesn't work. It seems the HYDROGEN scores highly here, with the phone companies support described as "unprecedented".
Setting aside the fact that with something as left-field as the HYDROGEN, any reaction is going to be unprecedented, we take this to mean that the Carriers have responded very positively. If this is the case, then this is a huge endorsement for the HYDROGEN platform. Carriers know a lot about phones and about demand. This alone means that the phone is likely to be big in sales and hugely influential in a smartphone market that struggling to innovate.
Carriers have their own processes when they adopt a phone and Jannard says RED has no control over this, but suggests "sometime in the summer" as a possibility for delivery.
Meanwhile, unlocked pre-ordered phones will ship "before that".
We had been guessing that the phones might ship in the summer, so in that sense, the timing hasn't slipped.
When can we see it?
Jannard says that the phone is being shown to potential content producing partners in preparation for the HYDROGEN network. "This will be the one place to find all 4V content online. From major studios and other content providers to creating your own channel. Will have a HYDROGEN Day at RED Studios to preview the technology and demonstrate how to become a content provider as well as show to pre-order customers... probably in April"
Spec Update
Some very interesting specifics here.
The processor is a Qualcomm Snapdragon 835x, one of the first mobile ARM chips to run Windows 10 (the HYDROGEN runs Android). It's a powerful chip and is currently being used in a new generation of non-Intel, aways-connected laptops that are starting to appear at trade shows.
At the very least, this shows that the HYDROGEN will have laptop-class power, at least in some sense.
There's a headphone jack. This is good news and a statement perhaps that BlueTooth headphones are for amateurs.
Dual Sim slots: you can have two phone numbers, or replace one sim with a Micro SD card.
Charging and we assume some I/O is via USB C.
Weight is approximately two ounces (roughly 60 grams) more than most 5.7" phones. Jannard says: "The size is just slightly bigger than other 5.7" cellphones... like a few millimeters. It is also just a tad thicker. Think SOLID".
There's a big internal battery: 4500 mA. That's about 30% bigger than most smartphone batteries and we suspect that every little drop of that will be needed on a daily basis.
Now some astonishing news: you can shoot 3D ("3D to 4V") on both sides of the phone. We assume this means front and back. This could mean that 3D selfies are now a thing, and it also hints at the scale of ambition behind the content ecosystem for the HYDROGEN. It really does look like RED is setting out their stall to have 4V adopted by the masses.
We are promised a separate post specifically about how to create 4V content.
Resolution
It's best to quote Jim Jannard here: "Complex answer. The 4V files match the pixel resolution of a traditional 2D file, which is great for downloading. The resolution perception is just different. The horizontal resolution of 2D is now split into depth layers. It gives a completely different feeling. All the pixels are there… but instead of "looking at" a pic, you are immersed in the image. It is quite spectacular. As a resolution guy, I absolutely prefer watching 4V over 2D".
All of which is intriguing. We know a little about the likely technology behind the display and we wrote about it here
Sharing
Jannard says: "Will I be able to share my 4V content captured on the HYDROGEN One? Absolutely. We will be able to announce our social media partners pretty soon. You will not be disappointed who is supporting HYDROGEN 4V. Big dogs. Additionally, you will be able to set up your own channel on the HYDROGEN Network. Sell your 4V projects or give them away for free"
Finally
It's fair to say that all of this has left us breathless in anticipation, because there's a very real chance that we're soon going to be able to buy a smarphone that's significantly different to everything we're used to. A better display, better sound, better form-factor, more rugged and - here's an important word - professional. It's a new upward-looking sector for smartphones that will likely be adopted by serious and casual users alike.
If it all pans out the way RED obviously hopes it will, we will look back at 2018 as the year that telephones took off in another, completely new, direction.