The generation names may be increasingly questionable, but Intel is about to shift gears with the introduction of its new Coffee Lake processors, offering increased numbers of cores while retaining competitive pricing.
In a few days time Intel will launch its 8th Generation Coffee Lake CPUs that follow on from 7th Generation Kaby Lake (and before that the 6th Generation Skylake). You may have become numbed by the 5-10 percent speed bump that comes with each new generation of Intel CPU but 8th Gen. is big news because Intel has upped the core count by a significant amount.
And yes, this is clearly a response to AMD Ryzen 7 and Ryzen 5, no doubt about it.
The six new CPUs are:
- Core i7-8700K, i7-8700, i5-8600K, i5-8400, i3-8350K and i3-8100 but these are completely different Core i7, i5 and i3 from previous generations.
- Core i7 now has 6 cores and 12 threads, instead of 4 cores and 8 threads.
- Core i5 has 6 cores and 6 threads rather than 4 cores and 4 threads.
- Core i3 also has 4 cores and 4 threads and is differentiated by running at a fixed clock speed without a jump from Idle speed to Turbo.
From a technical standpoint Coffee Lake looks very similar to Kaby Lake, although Intel calls its latest fabrication process 14nm++ which suggests it has been improved over the previous 14nm+. We have been given no further details on this subject and cannot make any comment as things stand.
Intel has given away few technical details of what is going on under the heat spreader, however it seems the only fundamental change is to the core count. It is understandable that the LGA1151 socket and supporting power system have been developed to handle four cores and no more, but this is where Intel throws a curve ball. Motherboard manufacturers refer to the new 8th Gen. CPU socket as LGA1151 rev.2 because it looks exactly the same as the 7th Gen. socket. You can physically swap CPUs back and forth however there is no compatibility and they will not run, so the rules are very simple.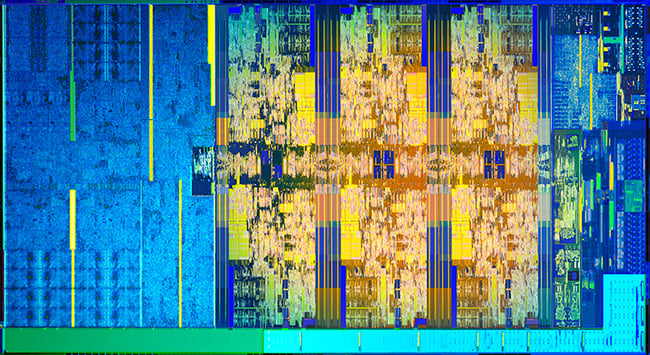 A die from the new 8th generation processors - Intel
No backwards compatibility
If you currently own a Z270 chipset motherboard you cannot upgrade to 8th Gen.
If you want to run a new Intel 8th Gen. CPU you need to use a new Z370 chipset motherboard and cannot install an earlier Kaby Lake on that board. You can transfer your DDR4 memory, SSD and graphics card from the previous 7th Gen. system to your new 8th Gen. PC but need to treat the CPU and motherboard as an assembly.
This is vexing as the Z370 chipset appears to be a Z270 with a fresh coat of paint. There doesn't seem to be any good reason why Z370 cannot support earlier CPUs as, for example, a new Core i3 with 4 cores must surely work in a similar way to a previous generation quad core Core i5, however there is little point in complaining about Intel's behaviour.
With the new Core i7 the increase in core count has resulted in slightly lower clock speeds to the tune of 200MHz at default settings and a tiny increase in TDP from 91W to 95W, which is considerably better than you might expect from the raw figure of an addition 50 percent extra cores. It has to be said that TDP is a different metric to the amount of Watts you draw at the wall socket but it indicates power consumption should be similar and that Kaby Lake CPU cooling will work equally well on Coffee Lake.
Intel will be releasing a bunch of chipsets to go with 8th Gen. that have familiar model codes with the 2 replaced by 3. These are Z370, H370, H310 and B360, where that final code looks like it was chosen to avoid a clash with AMD B350. We hear rumours 'the real Coffee Lake chipset with support for USB 3.1 will be named Intel Z390 and will launch in the first half of 2018. This is an indication that Intel rushed out these new CPUs to compete with AMD Ryzen so for now we have more cores at prices that are pretty much the same as 7th Gen. You can currently buy Core i7-7700K for £299 and we expect Core i7-8700K to go on sale at £320.
Intel 8th Gen. looks like a quick and dirty response to AMD Ryzen however it appears that it will be amazingly effective.