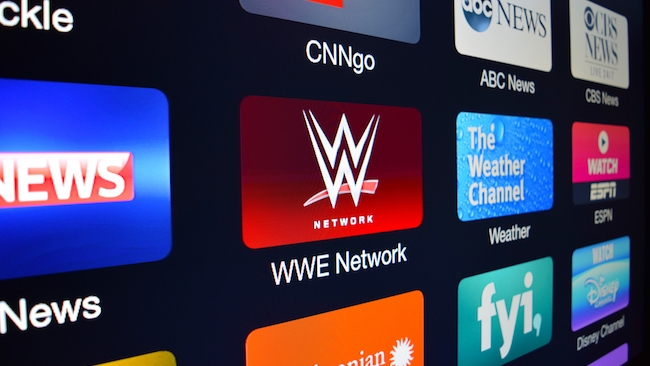 Remember the long-rumoured Apple television set? According to reports, it looks like Cupertino's equally long-rumoured live TV streaming service is heading towards the same vapourware graveyard.
For several years now the standard buzz had been that when Apple got round to upgrading its Apple TV streaming device that it would add a live TV bundle into the mix as well, at least in its core US territory. But Apple TV was announced earlier this year, has now appeared on sale, and still there is no sign of a live TV service.
Nor, according to reports from Bloomberg, will there be for quite some while.
Instead Apple will concentrate on the business model that helped make it its fortune in the mobile phone space, apps. It has already opened up its App Store to third party developers and seems to be resigned to being the carrier for the content rather than the provider of the material itself for the near future
The reason for the change in strategy looks to be cost, pure and simple. Apple wanted to sell a bundle of 14 or so channels to US consumers for between $30 to $40 a month, whereas the pay-TV industry charges more than double that. And while the media companies that Cupertino has been talking to were happy to get onboard, they weren't happy to be selling the rights to their content so cheaply.
Well, not quite yet anyway.
The US online media wars are intensifying. Amazon is bundling subscription video from the likes of Showtime into its Prime package for an additional fee, Disney is pumping huge amounts of cash into youth-oriented media group Vice, and Netflix is planning to double the amount of original scripted shows it produces in 2016. Then, of course, there's the push towards 4K HDR, which will get a significant boost when Rogers starts broadcasting live baseball in the dual-formats from April.
If Apple TV is successful in this environment and can drive the other major online streaming device players such as Roku and Google out of the market, then it will be able to take its plans off of hold and head back to the negotiating table with a much stronger hand. Unlike the music companies, though, who had been fighting a losing ballet against online piracy for years and were desperate to partner with Apple and hook up to at least some sort of legitimate income stream, the media companies feel able to play a longer game.
Once it becomes clear who is the gatekeeper for the coverted HDMI 1 slot, that will call change. For the moment, though, it looks like Apple TV is just going to have to do it without them.
TV apps pic from shutterstock.com