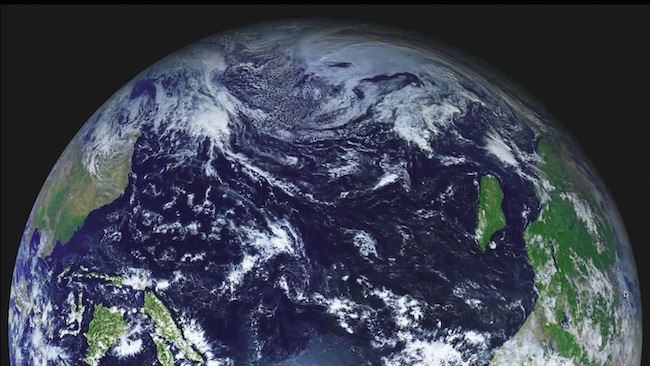 Big blue ball. One of the nicest of the recent clutch of high quality space imagery, this Youtube 4K time-lapse of weather systems scudding underneath Russia's Elektro-L weather satellite is just what your iMac 5K has been waiting for.
The video was put together and uploaded by James Tyrwhitt-Drake and, what's more, is actually downsized from the satellite's native 121MP resolution (11,136 x 11,136 pixels). Sited 40,000km above the Indian Ocean in geostationary orbit, Elektro-L creates an image featuring visible and infrared wavelengths every 30 minutes, which have in the past been made available on the Russian Federal Space Agency remote sensing site (though they currently don't seem to have been updated since April).
This time-lapse video dates from images taken in May 2011 and Tyrwhitt-Drake has adjusted the levels and changed the infrared channel from orange to green to show vegetation more naturally. The images were then resized by 50% (an original animation file with a resolution of 5568 x 5568 is available on request), misalignments between frames were manually corrected, and image artefacts produced when the camera was facing towards the sun were partially corrected too
In fact, the Sun is not visible due to a circular mask on the CCD ensuring that only the Earth is visible, which protects the camera from direct exposure to sunlight (you can see this in operation as pixelation on Earth's horizon). The same mask also excludes stars from view. And, if you're wondering, city lights don't show up during the nighttime because if the camera was sensitive enough to detect them then the Earth would be overexposed.
Finally, the images were interpolated by a factor of 20 to create a smooth animation before the animation was rendered in the Youtube 4K UHD resolution of 3840 x 2160.