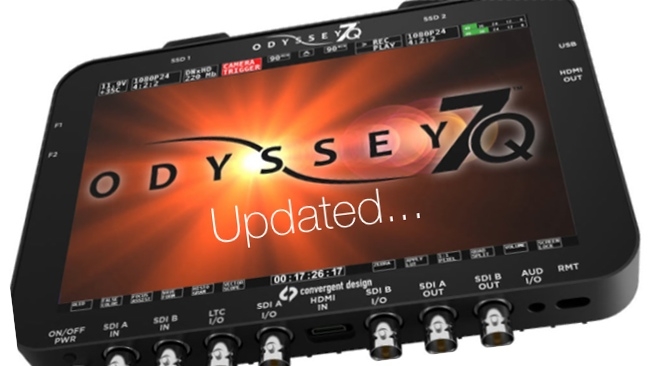 The new Firmware v3.10.100 for the Odyssey7 and Odyssey7Q does the classic update job of adding features, improving current functions and fixing some previous issues.
The biggest news is undoubtedly the new support of 4K ProRes recording on the Odyssey7Q, which means that an Odyssey7Q recording at 24p to two 512GB Odyssey SSDs can now capture 194 minutes of 4K material, more than three times the recording capacity of 4K RAW.
The unit supports 4K RAW from the Canon C500 and the Sony FS700 via record options and a record mode will be added soon for no additional cost which will take the 4K RAW signal from the camera and convert it to ProRes 422 HQ at 4K resolution.
Convergent reckons that the addition of 4K video makes the Odyssey7Q the lowest-priced, highest-value video analysis tool in the industry. A Pixel Zoom function allows the 7.7in OLED display to function as a virtual window for accurate focus on an image equivalent to a 24in 4K monitor, while the unit also functions as a format converter, transforming the 4K video input into multiple 1080p HD outputs.
Oh, and for a limited time, Convergent have knocked $500 off the price, taking it down to $1795.
Full announcement after the break.
Odyssey7 & Odyssey7Q Firmware v3.10.100 Released
Today Convergent Design releases a firmware update for the Odyssey7 and Odyssey7Q. This release adds features, improves current functions and fixes some previous issues.
The following is a summary of new features, fixes and improvements in the new firmware.
NEW FEATURES
Refreshed User Interface
Newly simplified menus with easier, intuitive access to all functions.
HDMI Record Trigger
Start/stop Odssey7 or Odyssey7Q on cameras supporting a trigger pulse over HDMI (Sony: FS700, a7S, etc., Canon: C100, 1DC, 5D mk3, etc.)
HDMI Timecode Support
Feed timecode to Odyssey7 or Odyssey7Q on cameras supporting timecode over HDMI (Sony: FS700, FS100, a7S, etc., Canon: C100, 1DC, 5D mk3, etc.)
Analog Audio Input
Record analog audio on Odyssey7 or Odyssey7Q via 3.5mm AUD IN port. Two-channel unbalanced or one-channel balanced input with gain adjustment from -99 to +44dB.
Headphone Mute
On/Off control for AUD OUT port.
Selectable Project Rate for HD Apple ProRes Recordings
In 1080p, Project Rate can now be set from 23.98 – 60fps or FOLLOWS INPUT.
PLAYBACK MARKERS
In PLAY mode, reference up to 16 In & 16 Out points per clip. Used in conjunction with new CD APPLE PRORES TRANSFER UTILITY 1.4.4, a Final Cut Pro XML can transfer Markers to FCPX, FCP7, Adobe Premier and Resolve 10 & 11.
NEW FEATURES (Odyssey7Q Only)
4K/UHD Apple ProRes Recording
4K (4096x2160) Apple ProRes 422(HQ) at 23.98, 25 and 29.97 fps
UHD (3840x2160) Apple ProRes 422(HQ) at 23.98, 25 and 29.97 fps
Input via 4x SDI with full playback & scrubbing
2K Apple ProRes Recording
2K (2048x1080) Apple ProRes 422(HQ) at 23.98, 24, 25, 29.97, 50, 59.94 fps
FS7OO 4K RAW to UHD Apple ProRes
With SONY FS RAW Record Option, input 4K RAW from FS7/FS700 and record UHD (3840x2160) video in Apple ProRes 422(HQ) at 23.98, 25 and 29.97 fps.
Capture in S-Log2, REC709 or REC709(800%).
FIXES & IMPROVEMENTS
FIXED HDMI input legalization
FIXED Image tearing with interlaced & PSF signals
FIXED PIXEL ZOOM image blackout when dragged to corner
IMPROVED PLAY mode audio sync
FIXED PLAY mode for ARRIRAW 24p
IMPROVED PLAY mode scrubbing of RAW recordings
IMPROVED PLAY mode RAW playback artifacts
Go to Convergent-Design.com/firmware-downloads.html to download the latest firmware, update instructions, firmware release notes, quick-start guides, and the latest Odyssey7 and Odyssey7Q manuals.
Please Note: An Odyssey SSD or Odyssey Utility Drive is required to perform the firmware update.