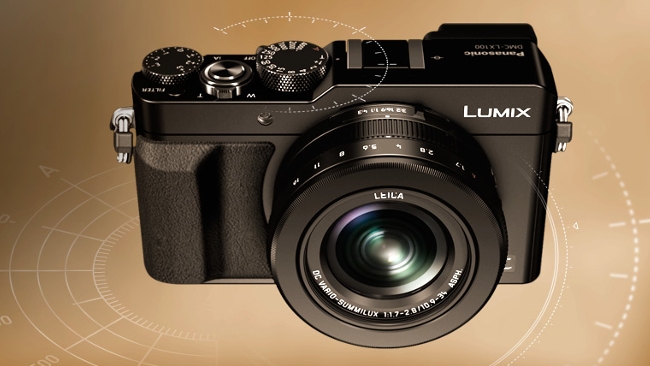 Timed with the start of Photokina, Panasonic releases the Lumix LX100, a diminutive, fixed lens 4K camera that's aimed squarely at video shooters.
While Panasonic's IBC highlight might have came before the show (with release of gorgeous footage from the its 4K Varicam), as we turn the page from IBC to Photokina, we're met with news from Panasonic that would be surprising, if it wasn't following a plan set forth back in 2013. Panasonic's President of its Imaging Division, Kunhigo Miyagi, a little over a year ago, remarked that the company was building its own 4K ecosystem and that in 2014, everything that Panasonic makes that was HD will be 4K.
At the time, we questioned why Panasonic had been moving at a snail's pace on 4K. Of course, if it is indeed playing a game of catch-up, it's doing so in a big way in 2014. The 'plan' should be familiar by now: To start, there was the Panasonic GH4 and the 4K Varicam. Earlier this summer, the compact, fixed lens FZ1000 arrived, which sports DSLR stylings and records 4K UHD 30p to SD card for the budget-friendly price of $800.
Now, Panasonic is making another statement, with the debut of the fixed lens point-and-shoot Lumix LX100, which packs a ton of video-friendly features in an ultra-compact device. Specs include 4K UHD capture at 30p, 24p and 25p (it's unclear if all cameras will feature 24p and 25p, or if Panasonic will release PAL-only and NTSC-only versions, and its done in the past), a much larger sensor (Four Thirds) than other cameras in its class, a recently developed LEICA DC VARIO-SUMMILUX f/1.7-F2.8 "24mm-75mm 35mm equivalent" (so, 12mm-38mm?) lens, and manual controls, so you don't have to worry about the camera second-guessing you at the worst possible moment.
The Panasonic Lumix LX100 will ship sometime in mid-November for $899, just in time to capture your holiday festivities in 4K. Maybe that was Panasonic's real plan all along...
Check out first footage shot with the Panasonic Lumix LX100 below. And don't miss more videos from Panasonic that profile the Lumix LX100 on Page Two!
Introducing Panasonic LUMIX DMC-LX100 I
Introducing Panasonic LUMIX DMC-LX100 II