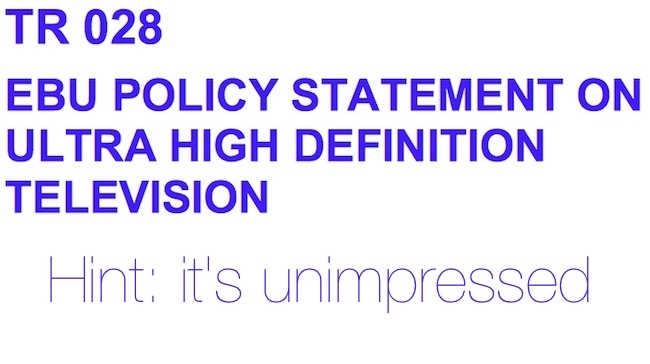 The EBU has issued a statement saying that, while it notes the growing interest in UHDTV, it believes that by focussing on increased resolution alone the industry is not only missing an important opportunity but that 4K will be of limited success in broadcasting.
Essentially this all ties into the fact that the new DVB specification for 4K UHD-TV only includes improvements in resolution for Phase 1. It does actually specify 10bit video too, however the EBU would prefer if it included the features that are laid out for Phase 2 of the DVB specification, such as an increase in framerates (a top rate of 100fps being expected in Europe), better dynamic range, colour gamut and enhanced sound.
In fact the EBU would appear to be more enthusiastic for the Phase 2 features than it is for the improved resolution of Phase 1. It has even gone as far as to suggest that a new 1080p format with the Phase 2 features would be popular with broadcasters. Presently almost all television broadcasting on the planet is in 720p or 1080i, but most high definition content is being produced in 1080p. As a result, a 1080p standard might be popular with broadcasters as they could use a lot of their existing infrastructure and programming to make it work.
Of course a workable 1080p solution might detract from the push for 4K, meaning that the owners of existing 1080p ready sets might be able to buy a set-top box that could provide the support for such a new 1080p broadcast standard instead of buying a replacement 4K UHD TV.
The EBU notes that its statement is important and fairly complex, and thus it may only be reproduced and distributed in its entirety; partial quotation is strictly forbidden.
So, as we don't want to vex the EBU, here is a link to all 750 or so words of TR 028, EBU POLICY STATEMENT ON ULTRA HIGH DEFINITION TELEVISION (their caps) in its entirety.
As always, comments are welcome.