Ever wondered why we can't seem to have any other shape of screen than rectangular? There's a good reason. But now we can have screens of any shape
This is something we've dreamed about for a long time but didn't expect to see within a couple of decades. It looks like video screens that can be made in any shape - including complex ones - will be with us sooner rather than later.
You can see in this picture that the idea of placing physical controls in the middle of a video screen is not a new one.
This image is from Soundcraft from 2006. We're not sure how they did this (you can just see the dark physical controls in the lower quarter of the screen). They've either had their way with a conventional screen and a hacksaw, or they've maybe built some very low-profile digital rotary controllers and glued them to the screen.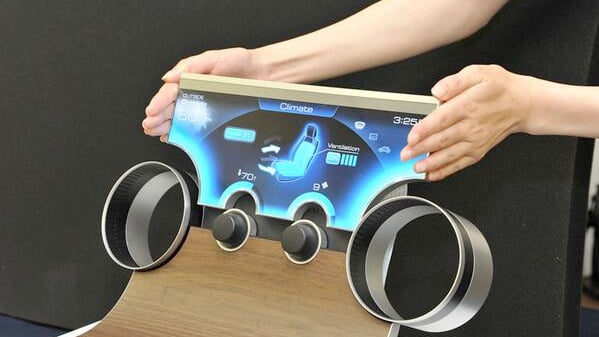 It's a good approach (I have seen the device and it's a real boon to its ergonomics). But it's still relying on a screen that is basically rectangular.
We presume this means Sharp will be able to build conventionally-shaped screens with absolutely no bezels, which will not only look better, but will mean - perhaps - that it will be possible to "tile" multiple screens together and not be able to see the join.
Screens have always had to be this shape
According to Sharp, who know a thing or two about displays, there's a very good reason why screens have to be this shape, as opposed to, say, circular. It's because the pixel drivers have to be housed in the screen bezels, and while these have shrunk significantly in recent years, there's they still need to be there to contain the driver circuits.
Sharp has just announced their "Free Form" displays which don't have this issue, and which can therefore be made in just about any shape. How do they do it? By incorporating the drivers in the body of the pixels. So the screens don't need any "edge" at all.
Now, don't imagine that this means that you, as an end user, will just be able to phone up and order your triangular TV to fit into that little niche in your living room. These things will have to be ordered in volume. But that's exactly what car manufacturers will be able to do when they design a new model. And you can imagine all sorts of control surfaces for professional media creators with controls embedded in the screen, and precise, interactive display elements around them.
We suspect that in ten years time, car dashboards and professional control surfaces will look very different and will be very much better than they are today because of it.
Read Sharp's own description of their free-form displays over the page
Sharp has developed the Free-Form Display, a revolutionary advance over the conventional display shape concept that enables the creation of new display designs to match a variety of applications.
LCDs have contributed to the emergence and spread of a range of application products by offering not just display-related functions such as high brightness, wide viewing angle, high resolution, and superb color purity, but also by providing added value through, for example, greater environmental performance and a superior user interface thanks to touch-panel functions. In addition, LCD application product manufacturers want to offer consumers products with a more polished design, and Sharp has responded by providing these manufacturers with displays that boast features like slim profiles, light weight, and thin bezels.
Continuing on this tradition of innovation, Sharp announces the development of the Free-Form Display, a device that can be shaped to meet a wide range of user needs thanks to the incorporation of IGZO technology and proprietary circuit design methods. Conventional displays are rectangular because they require a minimal width for the bezel in order to accommodate the drive circuit, called the gate driver, around the perimeter of the screen's display area. With the Free-Form Display, the gate driver's function is dispersed throughout the pixels on the display area. This allows the bezel to be shrunk considerably, and it gives the freedom to design the LCD to match whatever shape the display area of the screen needs to be.
For in-vehicle applications, for example, this development makes it possible to have a single instrument panel on the car dashboard that combines a speedometer and other monitors. There are other possibilities for displays with sophisticated designs: these include wearable devices with elliptical displays and digital signage and other large monitors that draw the viewer into the onscreen world.
Sharp plans to enter the mass-production stage for the Free-Form Display at the earliest possible date.