In what is sure to be one of the stand-out releases of the year, Sony has just announced the A7S III, and it does a lot more than just excel at lowlight.
The Sony A7sIII (α7sIII) has been announced. Image: Sony.
It's been five years since Sony introduced its A7S III video-centric mirrorless camera with a particular emphasis on low light sensitivity.
After at least a couple of years of speculation and anticipation, the A7S III has finally been announced. You can read Sony's official press release here.
In no particular order, let's take a look at several of the key features of the camera and how these features will position the A7S III in the ever-growing mirrorless camera segment.

Front view of the Sony A7sIII. Image: Sony.
Sony A7S III main features
The A7S III is clearly a video camera with stills capability. Its 4K sensor can acquire 4K or UHD full pixel video with no line skipping or pixel binning and its super fast (3x) readout combined with a new BIONX XR processor virtually eliminates rolling shutter artifacts. The backlit BSI reverse structure of the sensor allows for maximum light gathering. Large pixels (nearly 6um pitch) ensure high sensitivity, low noise (high s/n ratio) and an advertised 15 stops of dynamic range in SLog3 mode. Like the A7S II, extended ISO sensitivity is a whopping 409,600.
Piggybacking on autofocus improvements in the entire Alpha camera line, the A7S III has 759 phase detect AF points and 425 contrast AF points, real time tracking and human/animal eye AF by touch in the LCD display.
The potential limitation - the sensor resolves at 12-megapixels. Stills photographers might not find this resolution sufficient for large print work. Sony does note that the larger pixel size of the sensor and the high s/n ratio will give the perception of a much higher resolution source. It is something we do intend to test once we have an evaluation camera in our hands.
But in no way should this be viewed as a negative. Content creators simply have different tools for different functions. Sony intended to build the best possible 4K hybrid camera, bypassing what it seems it considers to be the hype of 6K or 8K or greater, concentrating on what users have most requested of it.
In that regard, Sony very clearly listened.

Rear LCD screen on the Sony A7S III. Image: Sony.
A7sIII video recording formats
Over the years of owning, shooting and reviewing Sony mirrorless cameras, one of my primary requests has been stronger internal acquisition bit depths and color sampling. The A7S III can now record in XAVC S Long GOP (H.264), XAVC HS (a new H.265 format) as well as a new XAVC-S I all intra H.264 with bitrates up to 600 mbps. And, the major advancement for Sony, it can acquire up to 10-bit 4:2:2 video in camera. With its full-size HDMI connector, it can record 16-bit RAW video to a compatible external recorder.
In our pre-release press briefing, Sony representatives stressed that the internal 4K 60p recording has been tested for up to 1 hour of continuous recording and, in fact, is more limited by battery capacity than by heat limitations.
But more video specs; SLog 2 and SLog3 and 10 bit 4:2:2 HLG with 4 presets with simultaneous proxy recording. And here's a major feature that can't be stressed enough. It now incorporates an active mode image stabilization system. While not replacing a 3-axis gimbal, its sensor-shift mechanism can maintain 3840x2160 4K stabilized images with very slight crop. Finally, we see the stabilization technology that small action cameras were able to shoot now in a full-frame mirrorless camera. Base ISO in SLog has been reduced from 800 to 640.
The digital MI shoe not only allows for direct digital audio with a compatible microphone, it can also support 4-channel recording via Sony's XLR K3M module.


Top view of the Sony A7S III. Image: Sony.
Color science and menus
And now the crowning feature to maximize usefulness of the A7S III in production situations. It shares color science with the FX9 and Venice cameras, giving DP's and producers a significant camera for such things as small spaces, car shots, and on-the-run shots which can integrate into a workflow seamlessly with larger dedicated digital cinema cameras.
A final feature that Sony shooters have long requested is better menu structure. Even those of us who have been the most devoted Sony users found as a great source of grief has been those multiple deep and cumbersome menus.
The new menu structure replaces the top headings with side headings and moving left to right, two levels of submenus visible. And the LCD is completely touch screen. Video settings can be saved separately from still settings for easy switching between still and video modes.

The Sony A7sIII with the XLR-K3M audio adaptor. Image: Sony.
CFexpress Type-A
A completely new camera also begs for a new kind of recording media. The A7S III has two media slots which accept both SDXC cards as well as a brand new format introduced by Sony, CFexpress Type-A. Type-B cards already exist, but now Sony is introducing CFexpress Type-A, somewhat smaller than CFexpress B but able to fit the dual purpose slots on the A7sIII.
These will be available in both 80 and 160GB sizes with estimated 800Mbps read and 700Mbps write speeds. The new MRW-G2 reader reads both SD as well as the CFexpress A cards and with its USB 3.2 interface transfers files quickly. At time of briefing, Sony estimated the 80GB cards at about $200 and the 160GB cards about $400.
And lest I forget. Its QXGA 9.44-megapixel view finder is the densest in the industry and its 41-degree angle of vision can be reduced to 34 degrees for us eyeglass wearers.
A new design dissipates heat and its use of the new USBPower Deliver technology allows wider use of higher capacity external power.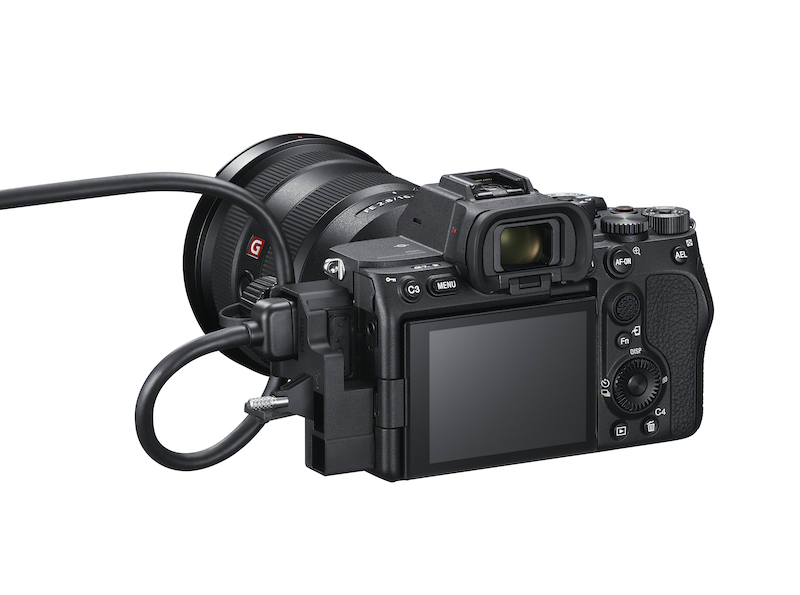 The Sony A7S III with cable protector attached. Image: Sony.
Where does the Sony A7S III fit?
Sony does not represent The A7S III as a camcorder. It doesn't have built-in ND, nor is it the kind of device you just stick on a tripod and press record. It can shoot stills at 10fps and even now supports 10-bit HEIF still capture at 4:2:2 or 4:2:0 color sampling for HDR stills, but with a 12-megapixel sensor it cannot and should not be compared to a high-resolution stills camera like the A7R IV.
But it doesn't need to be a camcorder or a high-resolution stills camera. Those tools we have.
What we did not have up to this point was a Sony mirrorless camera with 10-bit 4:2:2 internal recording, with fast readout to minimize rolling shutter, color science to match the big-kids, 4-channel audio, and long continuous record times and with more power options.
Do read all of the detailed specifics in Sony's press release and web materials. There's a lot more than what I have highlighted here.
But what I will say is this promises to be among the more significant releases in this entire product category and should prove to be a big seller for Sony and a giant boon for content creators using it.
Sony anticipates delivery to begin in September 2020 at a price of $3498US.
We look forward to using it and will be reporting with the perspective of several testers.
But if it comes anywhere nearly close to capabilities as announced, the A7sIII will be the clear segment leader.
Tags: Production Editor