There's been a lot of chatter about KOMODO, RED's most affordable cinema camera since RED started sharing the betas. I received mine back in January so I've had some time to use it both on set and in the field.
RED KOMODO Ergonomics
In order to keep my rig compact and portable, I've gone a relatively minimalistic rig. A Wing Grip is a good, compact handle, and a Kondor Blue top plate provides an Arri style mounting point for a monitor mount. I can attach my SmallHD Focus OLED to the monitor mount, or attach a cell phone clamp if I'm using my cell phone as a monitor.
The top screen is sharp and easy to read, though almost half of the screen real estate is dedicated to controls and tools, leaving just half for the image. It's big enough for framing, but by itself not for judging focus, so I leave focus peaking enabled on that display pretty much permanently.
Though I've been able to get shots in focus using the top screen and focus peaking, it's definitely easier with a larger screen. All of the focus and exposure tools, including edge detect focus, focus peaking, and false color are available over SDI as well as on the top monitor.

The RED KOMODO with SmallHD monitor.
The most used functions like aperture, ISO, shutter, audio levels and histogram are accessible via the top screen, and the rest are accessible using the physical buttons arrayed along the right side of the monitor. The menu system is pretty straightforward to navigate, and one of the buttons can be customized.
To prevent accidental touch screen interactions, the screen can be locked by pressing and holding the up and down physical buttons at the same time. Of course, the same method unlocks it.
Overall, right out of the box, the camera is very easy to use, and while it is possible to use it quite effectively without a field monitor, it is definitely easier with one.

RED KOMODO user interface.
RED has improved on two other aspects of the camera as well. One is boot time; while it still takes longer to boot than a DSLR or mirrorless stills camera, it's definitely quicker than its larger and pricier brethren. The other is noise; the Komodo's dual fan is whisper quiet.
Power and Media
This has been a radical and welcome change of pace for a RED camera. The camera has two Canon compatible battery slots with spring clips to help keep them secure, because during early testing when using Komodo as a crash camera, the batteries flew off of the camera on impact. The BlueShape Canon BMP975 each have been keeping my camera running for nearly two hours at a time. Since they're hot swappable it's easy to keep the camera running continuously for hours. For situations where even that isn't enough there is an included AC power adapter that connects to a dedicated port on the camera.
There are 3rd party battery plates available that connect to the battery slots and enable using V-mount batteries as well. For compactness I favor the Canon style batteries.
Though Cfast is still fairly pricey, it's a lot less expensive than Red's proprietary media. Red has been testing and certifying cards for use with the Komodo. I purchased two Angelbird 1TB AVPro cards which have been flawless in the camera so far.
I/O
Due to small size of the camera, there are not huge number of ports on it. There is one 1/8 inch headphone jack and one microphone jack, both stereo. The quality of the sound coming from a short 1/8" stereo cable from the line out on my Sound Devices mixer has been solid, making that a good solution for interviews and PSAs. For timecode and genlock there is a single Lemo port. One is the dedicated DC power input, and the third is a 12-G SDI output. For additional I/O there are a few options, such as the Red's expander plate that attaches to the bottom of the camera and Wooden Camera's expander that fits into one of the battery slots. Both use the Lemo port to communicate with the camera.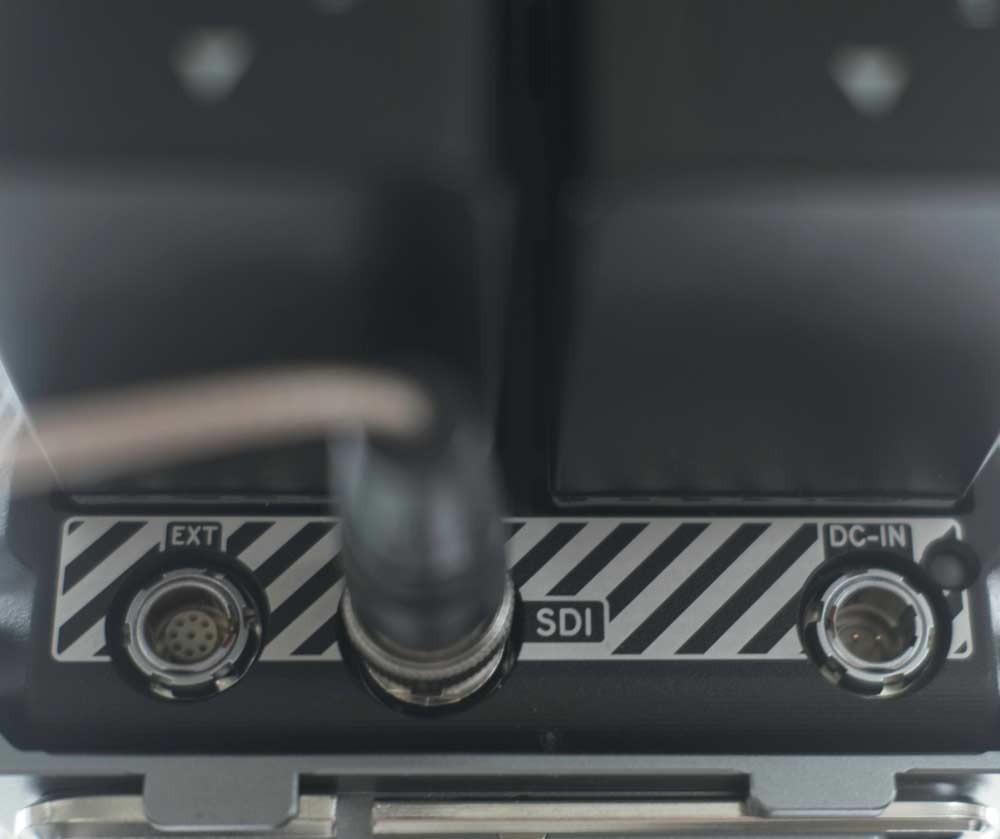 Wireless Control
Red has put a lot of effort into wireless control for the Komodo. It has built in WiFi which enables the Red Control app to control pretty much every aspect of the camera from the phone, including a wireless preview on the phone. Even over WiFi, the latency is impressively low. The Red Control app, available for both iOS and Android, is designed to take advantage of the larger available screen real estate. Focus peaking isn't available on the phone view, though it is over SDI.
Autofocus
Another new feature for RED is autofocus. While it's a pretty good autofocus when compared to other cinema cameras, that's mainly because most full size cinema cameras have no autofocus at all. That said, it does work; and while it's not nearly as fast as the autofocus on the latest mirrorless cameras, it is pretty accurate with most of the lenses I've tried. Since autofocus and RF lens support are still in beta, there are some bugs and compatibility issues that RED is still sorting out at the time of writing, such as Canon's 800mm RF lens.
With the Red Control app and a compatible autofocus lens, it is possible to pull focus from a phone.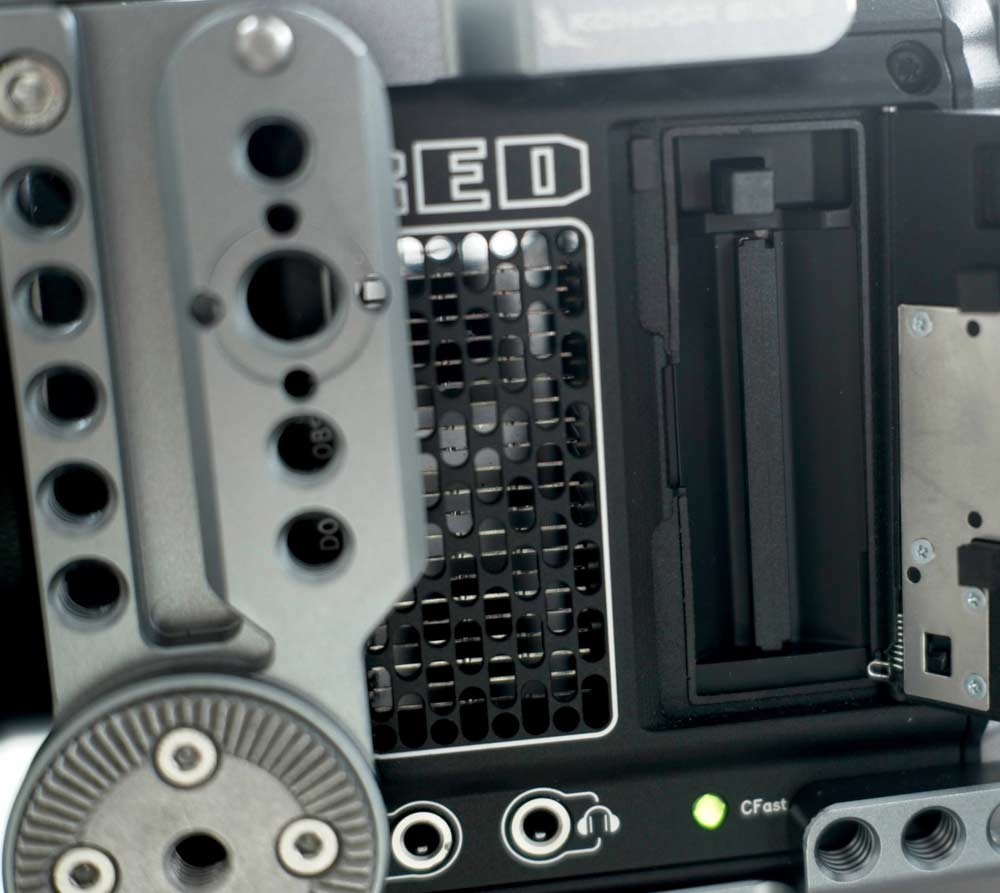 Frame Rates and ISO
The KOMODO doesn't have a wide range of frame rate options currently. It has no time-lapse options, and its highest frame rates are not the fastest around. In 6K it's limited to 40 fps, though in 4K it can reach 120fps.
The KOMODO produces a nicely noise free image at ISO 800, and it can reach an ISO of 12,800, but at that high an ISO, the image is, in my opinion, fairly noisy.
Image Quality
Of course, no camera is worth buying if it doesn't have excellent image quality, and on that front, like any other modern camera, Komodo delivers. Like pretty much every modern cinema camera, it has a lot of dynamic range, good detail, and vibrant color.
Also like every other cinema camera that can record in raw, the footage is very flexible in post.
Should you buy a RED KOMODO?
Since 6K and 8K cameras are now basically mainstream, the answer to this will vary based on needs. The main advantages that the KOMODO has over hybrid cameras in its price range that can record 4K, 6K, and even 8K are that it has a global shutter, wireless control with video preview, and internal raw recording. Compared to the Blackmagic Pocket 6K cameras, the main advantages are the global shutter and wireless video and control with a phone. For gimbal use the slimmer shape is also a plus.
KOMODO has certainly been RED's most popular camera ever, and although RED designed it specifically at the request of filmmakers asking for a compact camera that matched well with Red's DSMC2 line but with a global shutter for use as a B camera, it's well suited to be an A camera for indie productions.
KOMODO is an excellent and reasonably priced camera amongst a gaggle of excellent and reasonably priced cameras, though at $6000 US it is on the pricier side of the spectrum. Whether or not the premium is worth it for your needs depends on how critical its most unique features are, namely the global shutter and integrated wireless control with video.
To find out more bit the RED KOMDODO visit RED's website.
Tags: Production Review Cameras