Following Jarred Land's leaks last week, RED has confirmed the new KOMODO-X will ship at the end of the month in a limited ST edition at a $9995 price point.
We reported on RED's new KOMODO-X camera last week when Jarred Land first shared details about it on Insta and then unexpectedly dialled into a Carlos Quintero live stream to drop some hints about what was coming. And what we said then was pretty much on the money; the KOMODO-X is essentially a beefed up KOMODO that can work as an A-camera rather than the B-camera the original KOMODO was envisaged as.
KOMODO-X features a next-generation 6K S35 Global Shutter sensor with architecture improvements that allow for increased low-light performance and double the frame rates at 6K 80P and 4K 120P. But first, let's get the major reveal out the way, and that's the price. The $10K or thereabouts pricing prediction was also spot on; RED has confirmed a $9995 price or equivalent for the new camera (which currently in the UK translates as £8450, £10,140 once VAT gets involved).
Rather less accurate was our speculation that it would ship later this year.
The first model being offered is the white StormTrooper version and that comes out at the end of this month. This is officially listed as a beta, but you might have trouble getting your hands on one as RED's own allocation sold out within a few hours. The dealer network did get its own allocations though and there might well be some in the distribution chain still if you hunt around. The black production version will be the same price and follow on immediately afterwards.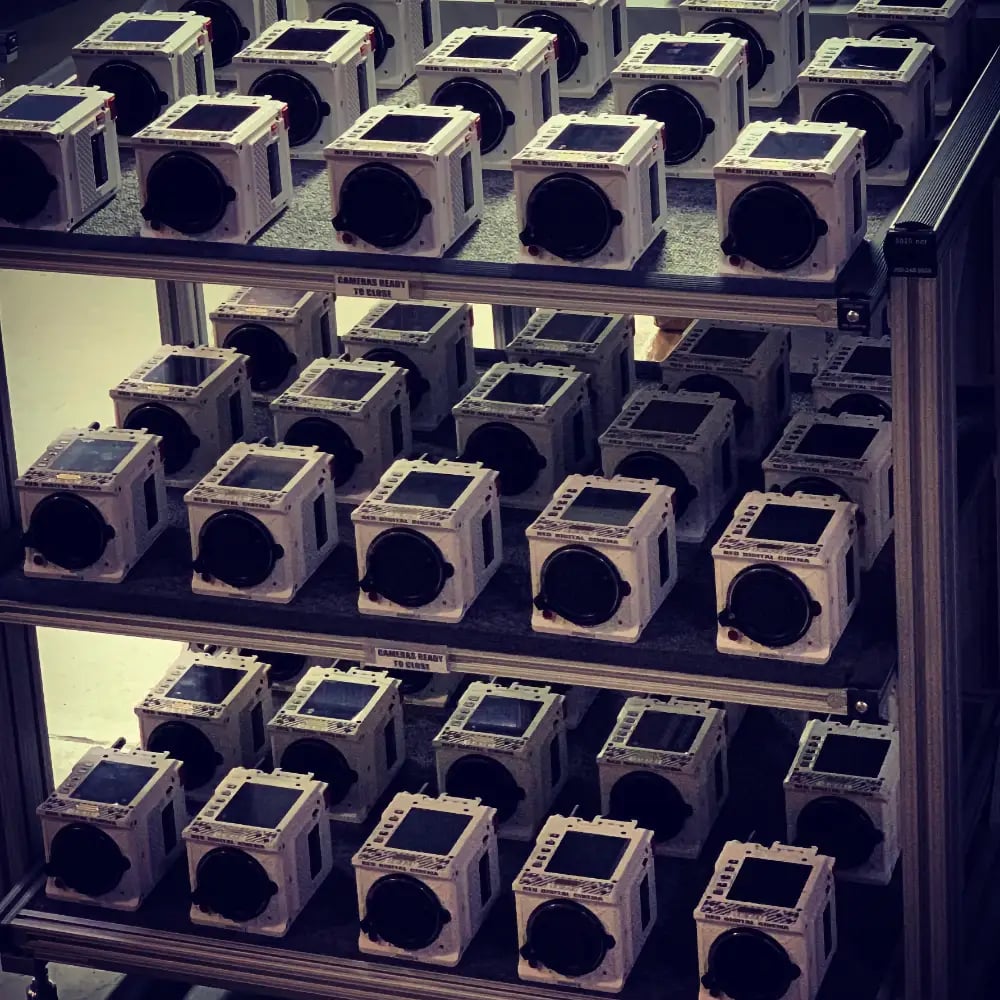 New KOMODO-X STs all ready to ship (and all mostly sold).
Form factor of the new camera is the same as the old KOMODO in two dimensions, though it is 25mm longer. Weight is 1.18kg / 2.62lbs.
The new I/O array features 12G SDI, full-sized DC-IN, USB Type-C, and a phantom powered locking audio connector. In addition, an integrated 2.9" LCD allows for simplified control and image preview, as well as precise monitoring, KOMODO-X also supports the direct-mounted DSMC3 7" Touch LCD.
The new system shares many features with the flagship DSMC3 lineup, including compatibility with CFexpress (which has boosted the frame rate over the original KOMODO), an integrated micro-V-Lock power plate, and a reinforced RF lens mount. The new micro V-lock power option allows for direct attachment of professional micro-V-Lock batteries without the need for adapters. Additional compatibility with the soon-to-be-released RED PRO I/O Module also provides auxiliary power outputs and compatibility with full-sized batteries.
The new module will be available when the production black version of KOMODO-X launches in V-lock or Gold Mount versions.
A reinforced RF lens mount with locking mechanism on the KOMODO-X maintains the flexibility of switching between multiple lens mount types without a tool, while providing stability and rigidity. KOMODO-X is fully compatible with /i PL lenses using the RED RF to PL adapters.
There's a load of accessories coming with it too.
• REDVOLT NANO-V battery ($275)
• RED Compact Top Handle provides a compact handle solution for KOMODO-X users ($539)
• RED KOMODO and V-RAPTOR RF to PL with Electronic ND Filter Adapter Packs are compatible with either the KOMODO systems or V-RAPTOR and integrates the same precise electronic ND control used in the V-RAPTOR XL into a robust PL mount solution. ($3,500)
• KOMODO-X is also compatible with many original generation KOMODO accessories, including the KOMODO Wing Grip and Outrigger Handle.
"We are excited to welcome the KOMODO-X into the new lineup of RED cameras, joining the original KOMODO and the rest of the DSMC3 family," said RED President, Jarred Land in best-behaved mode. "With its global shutter, increased frame rates and improved audio and power infrastructure, the KOMODO-X is our new all-around workhorse that fills a much-needed gap in our lineup between the 6K KOMODO and our mighty 8K V-RAPTOR."
Tags: Production