The Rode Wireless GO II is the second iteration of RØDE's ever-popular wireless mic system. The original Wireless GO came out late 2019 and became an instant hit due to its light weight, compact size, ease of use and affordability.
So what's new with the Wireless GO II? Well, there's the price, the II cost around £279, compared to the first generation which cost £179. However, the all-new dual-receiver is now accompanied by two transmitters instead of just one and there are a whole host of cool new features that make the II well worth the extra £100.

RØDE Wireless GO II box contents.
Having an extra transmitter means two presenters can talk to camera at the same time and the new dual-receiver has the ability to mix the audio coming in from the two transmitters down onto a single track or you can choose (by holding down two buttons for 3 seconds) for one presenter to go to the left channel and the other to the right for post-production mixing.
The Wireless GO II also comes with three furry windshields that have a better design than the original – now they twist on (bayonet style) rather than just pushing on, so they no longer fall off during use. You also get three USB-C to USB-A cables for charging the receiver and two transmitters at the same time. You get a carry pouch and a TRS to TRS cable for attaching the receiver to your camera via the 3.5mm jack.

The newly designed windshields have a much better attachment design than the original.
However, if you shoot video on an iPhone and it only has a lightning socket you can purchase an optional RØDE SC15, which is a 300mm USB-C to iOS Lightning cable that enables you to connect the receiver via it's digital USB-C audio output to your iPhone's Lighting socket. This method has two advantages. If you have an older iPhone (6s for example) using the SC15 cable frees up the 3.5mm jack so you can use that for headphone monitoring, but most importantly using the SC15 will yield better quality audio because when the SC15 is used the pre-amp and A/D (Analogue to Digital) conversion work is done by the RODE receiver, which has a superior quality A/D converter and pre-amps than the cheep nasty ones that are built into most mobile devices.
Longer range
The new Wireless GO II has improved transmission with a longer range of 200 meters compared to 70 meters on the original, but remember this is 'line of site' and if you turn your back to the camera your body will block the signal and possibly cause audio dropout – especially at long distances.
This new model also has series IV 2.4GHz digital transmission with 128-bit encryption that's optimised to be extremely stable in areas where there's a lot of RF activity such as inner cities with lots of cab offices or in shopping centres for example. Both transmitters now have on-board recording that you can turn on/off (Via RODE Central software) for over 24 hours of compressed audio or around 7 hours uncompressed, which means you don't have to worry about dropout anymore. The 3-stage pad is now expandable to 10-stage, which makes achieving the perfect gain stage and recording level much easier.

The Wireless GO II receiver will attach to any hot or cold shoe mounting.
The two transmitters feature a built-in omnidirectional condenser capsule so there's no need for a wired lavalier mic, but they both have a 3.5mm TRS input if you so desire to use a lav mic instead of the built in one. I found the built-in mic more than good enough for the kind of stuff I do: YouTube videos and interviews. I was surprised by the quality of the audio the build-in mic produced. I also found the included furry windshields to be surprisingly affective at rejecting wind noise outdoors in windy conditions, especially now that they don't fall off anymore due to the all-new twist-on bayonet design – thanks, RØDE.
Software setup
If you download the RØDE Central desktop software (not available for iPhone or Android yet) you can plug the receiver into your computer to unlock some advanced features and set the system up to your personal preferences as well as to access and export recordings from the built-in memory of the transmitters. Via the RØDE Central software you can also switch on the 'safety channel', which records a back-up track at -20dB just in case your main audio channel clips. A 'mute lock' feature can also be turned on to prevent your talent from accidentally muting the transmitters, while the fine gain setting allows you to expand the 3-stage pad to 10 stages – all via the logical software interface.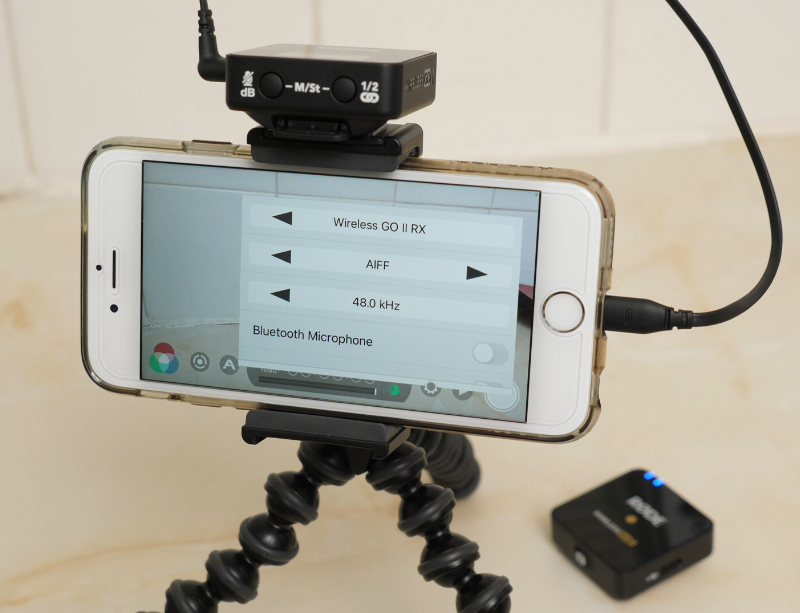 As for the important tech specs the frequency range is 50Hz to 20kHz with a maximum SPL (sound pressure level for the mic) of 100 dB - all very professional on that front. The transmitters come in at just 30g each with the receiver a tad more at 32 – basically, pretty darn light.
I took the new Wireless Go II across from my house where there's a cricket field and two football fields to test the all-new 200 meter range to see how it faired and it passed with flying colours with no audio drop-out at 160 meters (as far as I could get before hitting a fence) while I (and the transmitter) was facing the camera (and receiver), while the quoted battery life of 7 hours also proved fairly accurate. On a full charge I did my testing for this review, shot two YouTube videos and carried out an interview, all of which took just over five hours of 'On' time and there was still battery life to spare.

The Wireless GO II transmitters and receiver.
I've personally owned the original Rode Wireless Go for a while now and with this new version I think Rode have gone from strength-to-strength by making the receiver a dual receiver affair while putting two transmitters in with the kit. This, and all the other new features of the Wireless Go 2 make it worthy upgrade.
To see the more in-depth video review with demonstrations visit the RedShark News YouTube channel or watch below.