When it comes to live sports broadcasting, there are few more important components than the replay system. Having enough cameras at the stadium or at the track to capture the action from different angles and make sure nothing is missed is a must; being able to show your viewers the action that they might not have seen first time round is just as important.
Replays have become more than that too. In modern sports broadcasting, they have become a vital tool to annotate and explain the action to the viewer. They enhance the way that plays are understood, allowing onscreen talent to analyze what has just happened and deepen the fan's knowledge of the game. For venues themselves, they allow the fans that are on-site to engage with the game at a deeper level. And sometimes they are simply the best way to appreciate the skill of the athletes involved; that moment of grace as time stops just for a moment and fortune hangs in the balance before the winning play is successfully concluded and the celebrations begin.
The problem is that they are not cheap. The replay systems that drive big sports league coverage arrive in their Outside Broadcast trucks — sometimes their dedicated Outside Broadcast trucks — with six-figure sums attached. For venue operators looking to boost on-site fan engagement to rights holders trying to cover local sports or more niche events, even if they can have a global audience — and with streaming, many do — putting in place an affordable system to provide top-quality replays is a difficult task.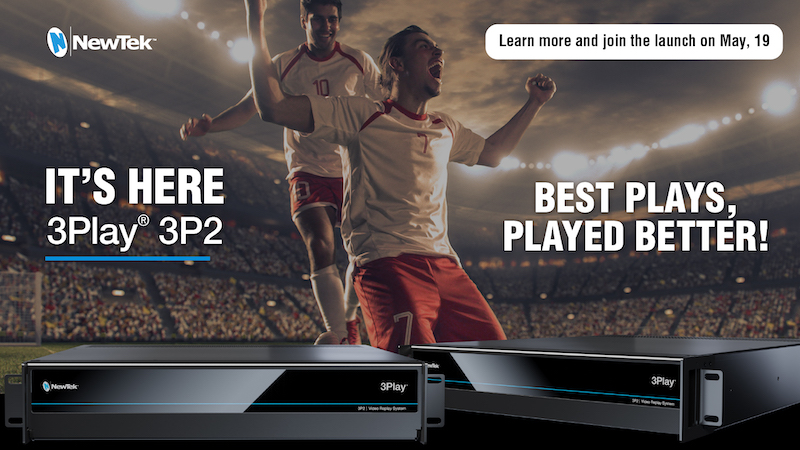 The Newtek 3Play® 3P2
This is why NewTek's new 3Play® 3P2 is such a game-changer, if you will forgive the pun, and means that sports producers have more capacity and opportunity than ever to maximize the value and impact of their live content as it plays out in any resolution up to 4K.
3Play® 3P2 ensures that broadcasters and venue operators need never miss an angle or unforgettable sporting moment and does so at a fraction of the cost of traditional replay systems. The range of features it supports is an impressive one and includes increased inputs, sharable playlists, the ability to zoom and track areas of interest, built-in NewTek NDI Telestrator capabilities, clip publishing, and more.
The cost for all that capability? $25k.
The thing is that the 3Play® 3P2 is not just a cheaper version of one of the bigger systems either; it brings genuinely new things to the table. This is especially true when it comes to its network capabilities. The flexibility of a software-driven, network-based replay system, especially one built around NDI, is unparalleled. The 10 channel 3Play® 3P2 offers 8 external inputs and 2 outputs. Those inputs can be any combination of NDI sources, with 4 convenient SDI connectors built directly into the chassis. The outputs can be independent or work together in a preview/program workflow including live animated, 3D-warped visual transitions, delivered to both SDI and NDI destinations.
You name a sports broadcast workflow and the 3Play® 3P2 will fit right into it. It really is plug and play — even more so as purchasers and resellers of the 3Play® 3P2 can take a NewTek University 3Play® course for free all the way up till the end of September, ensuring they are fully skilled on it before they are thrown into the thick of the action.
Operators also benefit from sharable playlists, allowing TriCaster- based live production systems to work collaboratively. And 3P2 and TriCaster operators can sync 3Play® playlists over the network to create a unique collaborative experience for increased speed and flexibility.

The Newtek
3Play
®
3P2 back panel.
Given the way that sports production has embraced remote production in recent years, this capability is more important than ever. NewTek says it has even made sure that the relationship between the 3P2 operator and the Tricaster operator will feel seamless and as if they are working on the same system. And that is something that producers value greatly; in the high pressured environment of live sports broadcasting anything that enables swift and seamless collaboration provides tangible benefits on the screen, whether for the viewer at home or the audience watching at the venue.
There are some really neat new features in it too. A built-in playback zoom and tracking feature allows operators to select multiple points of interest and zoom in and out to capture an all-important play, while a key-frameable feature allows them to scrub clips, pinpointing desired timecodes of crucial plays.
This is going to be invaluable, not just for showing the audience what they might have missed, but for allowing analysts to really dive in and explain the key elements of the play in question, why it worked — or why it didn't!
Watch live on NewTek TV and experience all of 3Play 3P2's native IP replay, workflow efficiency, and feature-rich affordability.
When: Wednesday, May 26, 2021, 10 a.m. US CDT
Tags: Production