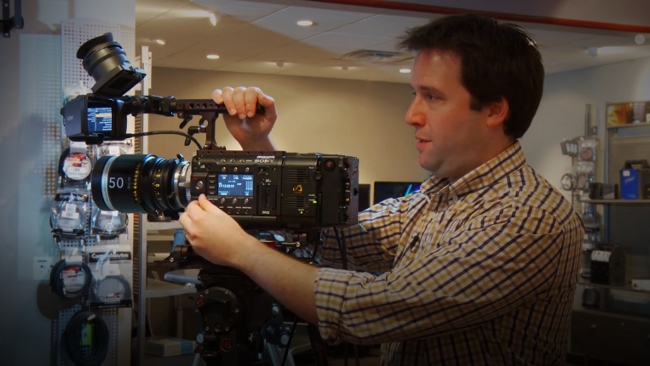 Hollywood equipment house AbelCine has been serving the needs of professionals for years. Now they're educating pros too, with two videos explaining Sony F55 camera and post workflow.
Founded in 1989, AbelCine began as a Los Angeles-area camera service and repair company, founded by brothers Pete and Rich Abel. Over the last couple decades, the company has grown into a full-fledged equipment sales, rental, and service house, earning a stellar reputation and scores of devotees in the industry. But unknown to many, AbelCine has branched out into teaching professionals about equipment and workflows, through its company blog.
Informed Professional
When you think about it, it makes sense: an informed professional knows what he or she wants, and video training helps demystify features of new, hot tech. It doesn't get much hotter than the Sony F55, the latest video workhorse from the electronics giant. One of the main features of the Sony F55 (and F5) is its ability to capture 4K RAW and HD simultaneously, enabling an easy offline/online post workflow. AbelCine's Director of Education Andy Shipsides covers this topic, from camera setup to the edit bay. Here's his text introduction of the tutorials, followed by the videos:
"One of the big advantages of the Sony F55 is its ability to record both RAW and HD at the same time (this is true of the F5 as well). When paired with the Sony AXS-R5 recorder, the F5/F55 can record 16-bit RAW data to AXS media cards, and HD video (MPEG2 or XAVC) to SxS cards. This gives you an easy-to-use offline editing format as well as an extremely high quality online Raw format at the same time. Workflows like this are used all the time these days, but the F5 & F55 make it particularly easy. For an in-depth look at this workflow in action, watch my two videos -- in the first part above, I explain how to set up the camera for simultaneous recording, including how to add a LUT to the HD recording, and in the second video below, I complete the online/offline workflow, showing how to take a basic HD edit and match it back to the 4K RAW content."
Tags: Production