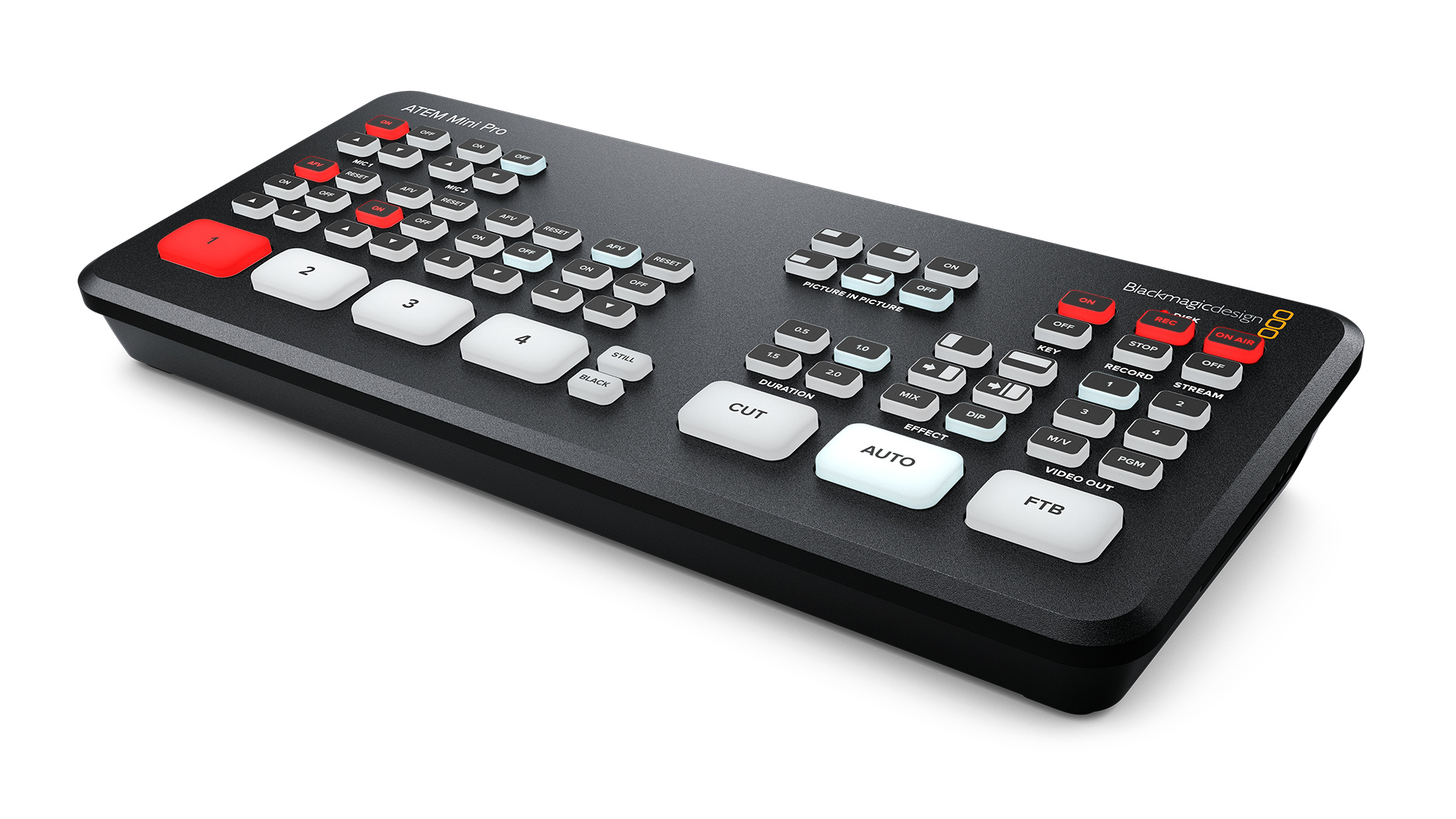 Blackmagic Design unveiled its new ATEM Mini Pro today, and it brings powerful new studio capabilities to micro budgets, wherever you may be.

Blackmagic Design's key announcements today were solely focussed on live streaming and switching hardware and software. For low budget producers of multi-camera live streams the new additions to the company's ecosystem will be of immense interest. Especially in light of the current world situation!
The primary announcement here was the ATEM Mini and ATEM Mini Pro. Taking the concept of the original ATEM Mini, the new Pro model adds more features for recording, monitoring and streaming.
The key features of the new device include:-
Hardware streaming encoding for YouTube Live, Facebook, and Twitch.
Miniaturised control panel based design.
Connects up to 4 cameras or computers.
USB output operates as a webcam and supports all video software.
Live streaming via Ethernet supported on ATEM Mini Pro.
Recording to USB flash disks in H.264.
Two stereo audio inputs for connecting desktop or lapel microphones.
Automatically standards converts and re-syncs all HDMI inputs.
Includes free ATEM Software Control for Mac and Windows.
Internal media for 20 RGBA graphics for titles, opening plates and logos.
ATEM Advanced Chroma Key for green/blue screen work.
Multiview allows monitoring of all cameras on ATEM Mini Pro.
Audio mixer supports limiter, compressor, 6 band EQ and more!
Remote HDMI control support for Blackmagic Pocket Cinema Cameras.
Camera control
The ATEM Mini was already an incredibly versatile and useful device to begin with, and one that was incredibly affordable. But one of the key additions to the Pro edition is the Multiview and multi-camera operation, which effectively turns the BMPCC cameras into studio devices. This extends to giving the cameras lift, gamma, gain, colour, and LUT control via the new ATEM Software Control.
If you are using a multi-camera setup, no matter what make or model you are using, the ATEM Mini Pro lets you see all camera inputs simultaneously on an HDMI display. This includes audio levels displays, as well as any additional stills, media space remaining and the data rate, should you be live streaming.
Additionally the new model supports USB-C flash disk recording in H.264, so recordings are ready to upload straight to sites such as YouTube and Vimeo. But there's a really neat trick with this.
If you have a USB hub or a Blackmagic MultiDock, the ATEM Mini Pro will relay record to another disk as the first one fills up, making for a continuous recording over as much storage as you can connect.
Wireless streaming
Ethernet control allows for sharing an internet connection. If you set your computer to share the internet you can control the ATEM Mini Pro using the ATEM Software Control, as well as streaming along the same cable. Why is this important? It means that it's possible to connect your computer to the internet wirelessly using WiFi or data connected tethered phones for wireless streaming.
Blackmagic Design CEO, Grant Petty, gave a live demo of the new switching capabilities with the BMPCC cameras. The demo showed off how the tally lights on the cameras behaved so that presenters could see which camera is active and which one is primed.
This really does give professional studio style multi-camera control to the masses. Given what we're seeing from American talk show hosts having to broadcast from home right now, it would seem that this sort of functionality would be beneficial even to some of the biggest names these days!
The ATEM Mini Pro costs $595.
HyperDeck Studio Mini v7.1
The latest free software update to the Hyperdeck Studio Mini could be mistaken for a new model of hardware. The update includes an much improved H.264 codec and a brand new AAC audio codec. The full new features are as follows:-
Longer single file record times of at least 3 hours.
New H.264 codec with interlaced video support.
New AAC audio codec.
Faster Ethernet file transfers up to 110 MB/s.
Supports QuickTime and MXF file wrappers
Blackmagic Camera Update 6.9
Blackmagic has also updated the camera software for the BMPCC range. This, naturally, mainly adds compatibility and features with regard to the ATEM Mini and the ATEM software control.
Not only does the update add tally light functionality, but also CCU control over the cameras, including iris, black level, colour tint, focus, gain, and shutter speed. ISO recording is also supported so that recordings can be made in BRAW and then edited easily later.
Summary
It's a very timely announcement from Blackmagic that we find ourselves in a situation where streaming from low cost or home studios has become a concern even for large broadcasters right now. Going forward, the need for contingency with regards to remote workflows and working have become a primary consideration.
If you consider what it would have cost a few years ago to set up a full multi-cam live broadcast, these new additions make it even more affordable. Back when RedShark News did its first live streams using the original Blackmagic Design ATEM Television Studio switcher, we thought it was fantastic, and unheard of for the price. It worked perfectly.
The new ATEM Mini Pro makes this type of low cost set up even more affordable. Consider this. It is now possible to make a three camera live Multicam setup for less than $4500. This is the world in which we now live.