Atomos' 10th anniversary celebration has given us some incredible deals on its popular monitor-recorders, including a great deal on the Ninja V for $649. The party is rolling on, and the company is offering a terrific promotion on new purchases of its popular Shogun 7 monitor-recorder-switcher.
Atomos Shogun 7 Features
The Shogun 7 is capable of recording up to 5.7K RAW video, and up to 240p at 2K resolution, in ProRes RAW/ProRes, CinemaDNG (CDNG up to 30p) and Avid DNxHD.
The 7-inch touchscreen monitor offers a color accurate 3000 nits, giving content creators an accurate view of the production, over 15 stops of range and a DCI-P3 wide color gamut.
The resolution is 1920 x 1080, and features Dynamic AtomHDR (360-zone backlight), and has a 1,000,000:1 contrast ratio. Plus, it can be used with a Dolby Vision-capable TV for playback (camera to Shogun 7 to TV).
It's also the first monitor-recorder that had live switcher functionality and quad-ISO recording. That translates to doing live, multi-cam recording and switching of up to 4 HD streams.
I/O ports include 4K HDMI and 12G-SDI inputs/outputs, four 3G-SDI or dual 12G-SDI inputs, SDI/HDMI cross conversion, Genlock input and an XLR audio input with phantom power.
The Shogun 7 can be used on small shoots, up to large, full-scale productions. It retails for $1299, a great price for such a versatile monitor-recorder-switcher.
Atomos is offering one of two free gifts when purchasing a brand new Shogun 7: A 5-inch Shinobi SDI HDR Pro Monitor, or an Angelbird AtomX SSDmini 500 GB + Shogun 7 Sunhood. This offer is valid for purchases of the Shogun 7 between March 13 and April 17, 2020.
As far as free gifts go, both would be an excellent addition to the Shogun 7. Let's take a look at both options, to help you decide which one to choose.
Shinobi SDI HDR Pro Monitor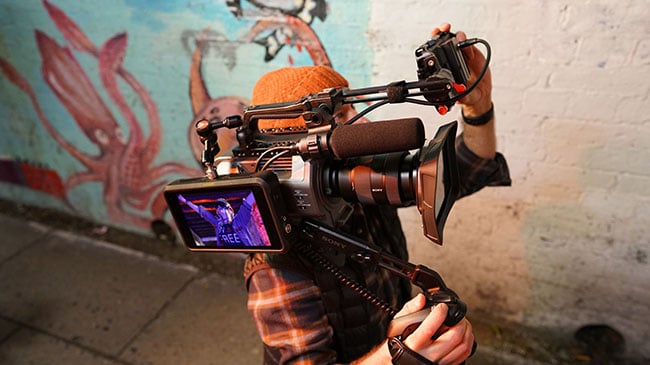 This 5-inch HDR daylight-viewable monitor is perfect as a viewfinder substitute for the cinematographer of your shoot, allowing the Shogun 7 as a monitor for the director, clients, assistant camera, etc. It's also ideal as a preview monitor for live output while multi-cam switching.
The Shinobi features a 1920 x 1080 touchscreen display, 1000 cd/m² brightness and 3G-SDI & 4K HDMI Inputs. It retails for $399.
Angelbird AtomX SSDmini 500 GB + Shogun 7 Sunhood
The SSDmini supports recording up to 5.7Kp30 or 4Kp60 ProRes RAW HQ, and the Shogun 7 Sunhood is really a great accessory when shooting in any environment, particularly outside on a sunny day.
For a filmmaker, either of the free gifts are great, but you need to look at your workflow and needs. While a second HDR monitor is always a bonus, a 500 GB SSD is always handy, especially since it supports high resolutions and RAW recording. Plus, a sun hood that is made specifically for the Shogun 7 is always a must.
The Angelbird AtomX SSDmini 500 GB retails for $299, while the Shogun 7 Sunhood costs $120, so both go for about $425.
If you haven't bought an Atomos Shogun 7, but are in the market for one, buy one between March 13 and April 17, 2020 to take receive of one of the two free gifts worth up to $425 each. Check out Atomos' site for more information.