Leica's latest iteration of its full-frame mirrorless camera adds plenty of upgrades over what was already a well regarded unit.
The SL2, Leica's successor to 2015's original SL, is one of those cases where constant iteration simply works. There are no particular headline grabbing improvements — the ones that come closest we've, well, put in our headline — but there are plenty of small ones across the board that go to make something rather impressive. It's a whole load of marginal gains that together ensure quite a decent one over its predecessor.
The new 3.2-inch, 2.1-megapixel touchscreen and 5.76-megapixel OLED electronic viewfinder dominate the rear of the camera, with control also possible via a joystick or thumbwheel. Inside it features the same 47.3MP sensor which first saw action in the $5000 Leica Q2 last year, providing 14-bit colour, 14 stops of dynamic range, and ISO up to 50,000. In the SL2 this is hooked up with a new image stabilisation system that features a suspended sensor which adjusts its position to compensate for camera shake, while the whole camera is powered by Leica's Maestro III image processor.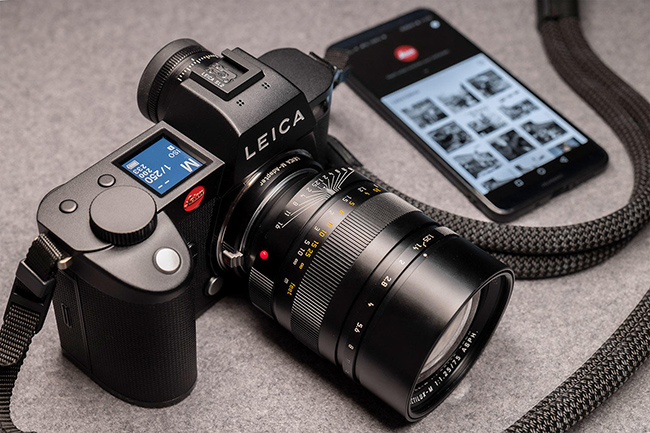 The Maestro III shoots up to 10fps with the mechanical shutter and 20fps with the electronic one, while in the video area those values translate to 29.97fps in 5K video mode, 60fps in Cine 4K mode and up to 180fps for Full HD at up to 10-bit colour precision, and also features L-log shooting modes. The autofocus is now faster too and allows for a virtually lag-free shutter release, and there is a new Smart AF mode which autonomously switches between focus priority and shutter release priority depending on whether a subject is moving or not.
Interestingly and rather cleverly, activating the Cine mode transforms the camera into a manually controlled cine camera with its own dedicated menu; ISO becomes ASA, the shutter speed is marked in degrees on the rotary disk shutter, and the f-stops indicating the aperture ratio are replaced by T-stops, which is all kind of neat. As is the built in headphone and mic jack, which is a distinct improvement over the original SL.
It has some other cool tricks too. Locked off in multishot mode, for instance, it can record up to eight consecutive frames shifting the sensor in half-pixel increments between every exposure to produce a massive 187 megapixel image. It's also IP54 certified and Leica promises even more new features, as well as a wholly new mobile experience on the iPad, when its companion FOTOS app ships v2 on the same day as the SL2 is released.
Talking of which, the SL2 will be available from November 21 for $5,995.
For more information visit the Leica website.