With a brand-new model of camera, flown in direct from the factory, you'd probably want to break it in gently. Unless you're Brett Danton. In which case, you push it to within an inch of its life, and get some amazing footage in the process
When Canon launced the C500 Mk II they asked Director and Cinematographer Brett Danton to try it out. Not by putting the camera on a tripod and shooting some nice sunsets, but by directing a fully-fledged Jaguar commerical involving gimbals, drones, a Russian Arm, and some very clever tricks, which at one point involved handing the camera from a moving car to another moving car. Scary stuff, and the best possible test imaginable for this new camera.
I sat down with Brett to ask him about the shoot - and what he found out about the camera.
Tell us about the main shoot - It seems pretty ambitious - involving Drones, A Russian Arm and a very windy road.
Yes a very windy road up a mountain in Spain. It's supposed to rain only a few days of the year and we got it all! The wind and cold was extreme, along with the logistics of a crew up and down a mountain road.
We mounted the Russian Arm on a Jaguar F-PACE, so we had a cat chasing cat.
It's a huge testament to the camera for me that, on this shoot, with everything going on, it was the last thing I had to think about. It just worked and did what it said on the tin.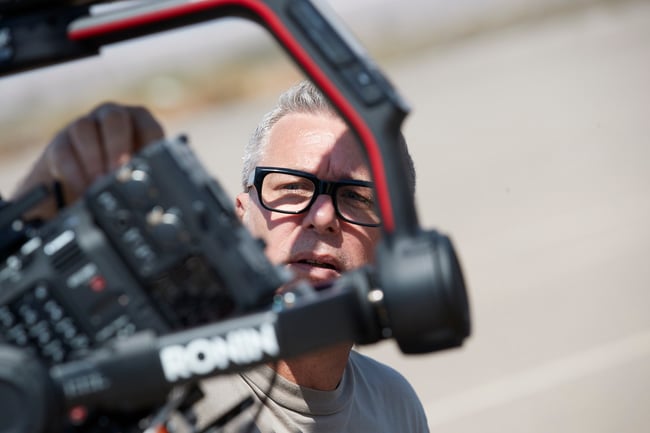 Brett Danton with Canon EOS C500 II with Ronin Gimbal on Russian arm
The really good thing is that if you're used to Cinema EOS camera, you have instant familiarity with all the controls, with a few extras, like the Frame shortcut.
What were you able to do with the C500 II that you couldn't do with a bigger cinema camera?
I guess I would liken this to the old film days where you had a body for a specific job, but the consistent thing was the film stock: you got the same image. Typically now we seem to have to mix all different sensors and then have to get them to match. The modular design of the C500MkII meant that it could be used across multiple formats, stripped down to 1.74kg for the Ronin S gimbal hand over from the RussianArm to car shot, and then the drone, and then rigged up for multiple audio channel recording we did in the car - and then sticks for tracking.
We shot a mixture of the full frame RAW and then, because of weather and time constraints (we had a very short time for the shoot) handheld XF-AVC codec with the camera's internal stabilisation, which, charging down the side of the mountain sitting in the back of the car came up amazingly well. I thought we would have to reshoot but it's in the film.
The ability to run the camera off small batteries using the EVF and side handle while recording internally made it very quick to use, light and free from cable clutter.
EOS C500 II with SmallHD and Bright Tangerine
We also stripped the camera right back for use on the Ronin S using pancake lenses and changing the mount. The amazing thing about this is we used the auto focus and the cameras did the focus pull from outside to inside.
In what ways does shooting Full Frame widen your options for planning a shoot like this?
What I like with full frame is the separation of the subject from the background. I know the mathematical theory about doing the same on super 35, but I just dont think it looks as nice. I used to shoot a lot of 5x4 inch film and that look was never recreated on 35mm. Also with the Canon primes I was using it opens up the proper focal width of the lens.
What are the main aesthetic advantages of Full Frame?
It just has a beautiful image quality, and also because of the full frame image, somehow noise is non existent.
And what about the resolution: you delivered in 4K, but did you find it helpful that you have 6K to play with?
Yes we used RAW 5.9K finishing in 4k. The great thing about having extra pixels is that you can crop and stabilize if you need
Jaguar F-Pace shot from Drone
Did you use RAW?
Yes, we recorded internally to the camera using Cinema RAW Light: Canon's own compressed RAW format. With a proxy record, what's impressive is that with the new CExpress Cards from Sandisk as the main medium, that gave us around 32 minutes in RAW 5.9k, but the mp4 proxy files recorded on an SD card gave us over 5000 minutes.
We uploaded the proxy files via Frame.io and so that the editor could start work before we arrived back. The proxy and RAW files married up perfectly
I could really work with the available light, it gives me over 15 stops of latitude letting me shoot into the sun, we didn't have to worry about scenes with large dynamic ranges, and this was especially helpful because one of our "hero" cars was black!
What was it like in post?
Post path was easy, we had a few different deliverables at different times, including a sizzle real for IBC the day after the shoot. For the hero commercial we edited in Premiere CC, graded in baselight and finished in flame. For the fast turnaround we did everything in resolve.What was impressive was it was using an 2017 Macbook pro and a G-Tech SSD. Everything worked real time and we did a hotel room grade to 2000nits.
Did you notice any artifacts that you might not have seen if it was uncompressed raw?
No. It was probably the cleanest camera I have used
How did you plan your shoot around HDR
With HDR I don't really change my shooting, you have to keep an eye on highlights: if they clip it looks terrible in HDR. I do think 4k HDR in set monitoring is important
Rehearsing handover from Russian Arm to car internal with Canon EOS C500 II
HDR comes alive in an image with a large dynamic range
Tell us a bit more about the equipment you used
Close up of Canon EOS C500 II mounted on Ronin Gimbal, Russian Arm and Bright Tangerine special mount
A Ronin 2 and Ronin s
A Russian arm a motocrane mounted to an F-PACE Jaguar
Alta 8 drone
Camera mount for Russian Arm and Drone: Bright Tangerine built a special quick release to allow hand over of the cameras from the Russian arm to the car
DPA microphones
Post Production in an Amsterdam Hotel Room
What do you think, having completed this shoot is the importance of this camera in the marketplace?
I really think this camera is significant in the market. Image quality is exceptional in a small modular design and files that are manageable even on a laptop. The price point opens people up to a full cinema camera. You can use it across multiple platforms and have the same image quality for everything with no fighting to match sensors.
The film
Watch the film below and then the BTS footage:
CREATIVITY INSPIRED BY JAGUAR, POWERED BY CANON.
THE JAGUAR F-PACE FILM SHOT ON THE NEWLY UNVEILED CANON EOS C500 MARKII.
DIRECTOR: BRETT DANTON
PRODUCTION: NM PRODUCTIONS
(For full credits, see below BTS video)
DIRECTOR || BRETT DANTON || @BRETTDANTON
PRODUCER || ANISSA PAYNE || NM PRODUCTIONS || @NM_PRODUCTIONS_
LOCAL PRODUCER || FERNANDO MUNOZ || COLD RIVER PRODUCTIONS || @COLDDRIVERPRO
PRODUCTION MANAGER || JAMES GOLDSMITH || NM PRODUCTIONS || @GOLDSMITH_JAMES
PRODUCTION ASST || TIM CARTER || NM PRODUCTIONS || @TIM.CRATER
PRODUCTION ASST || NICK FREEMAN || NM PRODUCTIONS || @MR_NICK_FREEMAN
1ST ASSISTANT || TOM BROWN || @NGUNI_UMLUNGU
DIT || JOSE ANTONIO CRESPILLO RUIZ
PLAYBACK || JUAN CARLOS MOLINA FISHER
BTS STILLS || MIKE HOGAN || @PIXELHADLIE
BTS MOTION || MIKE O'CONNOR || @MIKEOCONNORDOP
SOCIAL MEDIA || MIRKO WESTERBRINK || @MIRKOWESTERBRINK
PRECISION DRIVER || PEDRO RODRIGUEZ || @PERICORAM
PRECISION DRIVER || SUSANA ALEMANY || @SUGUSDECUKI || @CAR_SHOOTING111
HMU ARTIST || LAURA DEL MURO || @LAURADELMURO
DRONE PILOT || ARNAU ESPEJO || OCTACAMVISION || @OCTOCAMVISION
DRONE OPERATOR || ALEJANDRO MAESTRA ||OCTACAMVISION || @OCTOCAMVISION
DRONE AUXILIAR || GUILLEM PAZOS || OCTACAMVISION || @OCTOCAMVISION
MOTOCRANE OPERATOR || FRANCISCO MUNOZ || PROVIDEOTEC || @PROVIDEOTEC
MOTOCRANE DRIVER || JUAN HERNANDEZ || PROVIDEOTEC || @PROVIDEOTEC
CREATIVE DIRECTOR || TOBY BEDWELL || SPARK 44 || @SPARK44LDN
SENIOR PRODUCER || CORIN KIDDY || SPARK 44 || @SPARK44LDN
SENIOR ACCOUNT MANAGER || WILL HAZELTON || SPARK 44 || @SPARK44LDN
MUSIC COMPOSER || DWIGHT PENDELTON || @IDK____WBU
BTS EDITOR || OLLIE KENCHINGTON || @KORROFILMS
POST PRODUCTION || GRAMERCY PARK STUDIOS || @GPS_LDN
UNIT || TAKE1CINE FACILITIES || @TAKE1CINE
VENDORS
CANON EUROPE @CANONEUROPE
JAGUAR @JAGUAR
DJI @DJIEUROPE
TERADEK & SMALL HD @TERADEK @SMALLHD
BRIGHT TANGERINE @BRIGHTTANGERINE
PROCAM @PROCAMPHOTO
ATOMOS @ATOMOSGLOBAL
DPA @DPA_MICROPHONES
BUBBLE BEE INDUSTRIES @BUBBLEBEEINDUSTRIES
G-TECHNOLOGIES @GTECHNOLOGY
ANTON BAUER BATTERIES @ANTONBAUERBATTERIES
SATCHLER TRIPODS @SACHTLERSYSTEMS
VITEC
NM PRODUCTIONS @NM_PRODUCTIONS_
COLD RIVER PRODUCTIONS @COLDDRIVERPRO
OCTACAMVISION @OCTOCAMVISION
PROVIDEOTEC @PROVIDEOTEC
GRAMERCY PARK STUDIOS @GPS_LDN
Tags: Production