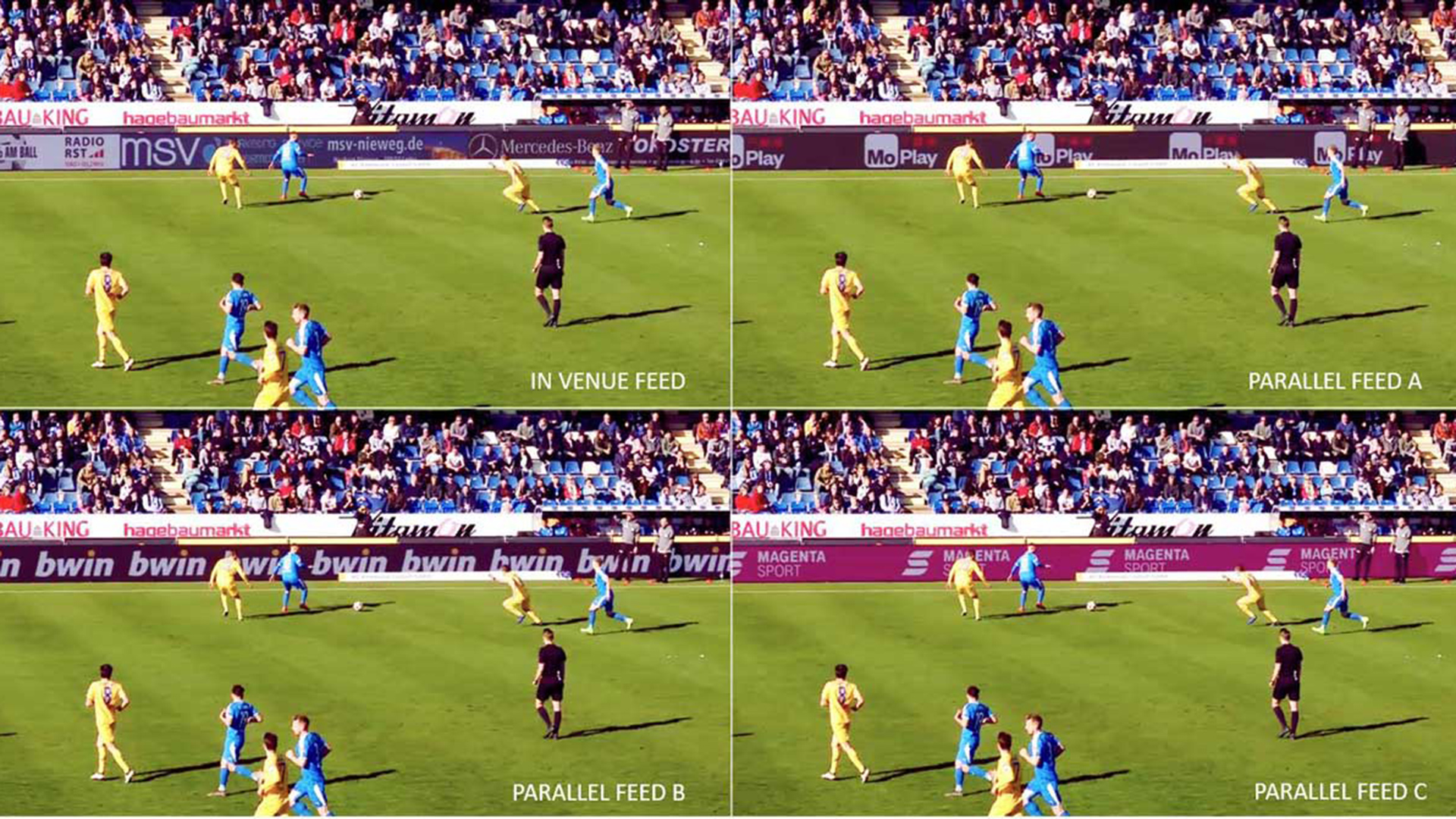 The perimeter boards surrounding sports or music events are habitually activated with sponsored virtual graphic overlays during broadcast coverage, opening up new revenue streams for broadcasters and rights owners. So far, so corporate, but a Swiss company has come up with a novel solution which enables broadcasters to show sports fans in different countries different perimeter advertising simultaneously and with the same live streamed event.
For example, a viewer watching a broadcast stream in Japan will see advertisements for Japanese products on the perimeter LED screen while a viewer of the same stream in France will see French ads on the same screen. Four unique streams can be broadcast simultaneously.
Parallel Ads, devised by Appario Global Solutions (AGS) of Steinhausen near Zurich, can be implemented into any professional broadcast camera chain but is being marketed in conjunction with Sony.
The solution is based on what's called Dynamic Content Multiplication, a patented technique of AGS that enables the broadcast of up to four simultaneous feeds for event-based LED advertising from a single camera.
The technical approach of parallel advertising differs from many market participants using virtual overlay: by using a small hardware chip, multiple feeds are transmitted on the perimeter board in the stadium. To put it simply, there are several boards in one allowing advertising in parallel – while keeping the fan experience in the stadium untouched.
Unlike virtual ads, the parallel DCM feeds can be viewed on all camera angles, and will be included on slow-motion shots and highlights. Also unlike virtual overlays, there's no post-processing.
Synchronizing with cameras
The LED boards are synchronized with the cameras, permitting capture of more than one signal at the same time by using standard high frame rate functionality to output several signals in standard speed. The multiple feeds are fed directly to the vision mixer in an OB truck. No additional hardware, post-processing, tracking or other pre/post setup is required.
What's more, it is immune from interference from the elements like rain, fog or snow.
Sony has paired the ad-tech with its HDC-5500 cameras which offer both UHD and Global shutter technology.
The human eye will only be able to detect the venue feed, so the viewing experience is unchanged. This is possible because of a patented process in which, in a multiple framerate mode, the tech 'deletes' the additional signals for the human eye while cameras are able to capture multiple signals at the same time. The regional images are shown in every frame but invisible to the naked eye due to the deletion process.
According to Sony, this makes the technology perfect for broadcasting fast-paced sporting or music events that require freedom of camera movements and angles.
Parallel Ads allows rights owners "to engage with different sponsors simultaneously or tailor sponsored content to each market; greatly increasing its impact and value," claimed Karsten Schroeder, AGS' chair in a press release. "In conjunction with cameras from Sony, broadcasters now have an ultra-low-latency, real-time solution that doesn't sacrifice key features such as slow motion."
The tech has already been used at golf's Betfred British Masters this year and by German Bundesliga club Bayer Leverkusen.
Tags: Production