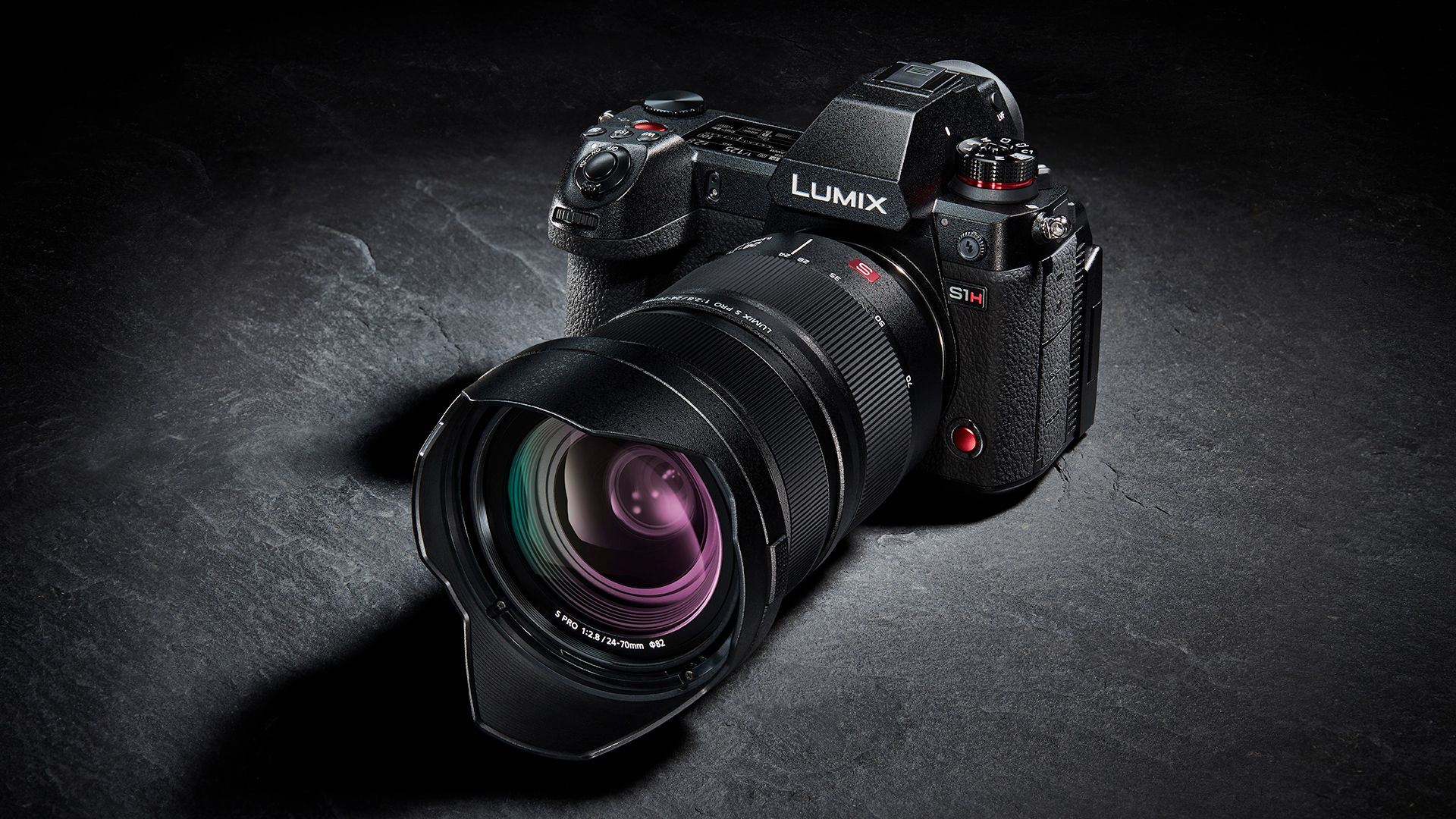 We were given the chance to have an exclusive hands-on in Los Angeles with the widely anticipated 6K Panasonic Lumix S1H. Here's what we discovered!
The trickiest thing about defining cameras is that various designs mean various things to various people. That's less true at the high end - an Alexa is a cinema camera, pure and simple - and more true at the more compact, affordable end of the market, where different pieces of gear might be pressed into service under a variety of circumstances. As such, it's hard to describe Panasonic's new DC-S1H without resorting to a list of specifications. It's likely to be a lot of things to a lot of different people.
It's Panasonic's first really video-centric release since the GH5S at the beginning of 2018. The S1H-specific features which make it a dedicated moving picture device include improved codec options with higher bitrates and intra-frame recording, a proper optical low-pass filter, dual native ISO, timecode (via a crafty hot shoe adaptor,) various anamorphic modes, and of course 6K pictures from a full-frame chip. Notwithstanding the sheer trickiness of keeping that much resolution in focus over that much sheer area of silicon, it's a tempting proposition: a 6K full-frame camera recording 200 and 400Mbps all-intra codecs to SD cards, dual native ISO, and a mount that'll handle more or less anything.
Build quality
In person, the S1H is a chunky item; people expecting the build or layout of a GH5 will be either disappointed by the bulk, or enthused by the sheer solidity. Like its siblings, the original S1 and resolution-targeting S1R, the S1H lives in a sturdy metal shell that feels like it was designed by someone who was anxious to avoid any possible criticism over solidity. The result is a camera that weighs slightly over a kilo, ex lens and battery. It could probably be used to chock the wheels of a widebody airliner, and there's no hint of flimsiness in the case or controls.
The top LCD is expanded over that on the S1R and the generous build leaves plenty of room for a large battery, the size of that on a small camcorder. This is a particularly welcome development, given how feeble battery life can sometimes be on stills cameras in video mode. Panasonic claim a two-hour life, but on a conventional single-camera set it'll apparently do far more if we don't ask it to record continuously. And, by the way, it will do that; there's no limit on recording time other than power or storage.
What's the footage like?
On the face of it, many of the picture features are quite specifically oriented toward the director of photography, rather than the documentarian or wedding videographer. At an event at Abel Cine, with colourist Dado Valentic, material was shown demonstrating a single-camera drama application, using the 4k-ish anamorphic mode with 2:1 lenses, and a lot of these cameras will be sold in pursuit of exactly that sort of thing. More often, though, all that resolution might be put to very profitable use saving a lot of time, money and gear for a YouTuber anxious to cover an interview on a single camera by cropping and scaling for an HD finish.
This discussion is based on a very brief hands-on experience with pre-production cameras, and it's been made clear that firmware, and therefore pictures, might change slightly before release toward the end of the month. With that in mind, consider that essentially all cameras of this type use noise reduction to achieve the levels of sensitivity and dynamic range they do. Looking very, very closely at the 55-inch GZ1000U OLED display that Panasonic used to show the material, the work of that noise reduction and the HEVC codec is slightly visible, but we'll wait to get the camera under something closer to test conditions before making any more critical judgments.
About the only real caveat in specification is that the 6K pictures are available in 4:2:0 only; it will do 6K and it will do 4:2:2, but not simultaneously, and there's no such widely-deployed thing as 6K HDMI yet, although we've heard that Panasonic and Atomos are working on 6K RAW transfer through this very medium Also, some people have questioned the wisdom of moving from a SD and XQD, as on the S1, to a pair of SD card slots. That's a judgement call; XQD is generally more expensive and it's easier to design workflows requiring things like dual recording around a common card format. And yes, it's a heavily-built professional camera and unapologetically so. At UK£4000 or so, it's far from the cheapest video-capable stills camera, but there's not much competition at at the 6K, full-frame end of the market and it doesn't have to work too hard to justify the price point.
In the meantime, again, we'll resist forming any more substantive conclusions until we've seen the camera in more controlled circumstances, but meanwhile the Panasonic DC-S1H has enough unique features to turn heads at all levels of the industry, depending, as ever, on what we want to do with it.
Panasonic invited people from all over the world to attend the S1H launch in Los Angeles, and bought many of them dinner. Phil would like to make it clear that he absolutely can be bought, but not for the price of a ticket to LA and access to the wine list.
Tags: Production