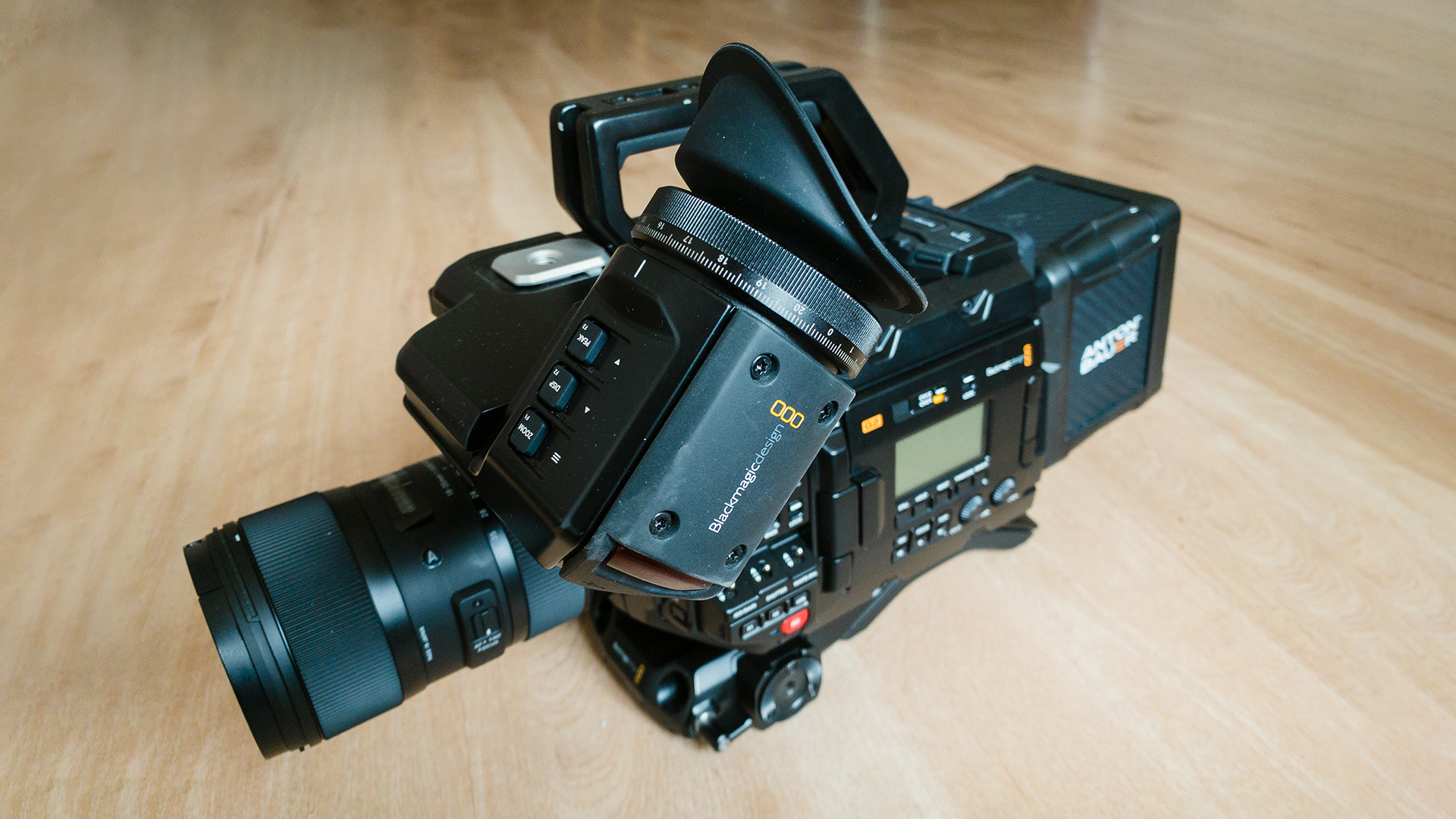 With our review of the Blackmagic URSA Mini Pro 4.6K G2 forthcoming, here our are first impressions and a little background to the camera.
Now I realise that for those reading this article you might think that the use of the word 'revolutionary' in the headline is hyperbole. But I'd like to clarify. The URSA Mini Pro 4.6K G2 might not turn the camera world on its head (then again it might), but it is yet another turning point in the evolution of Blackmagic Design's cameras, and it is also a turning point in showing what can be offered at the price.
When the company released the BMPCC 4K, it was the culmination of what, by any other camera companies standards, was a very fast and hard fought learning curve. The BMPCC 4K was a sure fire sign that BMD had started to truly mature as both a camera designer and manufacturer. The URSA Mini Pro G2 (or UMPG2 as I am going to refer to it from now on to save my fingers) is yet another milestone in the company's development.
This is a camera that is designed to be adapted to perform, and excel at, duties in everything from news, though to documentary, and, importantly, cinematography. Its 4.6K sensor allowing for substantial oversampling when a 4K or less image is required, or you simply want maximum flexibility in post.
It might not look much different from the previous URSA Mini Pro. But there have been huge changes under the hood.
Why would the URSA Mini Pro G2 be a revolution?
It is perhaps the worst kept dirty little secret of the production world that we love slow motion. Sure, people complain about its overuse, but the fact is we love it. The UMPG2 promises to be not only capable of some very high frame rates at some very useful resolutions, but it is perhaps the most inexpensive camera on the market to perform those feats, and at a very high quality too.
In BRAW the UMPG2 is capable of up to 120fps at the full 4.6K resolution, and that ladies and gentlemen is an almost non-existent feat on any other camera less than $14000. In windowed UHD (ie 1:1 pixel) it can perform up to 150fps, whilst in windowed HD is can go right up to a whopping 300fps.
There's much more to the difference between the G2 and the previous URSA Mini including Generation 4 colour science and totally redesigned internal electronics. But I'll come to the detail of the new features in my full review soon. However the fact remains that if your camera body budget is less than $14000 right now and you want to do 4K or over true slow motion, the UMPG2 is currently your only ticket to those hyper fast frame rates.
The trademark gigantic LCD monitor on the URSA Mini Pro 4.6K G2
The camera Blackmagic Design supplied me with came with the shoulder kit and OLED viewfinder, and just like previous generations the whole kit looks and feels the business. It was interesting putting the UMPG2 next to a Sony PXW-350 ENG camera. The UMPG2 is an order of magnitude smaller, and yet with the shoulder kit would appear to sacrifice nothing when operating it that way, assuming you have a B4 lens and optical adaptor attached to it. Okay, the URSA might perhaps be slightly front heavy, but the comparison still stands.
Unfortunately I don't have access to the B4 adaptor, and so I will be looking at the camera by using EF lenses. But so far things are looking good. In fact I'm so confident about it that I am going to test some of its capability on a corporate shoot in place of the 350 which I was originally planning to use.
Build quality is every bit as you'd expect, with the familiar sturdy metal body and big, easy to use buttons and switches. It looks and feels high quality, and that is another aspect that stands out about BMD cameras. Its products are often more sturdily build and solid feeling than other cameras costing many times as much!
Stay tuned to RedShark for the full review coming soon. Oh, and keep a look out for our forthcoming review of the Osmo Action which we also have in our hands.