Replay: It's shiny, it's powerful, and it looks like it could shred a pound of cheddar in the time it takes to say "Afterburner". But is the Mac Pro too expensive? I don't think so.
I'm going to say it right away: I really like the look of the new Mac Pro. It has a classic restraint and elegance, and yet looks assertively modern. If it resembles a cheese grater, then that's a massive compliment to the kitchen utensil.
Will I buy one? I'm not the sort of person it's aimed at. I'm a writer. I do work with video but I can wait for the results. No, this new Mac has a laser focus on creative people whose income is directly proportional to the capabilities of their computer.
And it's an empirical rule (an observation, in other words) that those users tend to prefer style and good design. They're paid to be visually intelligent, so this shouldn't be a surprise.
I just wanted to make a few quick points about price and value when faced with this kind of premium product.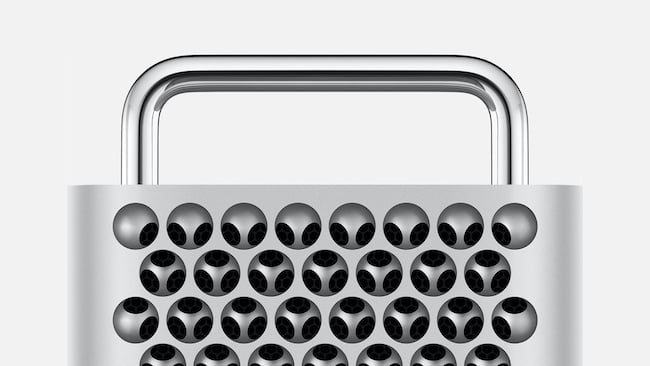 The Mac Pro is a professional tool
First, it's a professional tool. You'd have to be pretty well off to buy a Mac Pro to do your email. Some people will, and that's OK. It looks great. That's enough to swing it for some buyers.
But in a professional context, you'd expect to pay much more in order to get much more.
The new Mac Pro doesn't exist in a vacuum. There are other, very good, computers out there from household names. It's quite common to hear that you can get similar capabilities with other brands. And if you build a computer yourself, at least prima facie you can save a lot of money.
But the trouble with these discussions is that they're not comparing like with like. To say that you can build a computer as powerful as a Mac Pro from component parts invites the question: "Which would you prefer: a Ferrari, or a box of bits?".
This admittedly superficial argument, though, goes much deeper. Apple's products are extremely vertically integrated. Which means that the Cupertino company's DNA runs through the software and hardware, and it's sometimes difficult to see where one ends and the other starts. (Particularly in the case of the new Afterburner, which is an FPGA system that runs software at hardware speeds.)
We've already seen incredible performance from MacBook Pros which don't necessarily have the highest specification, but running FCP X, these slender computers run smoother than you'd expect if you took the parts list out of context.
And that's assuming you can buy the parts anywhere but Apple. I haven't counted, but I suspect virtually all the components (apart from the processor and memory) in the Mac Pro are bespoke and made by Apple.
Building a faster car
Now, it's perfectly OK if you don't like that approach. You may take the view that it's better to have generic or at least widely available (and swappable) parts in your workstation. You may not be interested in the design. You will probably keep it under your desk, where you can't see it.
But for the same reason that people buy powerful sports cars, there's nothing wrong with buying a Mac Pro because you're a professional and you think your workstation should look the business, as well as being extremely powerful.
I'm sorry to labour the automotive analogy, but, yes, you can always build a faster car than a "brand-name" one. If you want to do that, go ahead, It's ok.
But that doesn't explain why people prefer, Lamborghinis, Ferraris and Aston Martins. And nobody doubts that style and top-level engineering can be expensive.
Just a word on the monitor: yes, it's expensive compared to something which might look superficially similar - but it's actually about six times cheaper than devices currently on the market with that sort of performance. I've spoken to someone today who's thinking of buying a Mac Pro and three of the Apple monitors (The Mac Pro supports three of them). This isn't extravagance. It's the way that this person wants to work. As for that $1000 stand: from what I've seen it's a precision engineered device designed to make a stable base for the monitor that's easy to adjust. You don't have to have the stand to use the monitor: others are avaialble. In the world of designer equipment you might want to remember that specialist HiFi suppliers can charge $1,000 for a loundspeaker cable and $150,000 for an amplifier.
Perhaps we need to stop comparing specialist computing and display devices with consumer products.
And, once again, if you don't like the new Apple stuff, I'm not aware of any legislation which says you have to buy it.