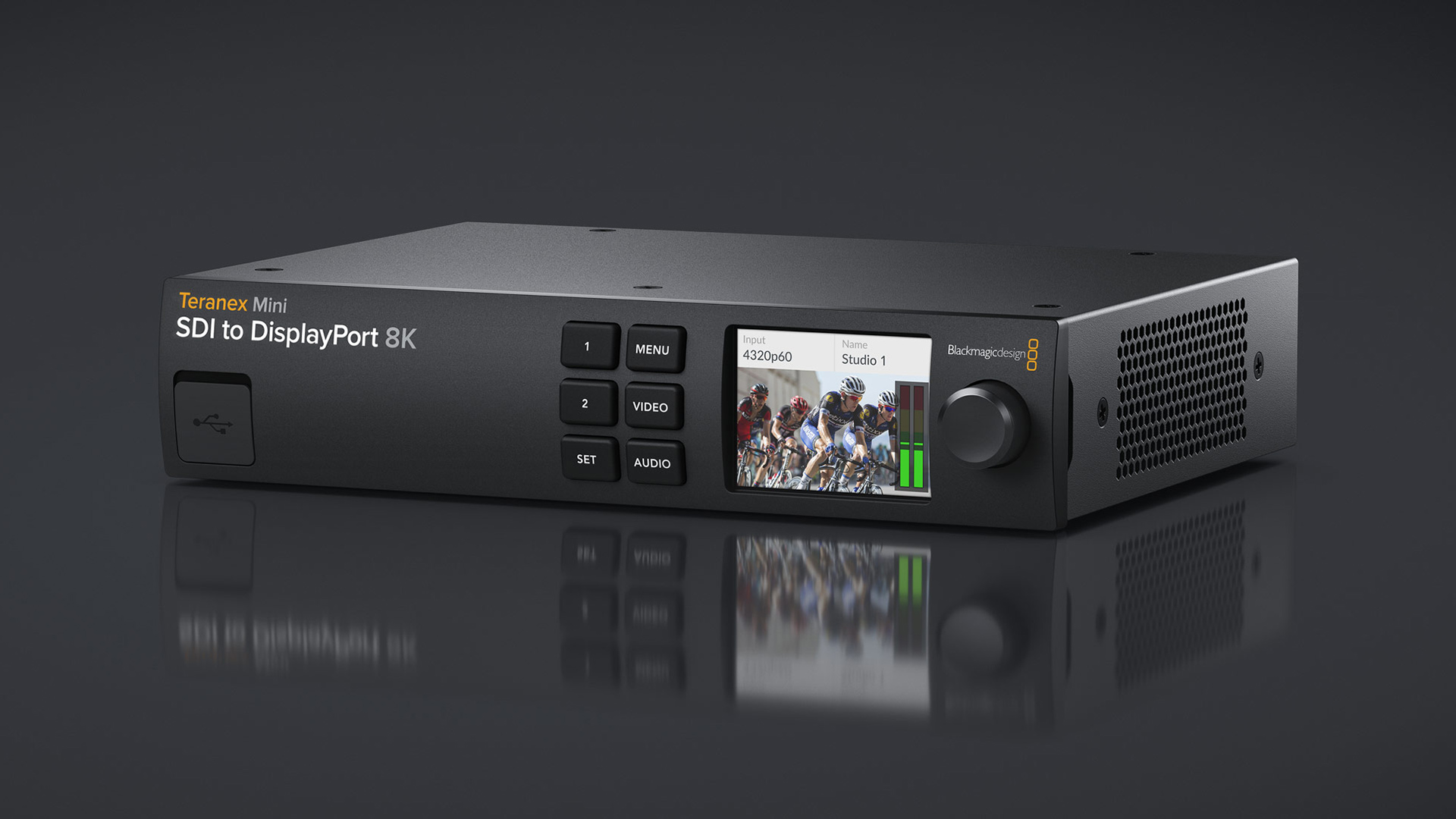 As if the announcements from Apple weren't enough, Blackmagic Design has announced a new 8K version of the Teranex Mini, and it's fully compatible with the new Apple XDR monitor allowing it to be used as a colour critical reference device.
The Teranex Mini SDI to DisplayPort 8K HDR is an 8K monitoring device that features dual on screen scope overlays, HDR, 33 point 3D LUTs, as well as monitor calibration. Blackmagic says that it has been designed to take advantage of the new generation of monitors such as the Pro Display XDR from Apple.
The device can utilise third party calibration probes to align connected displays such as the SpectraCal C6, X-Rite i1 and Klein K10-A. When connected the Teranex will automatically generate test signals to assist with calibration. The two on screen scopes can show waveform, parade, vector, and histogram references.
Connectivity includes Quad Link 12G-SDI for everything from HD up to 8K, and two DisplayPort connections. The Teranex Mini features a built in scaler that scales the video input to the native resolution of the monitor that it is connected to. Blackmagic also says that customers can connect both 2SI or SquareDivision inputs. The device also handles Level A or B 3G-SDI plus YUV and RGB SDI formats.
Static metadata PQ and HLG formats in the VPID are handled according to the ST2108-1, ST2084 and ST425 standards. ST425 defines 2 new bits in the VPID to indicate the transfer characteristic of SDR, HLG or PQ. While the ST2108-1 standard defines how to transport HDR static or dynamic metadata over SDI. There is also support for ST2082-10 for 12G SDI as well as ST425 for 3G-SDI sources. Both Rec.2020 and Rec.709 colorspaces are supported and 100% of the DCI-P3 format.
When combined with other recent announcements, it looks as if 8K has turned a corner, with the format quickly gaining new devices able to handle it and making the post production process much easier, and affordable.
The Teranex Mini SDI to DisplayPort 8K HDR is slated for an October release for $1295.