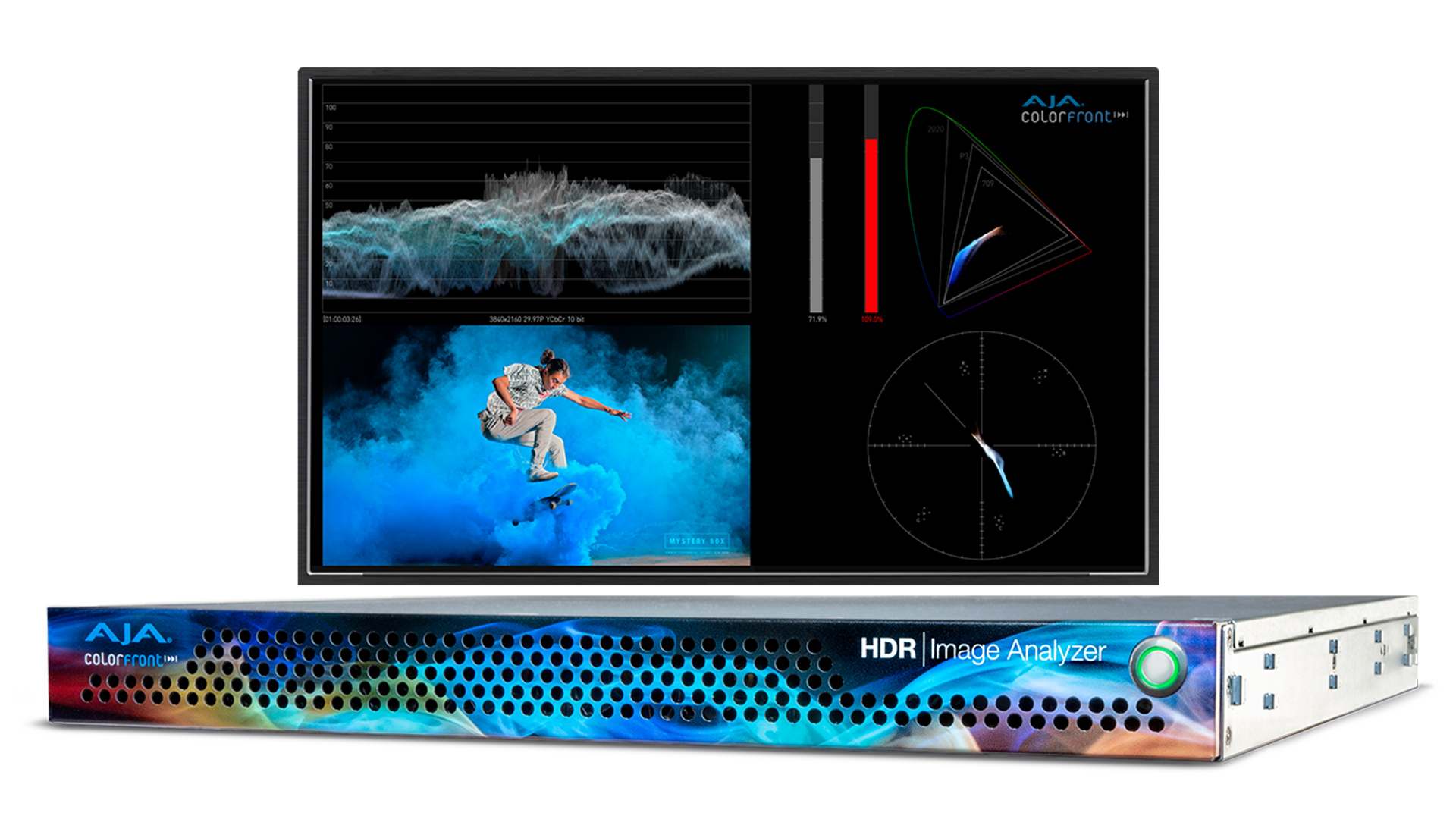 Review: At £15,000 plus tax it isn't cheap. But if you are required to produce video for every type of output and need to work fast, AJA's HDR Image Analyzer could well become the most important tool in your post production armoury.
There are a lot of different standards for delivering finished film and TV material. It was never completely simple, since the way colour is encoded differs between standard definition, HD, and devices like phones and laptops anyway. Add HDR, which may require deliverables in at least three main formats, and things become really complicated. Mastering TV shows has never been more reliant on hitting some agreed numbers.
That's what AJA's HDR Image Analyzer is for. AJA itself enjoys a collaboration with colour specialists Colorfront, the people behind the Transkoder system which apparently shares some of its codebase with the Image Analyzer. At its core, the system provides test and measurement tools which will be familiar to technical people from all over the moving image world, but adds an interesting gamut display and, crucially, the means to evaluate the expanded brightness ranges of various HDR standards, and the expanded gamuts that generally go with them.
AJA HDR Image Analyzer
The system takes the form of a 1U rack and is implemented as a server, taking a mouse and keyboard, with a simple onscreen menu interface. There are four miniature 3G-SDI connectors for input and four for output. These connectors, with adaptors supplied, facilitate quad-link 4K modes, for which both automatic and manual control of multi-link input configuration is possible. Many of the main features are available as keyboard shortcuts, which is probably how it would be used in production.
Configuration
Basic configuration is straightforward, but as with a lot of HDR-related technologies, setting things up will often require the user to know what formats they're dealing with. Sometimes, it'll be possible for the system to read information on the colour and brightness encoding of the input signal from embedded data, but at the time of writing things tended to be less automatic. Proper embedding of HDR signal characteristics is a bit more common in domestic HDMI setups than in professional SDI setups, but it can be a little flaky in either case. With any luck, the imminent publication of SMPTE ST-2108 should regularise this situation for most workflows. The device ships with an understanding of various common camera encodings, as well as distribution HDR options including HLG and PQ, set by default to expect a thousand-nit maximum.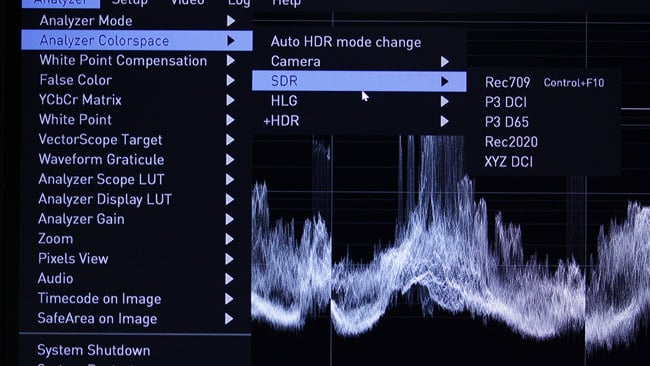 The system understands a variety of input formats
The display is very configurable, but the main event is probably a quad-view with an image preview and a selection of test and measurement displays. Quality checks on HDR material will tend to need a waveform and some sort of colour gamut display, which would traditionally have been a vectorscope. The problem is that even modern vectorscopes are based on a design intended to tell us useful things about composite, or perhaps at best component video encoding, things which have about as much to do with modern HDR production as Stephenson's Rocket has to do with the Shinkansen.
AJA's approach is to show something like the same information as a pattern on a CIE 1976 diagram. This does a clearer job of expressing colour in terms of real-world references; an XY coordinate on a CIE chart is a single real world colour. Theoretically, so is a point on a vectorscope, but it isn't quite as easy to compare between formats. The CIE display does a very nice job of indicating the bounds of common colourspaces and their interaction with the material being analysed, which isn't really something you can do so easily on a vectorscope. The chart can be overlaid with an indication of either D65 or P3 white points, and LUTs can be imposed either pre- or post-instrumentation.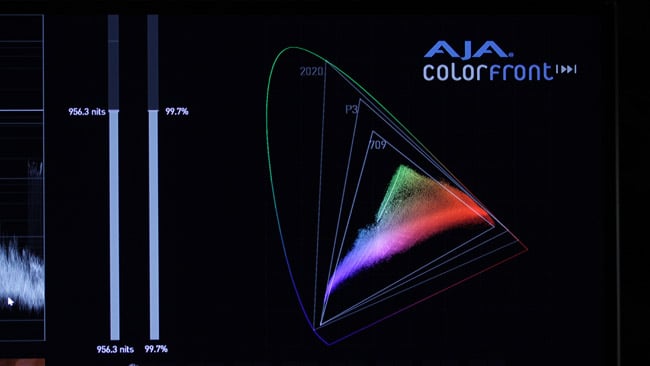 The CIE XY display does something like the same job as a vectorscope, but in a better, more generalised way
Waveforms
Waveforms are calibrated either in code values or nits of display brightness. It's been possible for a while – at least since Rec. 1886 for standard dynamic range material - to relate code values to display brightness, but that's become crucial in HDR where the capability of displays and distribution systems is generally expressed in equally real-world values. The waveforms also include a new option that AJA calls "lumi color," which shows luminance in grey and colour as a distribution of hue and saturation. Peak values on waveforms are tracked and can be displayed, and there are a selection of other modes for viewing single lines, individual pixels, and for monitoring audio.
User requirements for something like this will vary with the workflow and the types of material, but the general approach is to provide tools capable of detecting excursions of brightness and saturation which may exceed the capability of the target format. Perhaps the most direct way of doing this is with the false colour modes. There are several, but the most helpful seems to be one that renders the image in greyscale and paints areas of excessive brightness or saturation (depending on the mode selected) in orange or red as it approaches then passes a limit.
A four-instrument view. Note the differences between the waveform and CIE XY displays
The Image Analyzer is being targeted at, among other things, quality control in postproduction. There's an option to log out-of-range saturation or brightness events against timecode, which would allow, for instance, a colourist to return to those shots and address the problem with a minimum of fuss; it's this sort of thing that turns it into a really useful tool for that specific job. At least one video released by the company suggests that the system is suitable for on-set use. This is slightly less plausible, not because of the feature set – which might well find use – but because the one-rack-unit implementation requires a fair degree of forced-air cooling. As a result the Image Analyzer would have to be hidden a long way from a unit recording sound; it's really too noisy to be nearby.
Waveform displays optionally read out in nits or code values
Conclusion
At around £15,000, plus tax, the AJA Image Analyzer will not be an impulse purchase. It will be a tool for people who have a known and quite specific need for that tool. The high end is never a large market. In the meantime, if you need one, you'll know, and the price is unlikely to be too offputting. It has unique features, and for anyone turning out a lot of HDR deliverables for demanding clients on short deadlines, it does a very specific job to a high standard.