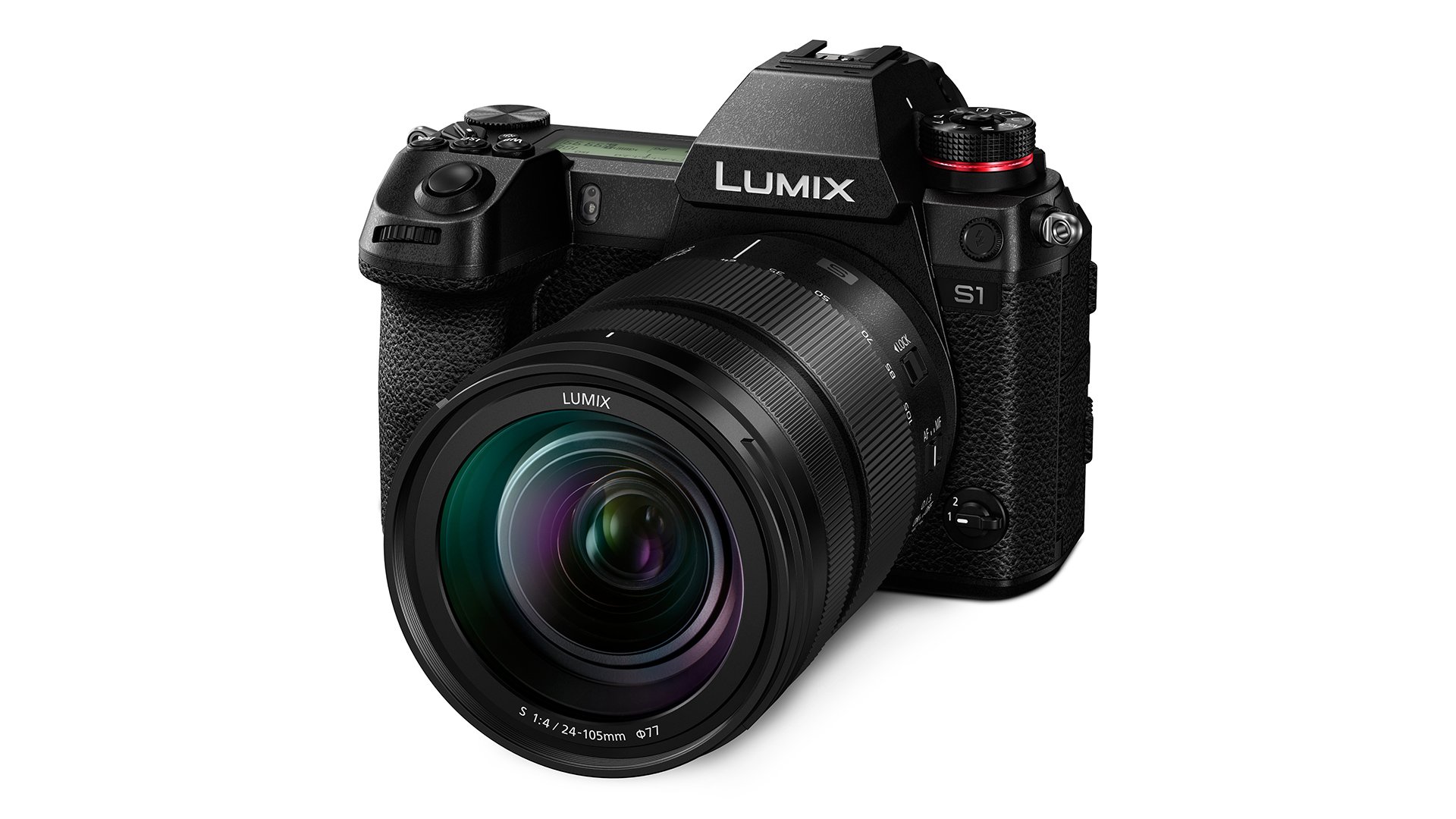 Following on from our hands on report with the new Panasonic Lumix S1 series, here's the full details of both cameras specifications.
Until now details of the new full-frame mirrorless cameras from Panasonic were scant. Now though we have the full low down on what is certain to be a new direction for the company.
The range is currently split into two models, the S1 and the S1R: the former having a sensor containing 24.2MP while the latter features 47.3MP. The S1 is the model that is more focussed on the video segment of the market, while people who primarily work with stills will likely find the S1R more appealing, although both are capable of recording 4K video at up to 50/60p, and full HD up to 180fps.
Is the sensor cropped when running at those higher framerates? We currently do not know this, however on best guess, and don't hold me to this, I would be very surprised if the higher framerates weren't cropped. There is a hint in the release Panasonic sent to us that this may well be the case by stating that 30P uses the full width of the sensor and a full pixel readout. But it wouldn't be much of a loss given the overall resolution of the sensor. But we shall wait and see whether this is the case in reality.
Other differences between the two are that the S1R, with its higher pixel density, can go up to ISO 25,600, while the S1 can go up to ISO 51,200. However the S1R can take much higher resolution pictures. Both models feature a "High Resolution Mode" for stills, which combined the information from eight exposures by way of the image stablisation system making microscopic offset adjustments. This allows the S1 to take RAW stills images at up to 96MP, while the S1R can take photos with an absolutely staggering 187MP! That's 16,736 x 11,168 pixels to you and me. The High Resolution Mode has a motion blur suppression option as well, should that be an issue.
Whilst this might not be the best mode for sports, for landscapes it could stand to produce some pretty incredible results, possibly rivalling larger format cameras.
Video recording
Both cameras can record video to either SD cards or the Sony designed XQD cards via dual card slots. Compatibility with CFexpress is coming at a later date.
Panasonic has made note of some limitations on recording times depending on the mode you are using, due to temperature regulation for the sensor. It says that 4K/30p and full HD can be recorded without a time limit, however at 4K/60p you are limited to 29 minutes and 59 seconds, while high speed modes (eg 180fps) are limited to 15 minutes continuous recording.
It is when it comes to video that the S1 seperates itself as the more video focussed of the two models. Different gamma setups are on offer including Cinelike D/V and Like709. There's also a 'flat' mode with reduced contrast and saturation. HLG is also available for WYSIWYG HDR recording.
However it will be the firmware upgrade later in 2019 that will be of most interest to RedShark readers. This will enable 4K at up to 60p at 4:2:2 colour precision and 10-bit colour depth via HDMI, and 24/25/30p at the same colour resolution internally. V-log will also feature in the upgrade.
For both the S1 and S1R, audio can be recorded via a 3.5mm line in socket, although a DMW-XLR1 mic adaptor can be attached to the camera to enable balanced XLR audio input.
LCD display
Both cameras feature a 5.76m dot OLED electronic viewfinder, which has a refresh rate of up to 120fps and a 0.005 second lag and 10000:1 contrast ratio. The rear of the cameras feature a 3.2" 2.1 million dot resolution touch screen. This can be flipped out for low or high angle viewing. There's also a large top plate display showing all current important settings.
Image stabilisation
Both the S1 and S1R feature 5-axis in body image stabilisation, which Panasonic claims allows photographers a 5.5 stop advantage for slower shutter speeds in low light. This 5-axis system can be used alongside the 2-axis stabilisation inside the Lumix S series lenses. Doing this apparently gives a full 6-stop advantage, and works for both stills and video. Information for the stabilisation is taken from a gyrosensor, accelerometer, and from the image sensor itself. The cameras even feature an I.S. Status Scope on the display to assist with seeing when vibration is present.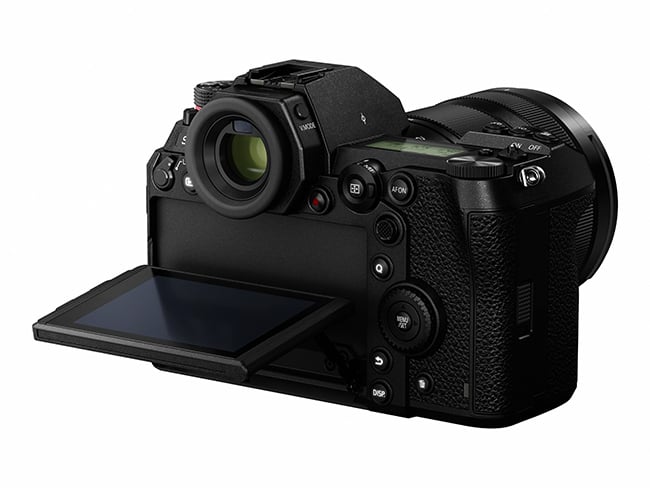 Autofocus
Panasonic claims that the autofocus system works at up to 480fps with a 0.08 second reaction time, and uses AI to assist with performance. Eye autofocus, face recognition, and even animal recognition feature as ways to help lock onto your subject. The system will work with burst shooting at full resolution at up to 6fps, although without continuous focussing the cameras can go up to 9fps.
With lower resolutions set both cameras can shoot 18MP stills in 6K mode in JPEG at up to 30fps, while 4K 8MP mode can cater for bursts up to 60fps.
While the S1 series is mirrorless, for stills Panasonic still uses a mechanical shutter, which is rated for up to 400,000 actuations, with a fastest shutter speed of 1/8000 sec, and a fastest flash synchro speed of 1/320 sec.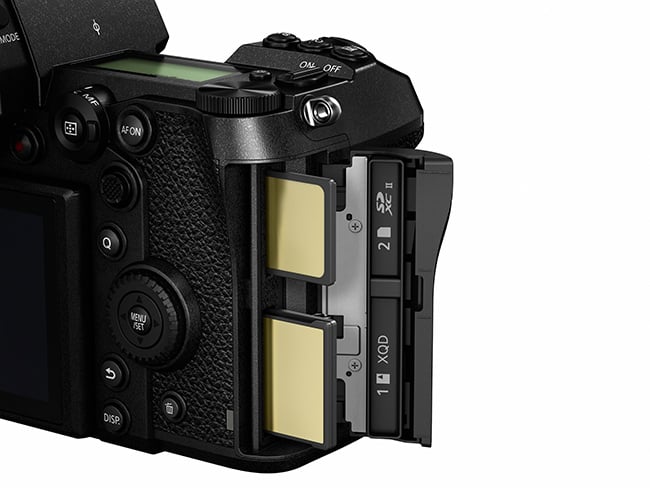 Robustness
It is clear that the S1 and S1R are both aimed at the high end professional market segment. Both cameras are constructed using magnesium alloy die-cast front and rear panels, and feature weather sealing on every joint, button, and dial.
Price? The S1 body only has an RRP of €2499.99, while the S1R has an RRP of €3799.99. The three new L series lenses will retail at €2599.99 for the 50mm f/1.4, €1999.99 for the 70-200mm f/4, and €1399.99 for the 24-105mm f/4. While the bodies themselves are very competitively priced, it is clear that building a Lumix S system won't be cheap. But from what we are seeing it is certainly a case of getting what you pay for, and I for one can't wait to try one out.